If your bathroom has been feeling a bit dreary or even lackluster it might be time to upgrade your design. We kept that in mind and have found 11 modern bathrooms that will inspire not only your creativity but your desire to upgrade your space. These modern bathrooms are here to stay, and you will love them just as much as we do.
Industrial Pull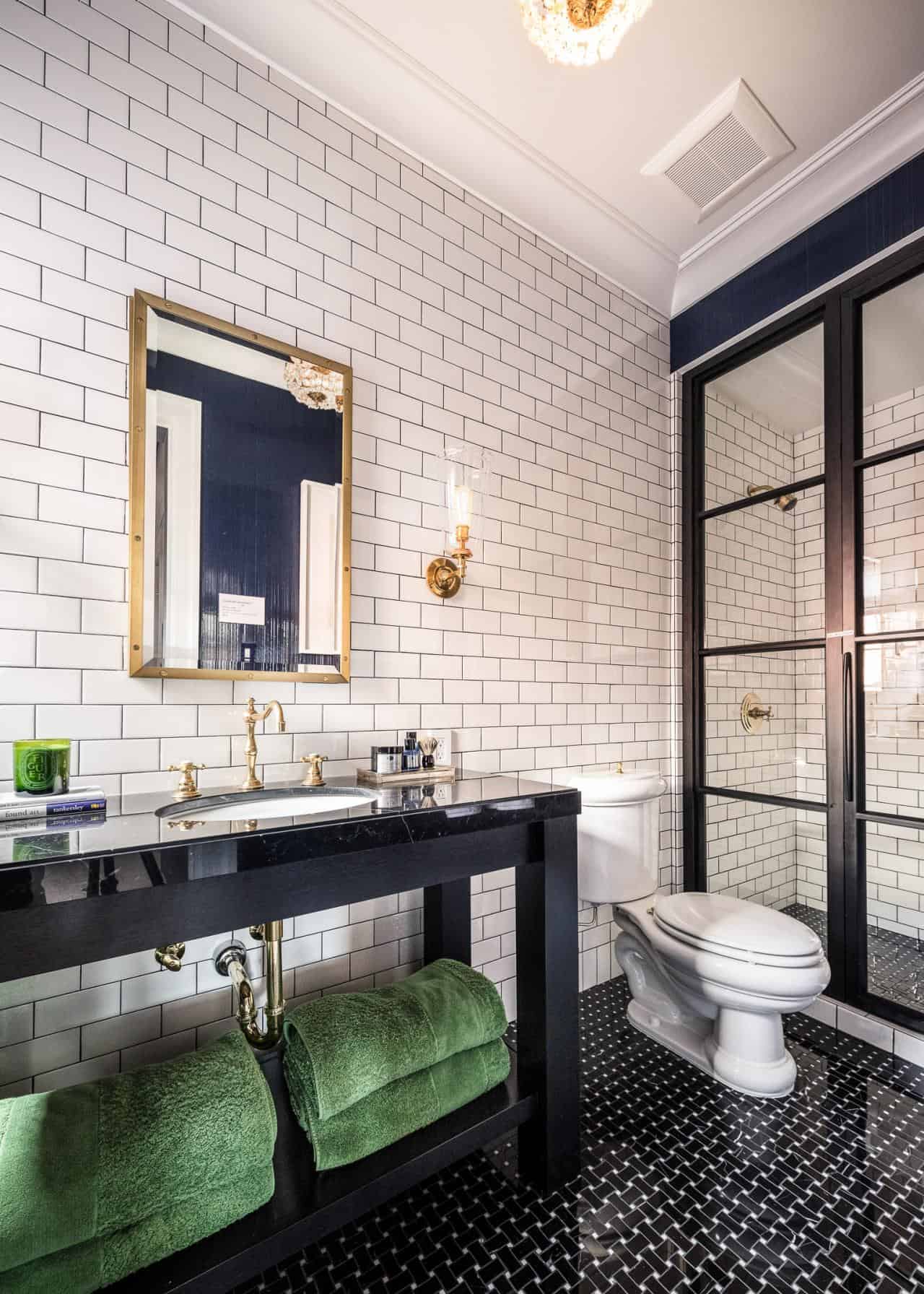 Ever thought of having an industrial touch in your décor? If so, the bathroom is the perfect place to do so. For that industrial appeal consider a doorless shower and mirrored walls that make a striking effect with little to no additional decor.
Monochromatic Focus
Nothing screams chic which like a monochromatic appeal that has a focal point such as a striking chandelier or a Parisian inspired standalone tub. Having either or creates a focal point that is unique while still having the traditional monochromatic color scheme.
Pale Purple
Yes, you read that correctly pale purple is here to stay; however, it is being taken to the next level with an added wallpaper touch. Wallpaper in the bathroom is always a good idea as it brings your personality and texture to the space while still being a bit of an understatement. Pair it with similar colors for the perfect contrast.
Bring in a Rug
If you aren't certain on how to bring a modern touch to your bathroom adding a rug is the perfect way to do so, not only is it useful as it will help soak up some of the water that may run out, but it will look chic and minimalist.
Blend Styles
When in doubt, blend styles. Offering a blend of styles is perfect when you can't decide which style of décor you prefer best. The idea is to have your favorite decorating style right with another blend that brings forth a unique touch.
Royal Glam
While we are talking about having a modern bathroom, nothing will come close to having a royal glam décor. For that royal, glamorous touch add an antique stool to your bathtub area, doing so brings that glamorous vintage feel that you will love.
Color Tiles
Colorful tiles are no longer only a part of the kitchen, they are coming to the bathroom in a huge way, so much so that we are obsessed with them. Consider having them line the inside of your bathtub or even create a chic pattern for a beautiful unique feel.
Light Filled
Did you really think we would have a decorating post without incorporating a section on the importance of lighting? Absolutely not! Having bold lights as part of your décor is actually quite necessary not only do, they help expand the room, but they bring a unique feel that is seamless and engaging all at once.
Make it Float
Ever wondered about floating counters? If so, this is your chance to take advantage of them and test them out. Floating counters are a minimalist's dream, they're chic, fun and work with pretty much any décor. It's quite simple to create and they hold everything you would ever need.
Keep it Sleek
Keeping it sleek is one of the best things you can do to your bathroom when you want to bring a modern feel overall. There is something simple and chic about it that brings a hint of sexy without too much work or overwhelming the room. The best way to do this is by having just the right amount of decor you need while still keeping it airy and simple.
Bring on the Metallic
Metallic bits are always a good idea when you want to bring an overall modern aesthetics to the room, the idea is to have a minimal feel while still being chic and beautiful. Having a few different kinds of metals brings a unique feel that is unlike any other which is exactly what you would want to achieve with metallics in the room.
Are you interested in modernizing your bathroom? If so, share with us your decorating ideas below.