We all know that walls with art are more interesting then walls with nothing on them and the same could be said about your floors. Area rugs are a great way to tie a group of furniture together but why not go the extra mile and choose an artsy area rug for that extra wow factor.


The Sweet Tooth Rug by Camilla Ebdrup and Camilla Korschen of Lucky Boy Sunday is a fun re-interpretation of the tooth fairy, complete with a wind swept leafy hairdo and teeth barrettes.

Lucky Boy Sunday also has these fun matching rugs / teddy bears called Mause Rug and Little Mause. Now that's how to make an artsy statement that's totally young at art!


Source


For a more grown up statement check out this snow leopard rug. No animals where hurt in the creation of this rug, did you know it's made from pompoms? MYK created Pompon Snow Leopard from over 700 handmade pompoms.


MYK also makes these round color filled pompom rugs out of a variety of sized pompoms. So not only is it a great color composition, it is also a fun relief pattern. Source


Angela Adams also creates area rugs that boast a relief pattern. This one is called Dune and showcases an abstracted aerial topographical pattern.


Aside from the 3D effect of Angela's rugs, the random flow to the edges add that extra artsy touch. This one is called Harbor/Stream.


More graphic in approach is the Bear Hug Rug by Permafrost. The rug is like a jigsaw puzzle and can be used singularly or fitted together to create a larger rug. This configuration really does look like the bears are hugging.


Here's another composition that also uses bear voids, the possibilities are endless.


Elissa Medina also has designed a bear rug called the Huichol Rug.


Influenced by Mexican folk art, these creatively pixelated faux skin metaphors are made with multiple hexagonal shapes sewn together. Source


Source


Chen Chen & Kai Williams abstract, organic and very creative area rugs where inspired by coasters that they had designed. The look is identical but the material and size is completely different. The story from one to the other is pretty interesting.


The modular Bandas Rugs are the design of Patricia Urquiola for Gan. Designed to be completely interchangeable, the large stitch pattern on the runners totally modernized the art of stitchery.


The way the lengths of the Bandas Rugs are designed to come up and continue along the corresponding furniture design makes the rugs become the furniture, that's pretty cool.


Folded Tones is the design of Adelaide Enoch Liew. The optical illusion of a rug folded up in an askew pattern makes you want to reach into the photo and straighten it up. This 3D effect was achieved with just three colors.


The Jeans Label Rug by Kings of Sweden is about as unique as you can get. No two will ever be the same since the jeans labels used in the rug are all upcycled labels from real pairs of jeans.


Oh the secrets these rugs must be the keepers of! Source.


These hand stitched Wedge Rugs are by Brad Ascalon. The design is a minimalist 3D graphic pattern that from a distance really looks like a triangular box.


KinderGround Modular Rug systems come in 6 unique patterns and 5 different colors and can be customized to your individual requests, meaning one of these whimsical rugs could be a one of a kind statement that only you will have.


Source


The Rabari Rugs by Doshi Levien for Nanimarquina are handwoven Sumak techniques. The design references unfinished tribal folk embroideries from India made by the Namadic community of the Rabaris in the Kutch region. The designs are just stunning.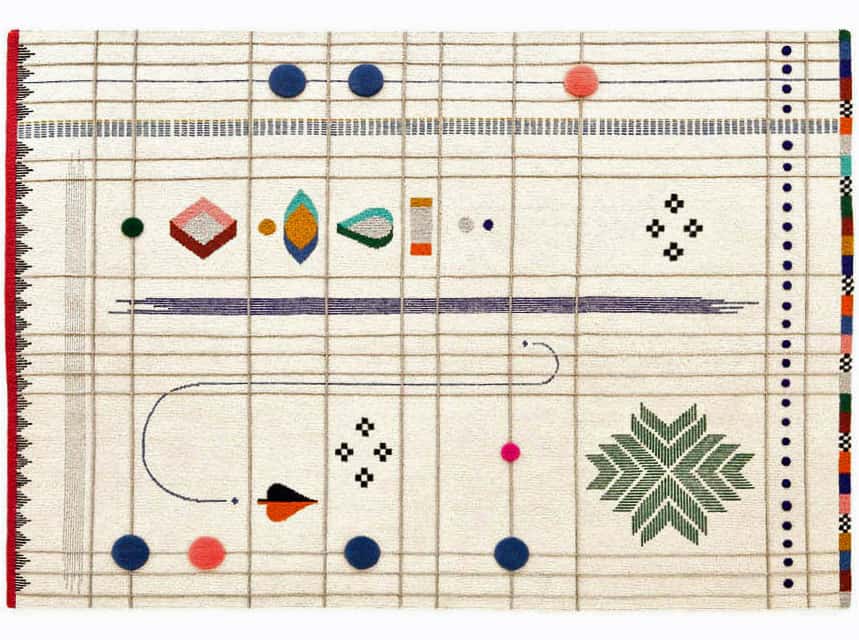 Source
Area rugs can be gorgeous without being artsy, check out these dramatic area rugs for modern rooms.