You don't need a huge budget when it comes to changing the appearance of your bathroom all you really need is a color change. The idea is using the right hues will brighten up the bathroom and give it an elegant look. Keep the space as chic as possible with one of these colors.
Go all White
Nothing screams elegance quite like white, it is crisp, clean, and aesthetically pleasing which is always a plus. The beauty of this is keeping an all-white palette or a mostly white palette will make the space appear larger and more put together while still being elegant. Use white furniture or an all-white décor for the greatest appeal.
Navy Blue
If you love the idea of a more masculine bathroom that is still elegant navy blue is the perfect hue. The idea is to pair the darker, more masculine colors with softer shades that blend perfectly well. Doing so adds to the beauty of having a masculine shade be a spotlight.
Shades of Gray
Gray comes in multiple different shades which is why it is such a popular color. Pair different shades of gray with neutrals for a balance that simply works in the bathroom. This will give the space a softness that is also elegant and well put together.
Spa-inspired
The most expensive bathrooms are typically always spa-inspired. With that being said using a monochromatic palette is the way to go. However, you do not need to use neutral hues only consider adding shades of blue for the perfect softness that feels luxurious.
Greige
Greige is a perfect repetitive hue. Which means you can have your counters and cabinets painted this hue without disrupting the décor. You can even have the color repeat on your walls as well for a well-rounded appeal. You can also add shades of white to balance between the two.
Pop of color
Chic, trendy and unique is the perfect way of describing a bold hue in the bathroom. You want to have a color that will work well in the space while still being relaxing. The bathroom should be trendy yet relaxing at the same time. Therefore, having a balance is key.
Colorful Glass Tiles
If you are remodeling your home, glass tiles are a must especially when they are colorful. Colorful glass tiles are amazing because they are offer color in a unique kind of way. The key is using repetitive colors while still having a custom feel to the room.
Jewel Tones
Do not forget your powder room. The powder room tends to be forgotten because it's an extra room in the home that may not be as used as the others. The key to working with bolder statement hues such as jewel tones. They are easy to work with while having a touch of unrefined elegance.
Consider a Wallpaper
A little bit of wallpaper can go a long way, especially when It is a bold hue that works well with the décor you already have. Consider having the wallpaper be the statement piece of the bathroom space. You want to have it become a bold piece that accentuates the space overall.
Vintage Pink
Pink is a beautiful hue that is sometimes misinterpreted, especially when it is seen as a feminine feature. However, when paired with darker, richer tones of furniture it provides an upgrade that is vintage yet put together especially in the bathroom space. The idea works well because its feminine and fun while still elegant.
Burgundy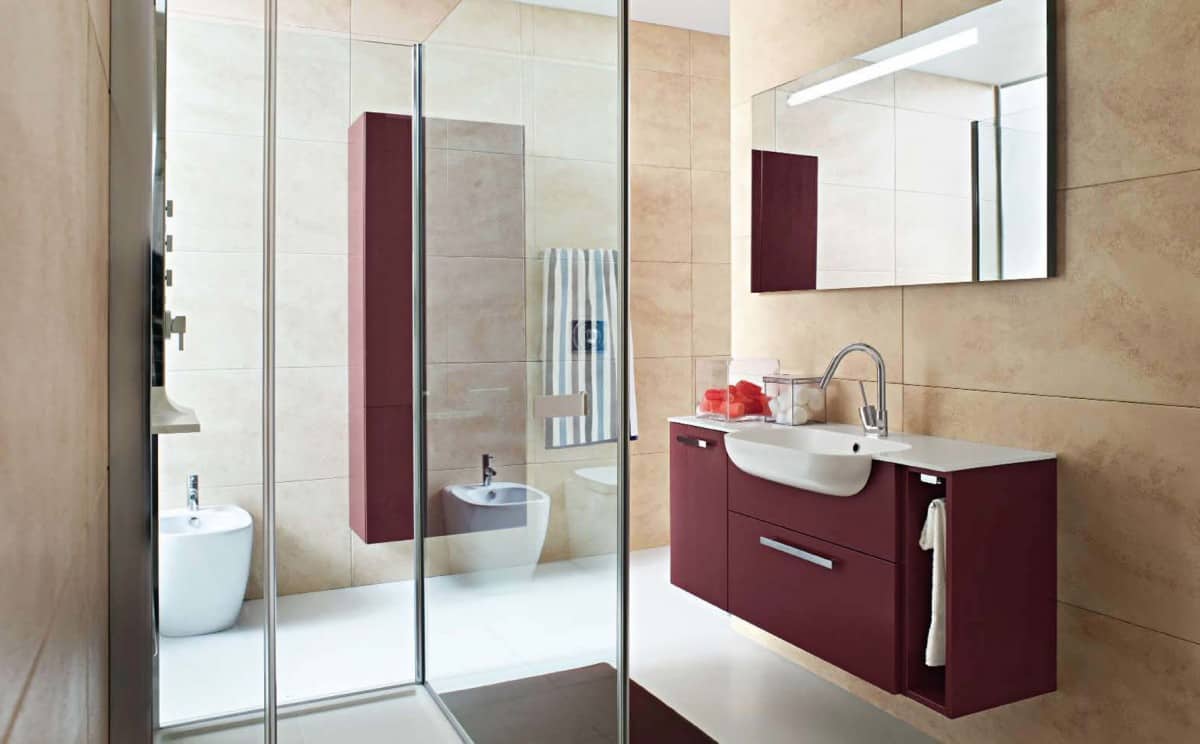 Rich hues of burgundy paired with beige or crisp white bring a bold feature into the bathroom that cannot be duplicated. The idea is to have a rich space that makes sense in the space that you are in. Keep the area crisp and neutral with pops of elegant burgundy.
It may be time for your bathroom to feel more elegant than usual. Which of these are you interested in using in your home? Please let us know in the comments below.