Chairs are the crowning accents of any kitchen. Whether used for dining or breakfast counter, kitchen chairs can be both decorative and highly functional. Contemporary designs are still inspired by the modernist chairs of the last century, but new and interesting shapes emerge every day.
Today we are focusing on bar/counter chairs that are all grades of modern. Whether you want to add a chic aesthetic with upholstered models or bring a bit of industrial vibe with metallic ones, you can be sure our list is full of chairs for every taste and style.
Modernist Kitchen Counter Chairs
Clean modern shape of these low-back Blence Barstools from Holly & Martin is nostalgically modernist. Bentwood aesthetic reinforces their modern aesthetic.
At a price of $200 for two, these seats aren't just stylish but also quite affordable as far as original designs go. They can easily double as home bar stools as well.
CB2 Exclusive Phoenix Ivory bar stool is an epitome of glamour. Its satin nickel legs sparkle with reflected light and support simple white seats.
Equipped with a footrest the stools ooze modernist flair and chic that only metallic accents can bring into decor.
On a hunt for something a bit more retro-looking? Here is a 1951 Stool designed by BMW Group DesignworksUSA for Emeco. Originally made for Navy hospitals the chair design endured some modifications before going into production again.
It retained its practical aluminum frame and got new molded ABS plastic seats in a range of colors that included this gorgeous blue hue.
Designed by Jesús Gasca for Stua, Onda is not simply modernist, it looks futuristic. Waving and curving, it provides guests with back support and footrests for comfy sitting.
Finished in a number of neutrals and bright orange, Onda looks like an unusual addition to a contemporary kitchen.
Luxe Kitchen Chairs
If you're looking to add something more luxe to the kitchen or home bar, here is a Bardot bar stool, a chair masterpiece by a designer Gabriel Scott.
With a black steel base the chair doesn't look at all utilitarian, but rather seems like it would be a perfect fit for a yacht bar. Finished in navy, nude, and slate leather its seats are complemented with metallic brass and copper accents connecting the legs.
Upholstery has its own charm and makes for a certain kind of chic. Brabbu offers a broad collection of soft upholstered bar stools that would fit any counter regardless of purpose.
The № 20 Bar Chair is a special case, however. Unlike many other bar stools it features armrests that further promote its luxury aesthetic.
Varaluz can offer a lot of peculiar metallic chairs that don't have that ultra utilitarian or industrial look to them. Flow 240A04H0 is one such creation that can help you marry modernist practicality and Art Deco's luxury in one place.
Hand-forged from recycled steel the chair benefits from a black velvet seat contrasting nicely with its intricate bronze frame.
Slim but ultra luxurious Flint Gold Bar stools look exactly as if they were molded out of gold bars. Their elegant shine ensures versatility and different sizes allow usage in both bar and kitchen.
These will look great not only in clean contemporary residences but also in industrial and rustic interior designs.
Iconic Counter Chairs
Tolix stools and chairs have become almost a kitchen classic. Even if you don't plan on a full-fledged remodeling, you can always rely on Tolix to bring in some of that trendy industrial flair.
Although the original chair retails for $335 a piece at Design Within Reach, you can find less expensive versions inspired by the design.
Inspired by a real tractor seat Craig Bassam's Tractor Stool is a modernist masterpiece. Carved out of a single block of ash or walnut the chair is never stained and comes in its original, natural finish.
Sustainably sourced wood and production process explain its soaring price tag of $1000+, but if you're simply looking for aesthetic there are many less costly chairs inspired by the design.
Created by Emeco for the U.S. Navy 1006 Navy Counter Stool has become an iconic piece. Sturdy and practical it can also boast an attractive sleek frame and a semi-matte metallic finish.
Still made using a 77-step process, the chair is corrosion-resistant and lightweight and can hold the weight of 1,700 pounds or 771 kilos.
Industrial Kitchen Chairs
Precision stool is another sturdy utilitarian piece that you can be sure will serve you for years. Designed for hospitals these heavy-gauge stainless steel stools are as attractive as they are practical.
Their infinite versatility allows to use them not only as kitchen counter chairs but also as restaurant and industrial-style bar seats.
Offi's Jim Bar Stool is a similar design with a more attractive price tag. Its brushed stainless press-molded seat resembles a helmet perched on four chrome legs connected by a ring footrest.
The shape is generally more smoothed and rounded but no less industrial-looking. Available in two sizes, Jim can serve as a bar stool or a kitchen counter chair,
Many of the modern designs of mid last century got updated to a bar size. Many contemporary chairs immediately come in various sizes to fit a dining table, a bar or a counter. This includes Blu Dot's Real Good Chair laser-cut from the skinniest metal sheets.
Adding a particularly chic industrial vibe to decor, Real Good bar stools are a real treat for the eyes in both kitchen and home bar.
Leather Kitchen Chairs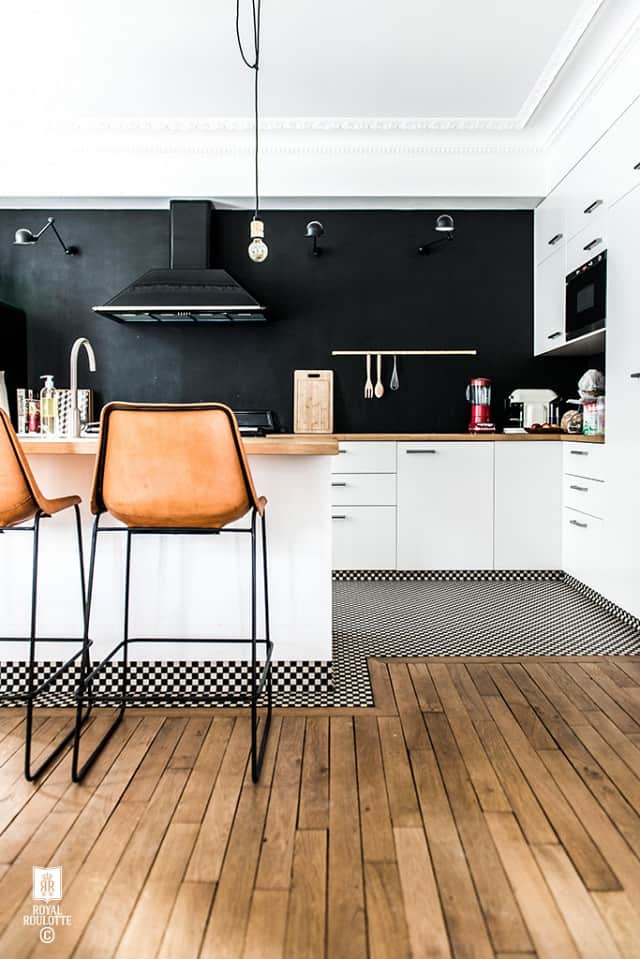 Roadhouse bar stool is like a good leather boot that goes with almost every style. Handmade and natural-looking, it takes a shape of a modern classic chair and elevates it to the counter height with a slender matte black iron frame.
Suitable for modern decor, Roadhouse looks like it would also be right at home in a rustic or farmhouse style home.
Mack Leather bar stool may seem distinctly modernist, but if you can sense a bit of contemporary chic in there, it's because it is a contemporary design.
Created by CB2 in collaboration with Kravitz Design by Lenny Kravitz, the piece will add a touch of sophistication to any type of bar.
Rake Brass stool is another design from the same collaboration. Looking a bit more rock'n'roll-ish the chair successfully combines a golden brass grid-like frame with a removable rough leather slipcover.
Perfect for bars and kitchens, it is bound to make an impression, as it looks great even sans a slipcover.
Anzio is a simple but designing bar stool with a curved leather seat perched on a sleek metal base.
Though quite straightforward, the design bears a distant resemblance to a tractor's seat, which lends it a bit of its charm accented by brighter, livelier colors.
Minimalist Kitchen Counter Stools
Kitchen chairs don't always have to act as accents. If you want to punctuate a backsplash or lighting fixtures you can always opt for minimalist designs.
Simple yet elegant this contemporary chair can add a pop of color to your kitchen with its sophisticated upholstery.
Nerd bar stool by David Geckeler has a simplistic design that would fit right in with a trendy minimal kitchen, where every detail is as unimposing as possible.
Although simple, the seat has a short back for better lumbar support made of form-pressed plywood.
Another design from BassamFellows is this Spindle bar stool that is as modernist as mid last century and equally as minimal. Featuring only an ergonomic wave in its seat and a short curved back, the chair pairs really well with natural materials like stone.
Standing on a slender metal support, Spindle can work well in a rustic modern decor among other styles.
Ikea's most popular bar stool for kitchens, breakfast nooks, studies, and bars, Dalfred makes for a versatile kitchen chair indeed.
Use it as is or spray paint to fit your color scheme, this adjustable seat with a nice price tag of just $40 is probably the greatest deal you can find on bar stools.
Kitchen Chairs in Unconventional Materials
Natural (and not very) materials aside from wood and metal bring a different dynamic to a modern home. Bloomingville's Rattan bar stool is a beautiful mix of rattan technique and modern design.
Contrasted by a slender metal base it brings a fresh touch of nature to kitchen decor.
It's not hard to see why Innit Designs' Puerto Stool is so popular. Comfortable and UV-resistant, it comes in 18 shades and 4 frame finishes.
It doesn't stand out only because of its bright colors, though. Its modern shape can bring character to a polished, minimalist interior.
Hot Mesh bar and counter stools by Blu Dot are especially attractive thanks to their complex pattern and multiple shades.
Made to stand out, they will easily decorate a white kitchen and play well with patterned floor tiles.
Lucite may not be natural but it definitely brings a different dynamic to the picture. Sleek and ultra contemporary, it works well with metallic frames that echo kitchen tech.
Vapor acrylic bar stools will make you feel like you're sitting on air all the while looking glamorous and stylish.
Kartell's Charles Ghost bar stool is a creation of Philippe Starck who likes to mix and match different styles and materials as well as reinterpret old things in a completely unexpected way.
Just like his Ghost Louis chair Charles Ghost stools come in different tints, but the clear version always makes us pause and peer every time we see it in decor.
Eco-Friendly Kitchen Chairs
Bouchon Bar Stool by Domitalia is made of natural cork and steel. Challenging many design notions, the stool looks positively modern but ensures eco-consciousness.
Fit for both industrial and rustic decor Bouchon is still a great departure from anything we've seen in modern design.
Arteriors Home's Hinkley barstool looks positively rustic and is surely made to create rustic modern kitchen decor.
Constructed with natural iron the chair features a swivel wood seat that comes in a natural wax finish showing off wood's natural discoloration and markings.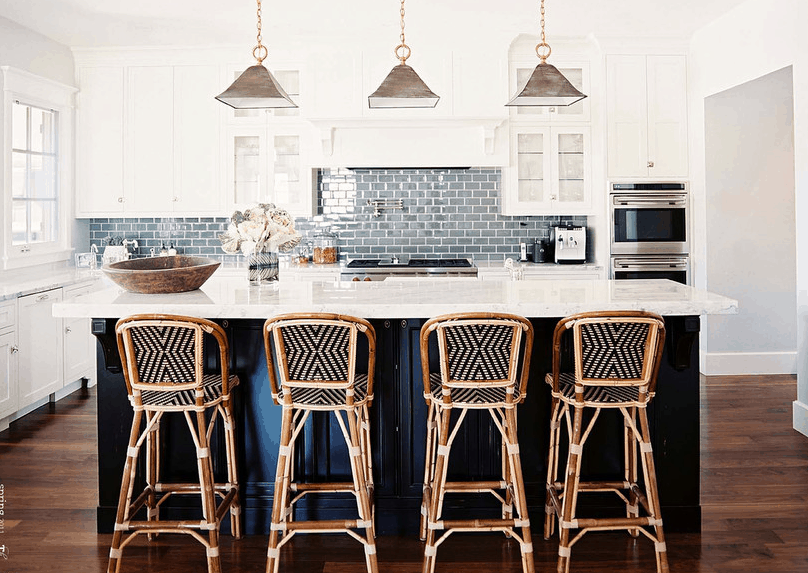 Authentic French barstools from TK Collections are made of Rattan and Rilsan (derived from castor oil plant). But they also boast generous assortment of patterns and colors.
Found in cafes and bistros these pretty guys will quickly decorate any contemporary kitchen in need of more flair.
Kitchen chairs can be as dramatic as you let them, but decorating rules still apply. Patterned, bright, shapely chairs look better in simpler interior designs. Minimal pieces will blend with an equally minimalist decor. Mixing and matching materials, textures, and finishes will almost always result in a more intriguing look.