Yacht interior designs aren't featured on sources that aren't dedicated to yachts very often. And that's a shame, really. One look at these amazing designs will make you want to renovate your home. While the yacht exterior design is something for boat enthusiasts to discern, interior aficionados will definitely swoon over these wood-clad living rooms, industrial chic kitchens, and hotel-like bedrooms.
Best Yacht Interior Designs
Yachts may differ in size but their interiors are as luxurious as they get. Crystal chandeliers, ultra chic furnishings, and lacquered wood will make any boat look and feel lavish. Just like most resplendent residences these yacht interior designs boast marble bathrooms and sprawling dining rooms, tiered ceilings and hardwood floors along with amenities of boutique hotels.
Superyacht Logica 147
Superyacht Logica 147 is a stylish black and white boat designed by Brenta Yacht Design. Its interior, however, is a whole other world telling a story of luxury living with sprawling dining areas, outdoor decks, and light-filled bedrooms.
Decorated by Martin Kemp Design the luxurious yacht has a neutral color scheme, sophisticated furnishings, and statement lighting fixtures in the dining area that create an overpowering luxurious feel in the entire room.
Compagnie Du Ponant
Jean Philippe Nuel has made Compagnie Du Ponant yacht into an epitome of elegance. An ultra light color scheme is accented with aqua blue accents and creative nautical details. Sophisticated smart furnishings further promote the elegant aesthetic that masterfully mixes luxury and minimalist design solutions.
From the first or even second look Compagnie Du Ponant doesn't seem like a yacht but rather appears as a very expensive boutique hotel or apartment.
CRN 43 MY Lady Trudy
CRN 43 M/Y Lady Trudy is a gorgeous mix of traditional and modern styles. Its white interiors are finished and accented with dark wooden floors and furnishings. White cabinetry allows to visually enhance the space in rooms like the main seating room and kitchen.
It's the latter that brings a bit of industrial aesthetic with its modern stoves, though. A farmhouse sink makes for a very rustic accent that helps to amplify the contrast between the old and new.
CRN 130 M/Y Darlings Danama
CRN is known for its gorgeous mega and superyachts. Darlings Danama presents a mix of modern and high-tech design, but more in aesthetic than functionality, though. Its minimalist furnishings show interesting curvilinear shapes and ambient lighting accents certain lines reflecting in a glossy ceiling.
Designed in a light color scheme the interiors that feature rare darker accents look light and bright even with the window curtains closed.
CRN 125 M/Y J'Ade
Another yacht in the CRN's fleet is a 125 M/Y J'Ade that has an incredibly luxurious interior design. Besides the lavish living areas and sophisticated bedrooms, though, there is a green mosaic tiled sauna outfitted with fiber optic lighting bringing a different feel than the rest of the interiors.
A stainless steel chef's kitchen is another amenity that looks different to the wood-clad hallways, captain's deck, and even an exercise room.
Far Away Canados 36
Francesco Paszkowski Design's award-winning Far Away Canados yacht interior is full of sophisticated elegance. Glossy rounded surfaces give it an ultra modern look while the neutral color scheme and sophisticated furnishings make for a fresh bright look.
Built-in lighting that has not only a functional purpose but also adds a color accent to the decor prevails over lighting fixtures. And while it's a very boutique style interior there are plenty of practical design solutions in all of its rooms.
Galactica Super Nova Yacht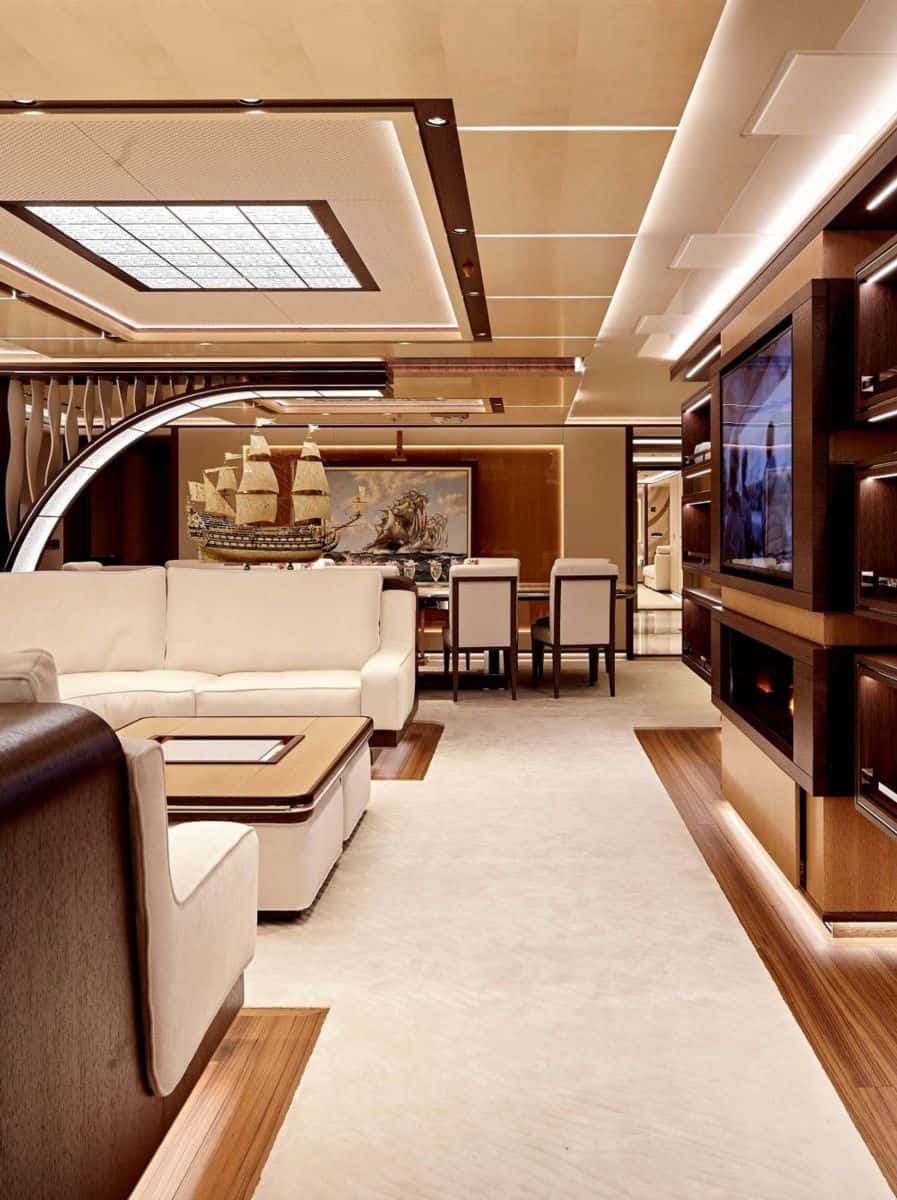 Conceived by a Dutch shipyard Heesen Yachts Galactica Super Nova Yacht is a design that represents luxury in every inch. Wherever you look there are different wooden accents, layers of walls and ceilings, and lots of inbuilt lights.
The neutral color scheme is accented with statement pieces like a sculptured wall partition and a small-scale ship model used as a display object echoed in a painting decorating the dining area.
Suerte Tankoa Yachts 69
With retro futurism being largely out favor it was surprising to see Suerte Tankoa Yachts 69 interior by Francesco Paszkowski Design. Looking quite retro with its wooden paneling and grey black details this bedroom works in so many ways.
In other rooms of the yacht the retro-futuristic aesthetic persists coupled with modern luxury design solutions and materials.
Sunseeker's Flagship 155 Yacht
Unveiled at the 2014 London International Boat Show Sunseeker's Flagship 155 yacht features an interior design that would easily fit into a boutique hotel. The concept is focused on a classic combination of dark wooden accents and a neutral color scheme.
Luxurious materials and an ultra sleek design, though, take it from traditional to ultra modern. Built-in lighting, modern furniture and lots of glass and other reflective surfaces make the interior look very glamorous.
Twizzle S/Y by Todhunter Earle Interiors
Twizzle S/Y, a concept designed by Todhunter Earle Interiors, features a kitchen that could rival that of a land residence. Shiny countertops and state-of-the-art technology coupled together make for an inviting cooking area albeit a bit tight in space.
The kitchen might not be the most important part of a luxury yacht but if love of cooking or long sailing trips aren't good reasons for a clever yacht kitchen design then we don't know what is.
Twizzly M/Y by Todhunter Earle Interiors
Todhunter Earle Interiors's Twizzle M/Y is another example of an elegant yacht interior design. Bearing a hint of mid-century modern style the yacht looks like a boutique hotel with a formal dining area and luxe bathroom design.
Using artworks and live flowers the designers give the yacht a lively feel. And mixing minimalist and statement pieces they keep it inviting but luxurious.
Cantiere Delle Marche Darwin 107
Cantiere Delle Marche Darwin 107 called Storm may be a luxurious boat but on the inside there is a toned down inviting interior design. Finished with wood and neutral grey carpets the yacht makes a perfect family retreat.
Boasting a few outdoor seating areas Storm is a great example of traditional decor complemented with designing accents and prints to make it less boring.
Abeking & Rasmussen Yacht Romea
With an interior fit for a luxurious 5-star hotel Abeking Rasmussen Yacht Romea is a 81-meter boat that also attracts attention in the sea. Terence Disdale ensured the insides matched the status of the luxurious vessel creating the interior design that deserves its own magazine spread.
Designed in a neutral color scheme it has modeled ceilings, built-in lighting, and even columns that give the interiors a more dramatic feel. The yacht's spacious bedroom with a soft platform bed has an interesting textured ceiling design that diffuses the built-in lights into a gentle glowing halo.
Baraka Turquoise Yacht
Many yacht interior designs feature neutral color schemes that call for bright accents. Incongruous with the name Baraka Turquoise this yacht by Francesco Paszkowski Design features violet throw pillows in the bedroom and red accents in the living area that jazz up the neutral decor.
Besides the throw pillows the yacht has a bright artwork in the hallway that ties the color scheme all together with its white, black, red, and violet colors.
Khalilah First All-Carbon
49 Superyacht
Khalilah is a world's first superyacht made entirely out of a carbon composite. The golden boat may look like a sports car of yachts from the outside but on the inside you'll find it is designed with a surprising boho chic aesthetic and a hint of retro.
White walls and tiered ceiling have a warm contrast in hardwood flooring and mostly white furnishings are accented with bright throw pillows and hot pink curtains. And in the middle of it all is a metallic octopus-shaped chandelier.
CRN 55m Atlante Luxury Yacht
It's hard to stay away from CRN yachts for long. They are luxurious from inside out. 55m M/Y Atlante luxury yacht is the proof that yacht facilities such as bathrooms can be as glamorous (if not more) as the rest of the interior.
Dressed in black and white veiny marble the wood-clad ceiling bath has a metal-framed glass shower stall and an amazing built-in sink. Atlante definitely has one of the most luxurious yacht interior designs out there.
CRN 129 M/Y Chopi Chopi
CRN's Chopi Chopi is a another amazing yacht. It's not only impressive from the outside but has incredible interiors. Decked out in wood the spacious seating areas are furnished with soft couches and plush carpets.
Indoor/outdoor rooms include a dining area and a home office. Yes, a home office. On a yacht. Why not? Many of these are as good for the living as they are for writing emails and answering phone calls.
Palmer Johnson's Dragon Yacht Interior Design
Palmer Johnson's Dragon yacht has one of the best yacht interior designs by Nuvolari-Lenard. Taking cues from the boat's name the designer cleverly organized space into divided zones and used dark wooden accents to accentuate the reds in the color scheme.
Using ceiling details and wall paneling the designer plays with red, white, and black creating layers and layers of color.
Sinnex Yachts My Nirvana
Among the most mind-boggling yacht interior designs is My Nirvana by Sinnex Yachts that is a real treat when it comes to luxury. Just its spacious formal dining room could compete with a half of one of these yachts. The backlit columns with realistic-looking patterns and amazing printed floors set a green color scheme balanced with black and white walls and ceiling.
Among other amazing features there is a cinema and an atrium that turn this boat into an ultimate sailing resort.
MYSORAH by Patrick Knowles Design
When it comes to traditional boat interiors Patrick Knowles Design might be the designer for it. MYSORAH is how we imagine traditional luxury yacht interior designs. There are neutral colors enhanced with light and dark wood. Blue accents that remind of the interior's nautical origins.
Classy, reserved, and sophisticated this boat manages to look interesting and eye catchy even with all the conservative design solutions in place.
ISA63M by Patrick Knowles Design
Now Knowles's ISA 63 yacht design is something different. There are incredible prints, colorful accents, and whimsical furniture pieces decorating the white and light wood interior.
Numerous details constantly attract the eye and make for an incredible general look that manages to stay functional and at times even traditional.
Riva 88 Florida Yacht
Riva 88 Florida by Officina Italiana Design may look modest in comparison to many of these other yacht interior designs but its stylish design is as clear as its lines. Dressed in wood and featuring lots of built-in lighting the yacht is filled with nautical blue accents that still don't take it into the territory of traditional design.
Thanks to numerous sleek metallic accents the interiors look somehow smart and modern. In the bedroom the lack of space is leveled with a big mirror and a reflective ceiling.
Solandge Superyacht
If you are truly into luxury a $1 million/week Solandge Superyacht is a way to go. 93 meter (280 ft) boat is designed with such extravagant luxury it's ridiculous. And it's probably the most expensive one of all charters. Aside from the marble-topped nightstands there is a swimming pool, a formal dining room, a gym, and a sauna.
Furnished with the most luxurious materials the boat is definitely made for exuberant millionaire vacations and parties with a bar, a hot tub deck, and all the water activities.
Yacht interior designs can surely be unique. Some of these yacht interior designs would look right at home with the modern mansions or luxury penthouses. But it's not enough to just have a yacht today. Its interiors must have personality and character apart from style and luxury.