The call of the open sea has long served as inspiration for music, art and architecture, and it is the muse behind this amazing futuristic house design in Athens. But it's not just the sparkling waves and the salty spray that put the wind in the architect's sail, so to speak. The luxurious yacht lifestyle lured the homeowners and the architect with its siren song. Here's how Greek architecture firm 314 Architecture Studio brought this elaborate nautical theme to shore.

This unusual modern home sits on a sprawling property, the main structure perched up high on stilts – like the keel of a ship – creating the illusion of floating in midair. An angled wall is reminiscent of a boat's sleek curves, and the crisp white facade echoes the lavish yachts and sailboats bobbing in the nearby sea.


An inviting swimming pool below adds a true "marine" feel to the whole nautical concept. After all, what is a yacht without water close by?


Poolside, a sprawling outdoor entertaining area offers sunny and shady spots for alfresco lounging and entertaining in all weather.


And if it's green space you seek, all you need to do is look up – an elevated garden deck provides a sweet spot for some R&R, high above the hustle and bustle of daily life. And the view isn't bad either!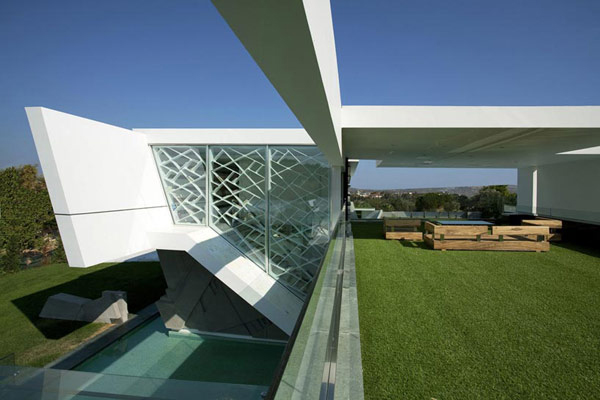 With a house like this, who needs to get away from it all?


314 Architecture Studio
Via Freshome