Modern, chic, elegant and classic are the best words to describe the color white when it comes to interior designing. Whether you seek to have a specific style such as modern chic or minimal and put together the options are truly endless when you are working with a palette that is mostly white. While you are looking for inspiration, check out our simple yet lovely ideas on how to enhance a white room.
It's All About Texture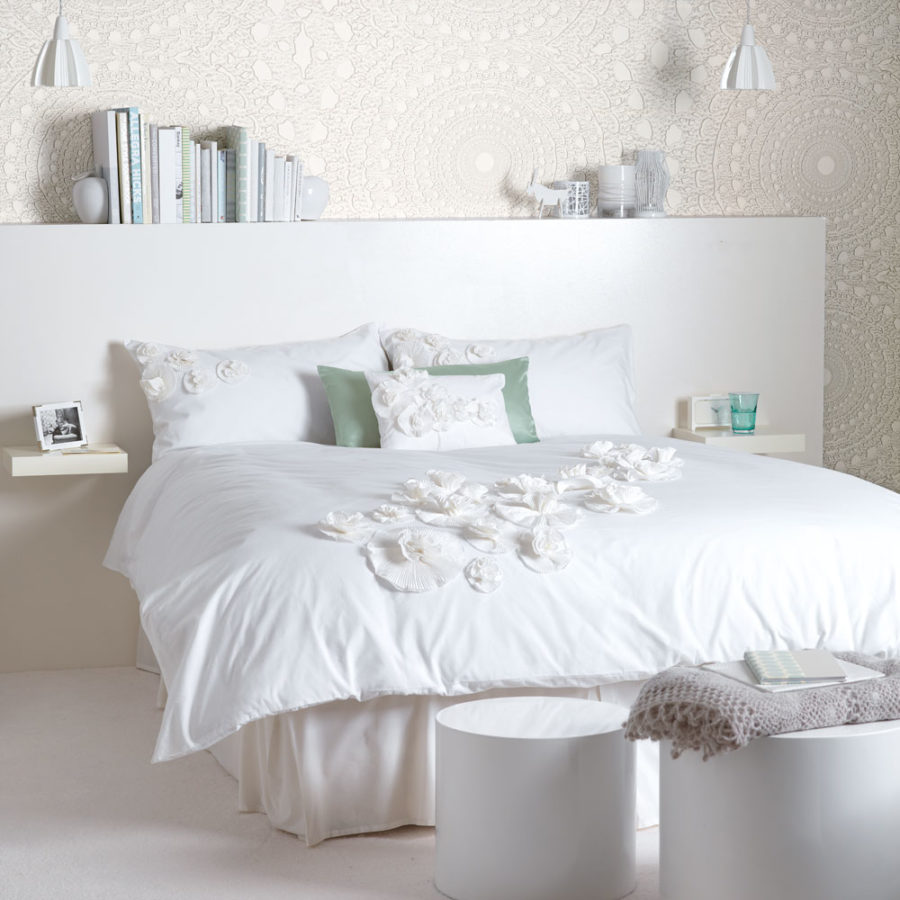 An all-white room can seem elegant and peaceful. However, many times we may come across the fact that it can become monotone. In order to prevent this from happening consider adding texture. You can add texture with a white intricate lamp or take it a step further and add texture with your linen.
Hanging Lights
Hanging pendent lights from your ceiling is a simple way to enhance a white room. Lights help a room appear larger, consequently creating a contrast within your white décor. Choose white pendent lights to maintain your all white décor or consider a bold colored lamp for a hint of boldness.
Colorful Books
Books are an excellent way of adding a touch of personality to any room without having to modify your current décor. Instead, install a bookshelf and add colorful books that will bring in eye catching color into the space. Small bits here and there of color create contrast in an all-white space.
Large Kitchen Island
Many homeowners seem to be a bit afraid of having an oversized kitchen island as it may cause the kitchen space to appear smaller. However, with a white kitchen, you have the ability to make some components appear larger as the space will always have a grander appearance. That is when a large kitchen island with a granite top will come in handy it creates a compromise in the space.
Black Ceiling
Black and white have always been complimentary colors. Therefore, it may come to no surprise that having them paired together is the way to go for an all-white room. Having a dark ceiling helps visually ground your all white space. To enhance this, even more, add black and white pattern accents throughout the room.
Minimalistic Is Best
Consider having as minimal amounts of furniture as possible. White is an expanding color as it will make any room appear larger. Therefore, if you have too many furniture products in one room it can actually cause the complete opposite. Instead, give the room an airy feel by being minimalistic.
House Plants
Having indoor houseplants can help a small room appear more spacious and airy. It is also a great way to add color to an all-white room. There is something very chic about having outdoor items indoors as a decorative aspect.
Bold Tiles
Bathrooms are notorious for being mostly white as there is usually a white toilet, sink, and bath tub. Therefore, adding color can be a bit more challenging. An easy way to incorporate color without changing all the white in your bathroom is by having bold tiles. Bold tiles add a pop of color that is never overwhelming for the space.
Shiplap
Not all rooms have a shiplap design, but those that do can benefit from painting it white. A white shiplap can make a room appear larger by causing your eyes to look up that in return will create dimension that wasn't even there.
Wall Art
A white wall is the perfect backdrop for wall art. You can get as creative as you would like without changing your décor. The white backdrop will enhance the wall art you display.
An all-white space is an excellent plane canvas to begin working on. Please let us know below which chic idea for a white room is your personal favorite.