Decorating with LED is easy. After learning about many LED enabled home fixtures, we've understood that the most of them if not all can be installed by regular contractors or plumbers, with no special skills required. Really, all it takes is to plug in a LED powering connection via low voltage adapter that comes with the product (some can even run on batteries). LED is definitely in the trend. Already today you can decorate your home with LED. Be the first to surprise your guests. But before we'll show you a few great products that will set this new trend in your home, let us comfort you with a few important facts about LED…
"Why LED?", people ask. Because… LEDs, or light-emitting diodes, bring FUN, FUNCTION and BEAUTY to home decor.
On a more technical note…
LED is virtually maintenance free – it rarely burns out; it lasts for 100,000 hours on average. No filament to burn out, unlike in ordinary incandescent bulbs. By some sources, LEDs can last for as long as 40 years.
LED is a low cost light source – in LED bulbs, 90% of energy is converted into light, while in incandescent bulbs 90% of energy goes to heat and only 10% to visible light.

LED is safe – it requires low voltage DC electric current and can run on batteries, and it's safe to the touch – it doesn't get hot.
LED light is easy to see even in bright sunlight.
LED can be illuminated in many colors including a very recent addition of White and Blue. Other are Green, Cyan, Red, Red Orange and Amber.
LED can change its light color.
LEDs are very inexpensive – some priced at .50 cents.
LEDs are easy to implement – they are just tiny bulbs that fit easily into modern electric circuits.
LEDS are durable – they aren't glass but small plastic bulbs.
Do you need more LED advantages…?! And there's more… Incidentally, just when we were writing this article, the news came up about the LED discovery made accidentally… The news basically say the LEDs will replace the common incandescent bulbs.. See how LED works in more details.
LED will lead and light up the future.
LED will play a major role in contemporary decor. If today's contemporary style means decorating with colors … tomorrow's contemporary style will be decorating with colors of LIGHT… The LED revolution in the interior design has already began…
Now that we know why LED is in, let's see some examples of how it transforms the home decor of today, room by room…
Dining: Add Magic with LED


The LED table by Ingo Maurer … Thinking about a romantic candlelight dinner under the stars? Instead, spend a 'starry' night at this LED lighted table, and you'll fill your romance… 'above' the stars. Designed by Ingo Maurer in 2003(!), this magic table lights up with 278 white LEDs per leaf and is available in 2-leaf ($14,850) and 3-leaf ($22,421) version at Unica.
Kitchen: Lighted Water


The KWC Eve Kitchen Faucet … Illuminating water is not new but when your kitchen faucet does it, is. Imaging yourself entertaining your guests in a darken kitchen… and suddenly they see the blue lighted water… this will set the party trend. Eve has only became available since August of 2005, from Swiss KWC. It's fascinating how this small and elegant faucet is made so innovative and practical. It has a pull-out that you don't see right away. The LED-lighting ring is integrated into the pull-out. You press a button on the pull-out, and Eve will not only illuminate water flow but provide effective lighting of the workplace as well. The LED application is supported by the Luminaqua light technology that uses a low voltage of 6.75V and is absolutely safe. It will automatically switch itself off after 45 minutes, and will use up very little electricity thanks to the LED efficiency. The pull-out extends up to 2 feet and the swivel rotates 270 degree. Available with no LED as well.
Kitchen: Cooking with Fun


Imago LED Illuminated Hood from Faber … a mood setter in the Kitchen. Add some fun to your boring kitchen appliances. Besides LED lights, it comes with a built-in TV.
Bathroom: LED Lighted Faucet, Lavatory and Tub – practical and beautiful


Take a clear or translucent material and make faucets, sinks and tubs out of it, then light them up with LED… how thoughtful and how aesthetic. These fixtures don't just set a nice atmosphere and make a very modern statement, they create a friendly glow by night so you won't trip over when looking for your loo. You can leave the LED light on – it won't cost you more than leaving your computer on.
The Neve Brick Faucet by Neve Rubinetterrie… more like art in your bathroom that mixes water and light. The two versions Brick Glas (transparent) and Brick Ice (opal) are available with a choice of white, red, orange, blue or green LED light.


The LTT tubs and LTB lavatories from Wet, and Italian company … these objects are some of the most impressive LED driven designs. You see them and you want them, and they are priced on a budget. And not just for adults – would it be much easier to convince your child to take a bath in a lighted tub? Both the bathtub and the sink are made from polyethylene and are illuminated with a built-in multicolored, low-voltage electronic LED device that can be programmed for time, color and color intensity. A transformer is included. Buy them at Giant.


Bathroom: Changing Colors with Temperature


Another LED's fascinating feature that brings art and unexpected to modern home decor – the ability to change color with changing temperature. In the case of Nephopia basin, the glass color is changing, and with Hansacanyon the color of the water is changing.
Hansacanyon LED lit faucet from Hansa … is a high-tech water and light control system – with water temperature changing from cold to hot, the water color is changing from Blue to Red. Along with the faucet, also available is the illuminated waterfall spout that can be either a tub filler or an overhead shower. Even the temperature control buttons are illuminated.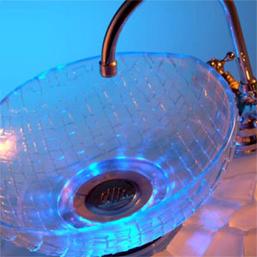 Nymphaea LED lit basin by Whitehaus … is designed with color therapy in mind. Powered by a 5-volt adapter, light-emitting diodes are positioned around the base of the sink. Start pouring water into the sink and LEDs will start changing colors and the color intensitiy, based on the temperature of the water that falls into. LED colors that can be produced are red, blue, green, yellow, purple, and orange. Nymphaea can be installed by any plumber. It can even be programmed to change colors without water.

Bathroom: Chromatheraphy – set your mood with the right color


WellSpring Steam Shower by Hansgrohe … Light up your steam shower with the LED color, change it based on your mood. The WellSpring's LED chromotheraphy in 4 colors is only one of many features to enjoy you bathing with in this high-end system.
HansaColourShower by Hansa … take a shower with the LED colored rain. Let it light on when water on automaticaly or manualy change between 8 colors including white from the lit control panel, as you desire. LEDs installed right in the showerhead, combined with multiple spray options help to create a very relaxing showering experience.


Whole House: Practical LED


Brighthandle LED lit door handle … it changes its color from Green to Red when you lock the door. What a practical way to show others that the room is occupied. Brighthandle also brings colors to home interior. We find the Brighthandle to be one of the most practical LED application in home decor.
Whole House: Accenting with light


In general, LED can be used anywhere in your home to add colors to your home decor or to accent some design elements – just like you used to do it with spotlights, you can do it with the Easy LIM LED Strips from SLV Elktronik … Powered by 24W DC connection, these low-voltage strips can be installed anywhere to produce low enegry light in many colors.


Outdoors: LED lighted seating


Light Bench from Runge … would be an excelent additon to your landscaping. Integrated LED lighting makes this urban style bench ideal for entertaining on your patio or deck.