On New Year's Eve we came across what we think could be the ultimate party house to ring in 2014! This cool California house sets the stage for a swanky soiree, starting with oodles of space – 8,300 sq. ft. of it! This three-storey home features three levels of terraces, outdoor entertaining areas, and expansive glazing, with multi colored lighting that gives it a lively, night-club effect. The home also features a rooftop deck and pool, waterfalls, a movie theater, a wine cellar and a guest house. Add a couple hundred of your closest friends, and you're got yourself a serious party! This luxury home for sale was featured by Los Angeles-based Ben Bacal Studio. Read on, and enjoy the view!


Past the front gate, you're welcomed up the artfully illuminated slope and into the lap of luxury! A set of wide steps works its way up to the house, tucked between a pair of tall privacy walls.


This Beverly Hills home sits on the hillside, overlooking the shimmering city skyline. Terraces, patios and expansive glazing is used to make the most of these million-dollar views – well, let's call them multi-million dollar views, in this case!


A reflecting pool is lined with large pebbles, that give this water feature a natural yet refined finish. The home's interesting lighting elements shimmer and dance on the water's surface.


Sliding glass doors lead from the reflecting pool to the living room – a large, open space ideal for entertaining a crowd or spending a cozy evening solo. This glass enclosed space floods this combination living/dining/kitchen area with natural light by day, and the city lights by night.


This central stone fireplace feature isn't your typical hearth – this contemporary off-center fire feature totally disappears when not in use.


The dining area is a sophisticated space, tucked privately off the living room yet offering a good flow and connection to the main living area. The floor-to-ceiling glass wall enhances the sense of space, while staggered glass globes of light dangle deliciously overhead. Bon appetit!


The adjoining kitchen is contemporary, yet has a warm natural aesthetic thanks to the warm wood floors and those lush, leafy views through glass walls.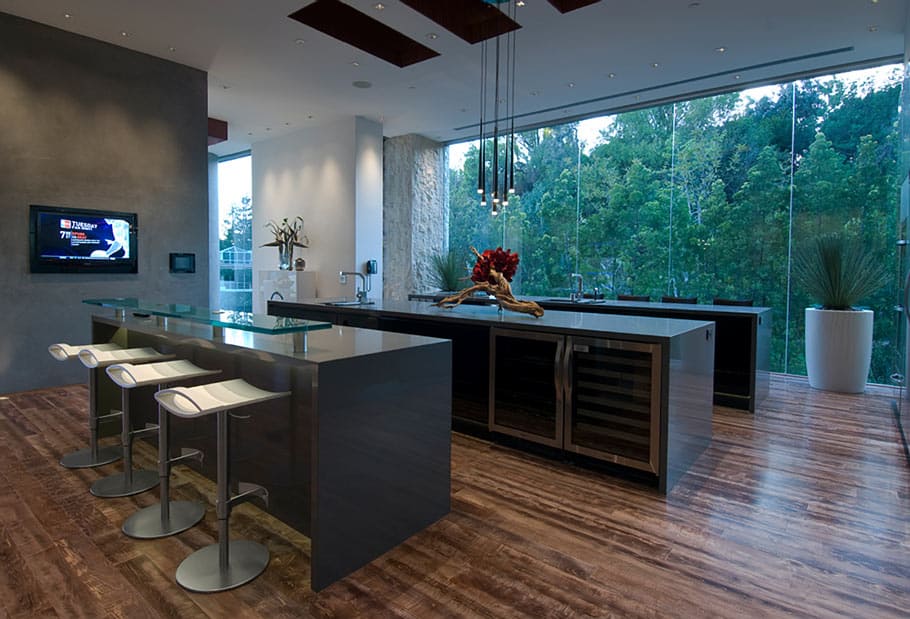 A trio of islands offers plenty of space for prepping, noshing and sipping.


The kitchen connects to an open staircase, zigzagging its way upstairs.


The staircase has an industrial feel, featuring heavy bolted steel and wood steps. A glass enclosure and open rises add lightness to the structure.


These comfy leather lounge chairs lure you to sink in and enjoy the view of this glazed corner nook.


Just outside the glass, another water feature is bathed in indigo light.


The master bedroom features slate tiled walls and is furnished in plush white.


Lots of windows open up the interior walls of the space, enhancing its visual space.


The lighting ups the romance factor of this cool, contemporary space.


The master bathroom is a sumptuous, spa-style space complete with a freestanding soaker tub framed with a bed of stones, and a television – if you can manage to tear your eyes off the glass walls and the views!


The luxury in this elegant house flows like water!


The home theater is well equipped for movie marathons.


No doubt, any party hosted in this luxury home spills onto the rooftop terrace, lushly planted and furnished with chic lounging furniture.


Dive in!