Peruvian architect Domenack Architects designed the S House for a family in Lima. An interesting example of Peru architecture, the multi volume house is composed of various volumes at different heights, made from an assortment of materials, all displayed within an overarching concrete frame. This wood, concrete and glass house is almost like a puzzle, combining indoor and outdoor entertaining areas seamlessly with barely there glazed walls. While the outdoor "rooms" enjoy an authentic alfresco living experience, the indoors also boast an open and airy pavilion feel. This unique house design truly delivers the best of both worlds. Check it out.


The simple, straight lines and geometric forms of the house add a structured, contemporary edge to these organic surroundings.


The house features two curious boxes, immediately evident from afar. The lower level glass volume gives you a taste of what life in a fishbowl is like – on display with nowhere to hide. It's a good thing the house enjoys such a secluded spot. Meanwhile overhead, a solid wood box houses the private living areas – bedroom and bath.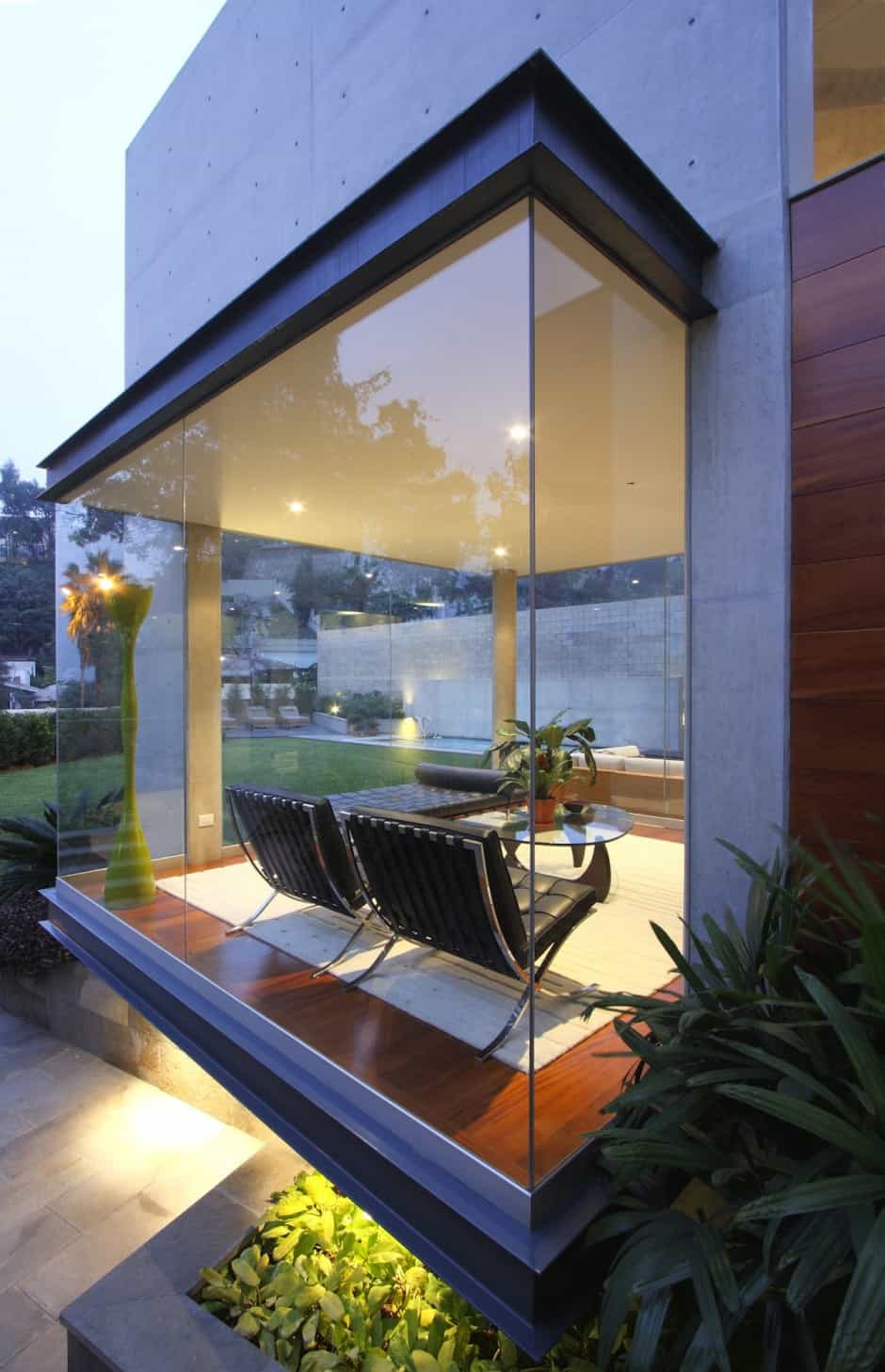 The glass-enclosed living area is an inviting space that boasts the best of both worlds – nature always within view and reach, and shelter from the elements.


The home's outdoor entertaining areas are elegant spaces that invite living under an open sky. A small dining area is tucked beneath the wood volume, while the |living room" sits within the double-height outdoor volume.


The glass wall separating indoors and out offers a seamless transition and unobstructed views.


Fresh air and a breezy style!


The sliding glass wall opens to reveal the interiors. Glass walls and a large skylight overhead flood the space with natural light and lush scenery. The wood volume carries on from outdoors in, creating continuity between the two realms.


Follow the glass wall through a double-height hallway, leading past the outdoor living areas and into "the aquarium."


This glazed space is a perfect spot for reflection, meditation, appreciation of the views and every glorious day.


The iconic Barcelona chairs and day bed in basic black leather add a modern pop to this minimalist space.


A little deeper into the living room, an inviting fireplace is surrounded by seating that's as comfortable as it is beautiful. The supple natural leathers, cognac-colored wood and the glowing lights create a warm environment against the cool night sky.