2020 has been a rocky, new experimental year for all of us. Though the world seems to always be changing the holidays are always a top priority no matter what year it is. Halloween is right around the corner and we are extremely excited! Although things might look a little bit different, the holiday spirit can still be felt in the air. There's no better way to bring holiday spirit than to decorate your porch. The following ideas will ensure your porch is the envy of all your neighbors.
Witchy Nights
ho doesn't love the idea of being bewitched or under a magical spell? There's something about Halloween that puts us all in the mood to feel enchanted into a new, darker world. Keeping that in mind, consider the idea of making your porch into a witchy oasis. Do so by adding witch hats as the main focus of your porch area. You can hang them, display them, or do both. Add other Halloween items and create the ultimate display that makes the space feel new and fresh.
Eerie Appeal
Take a pair of dark trees, whether you paint them, or you purchase them in a dark shade, you want to take them and display them right next to the door for an eerie enchanting vibe. Pair them with auburn lights and allow the lighting to be the bold touch your outdoor space needs. Work in a few pumpkins and you have a spooky vibe that oozes from the front door.
Picture Perfect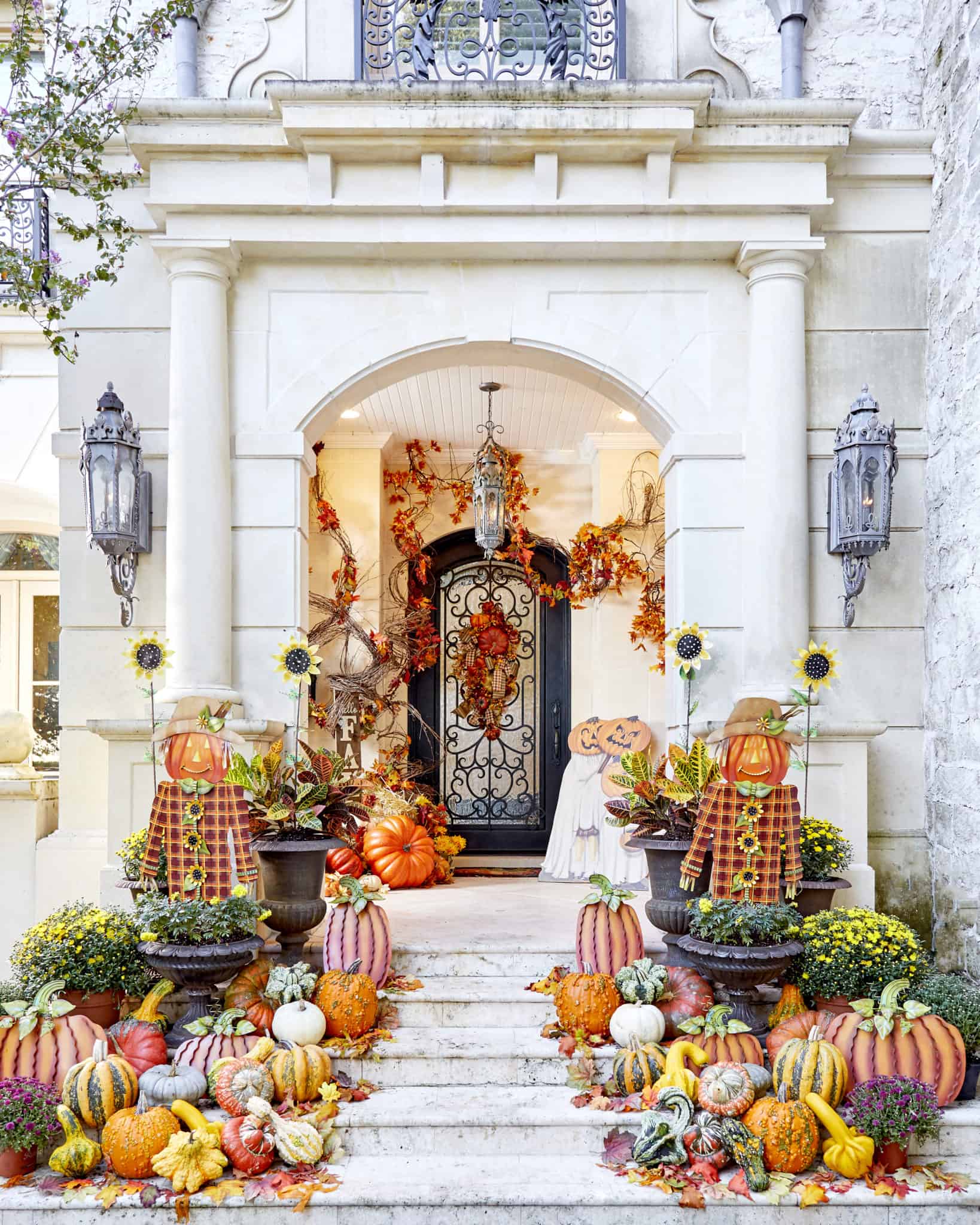 If you are a fan of decorating magazines than you know most of their pictures look to good to be true. Some might say they are. However, we are here to tell you, you can have the same display too. Bring in a symmetrical display that will work on both sides of your porch. Whether that is due to you having stairs or you simply want to have the same display regardless of what both sides have to offer. Add in pumpkins, lots of them, and pair them with flourishing fall flowers to complete the whimsical appeal. It's all about working with what you have to offer and having it become the ultimate magazine moment.
Work with Hay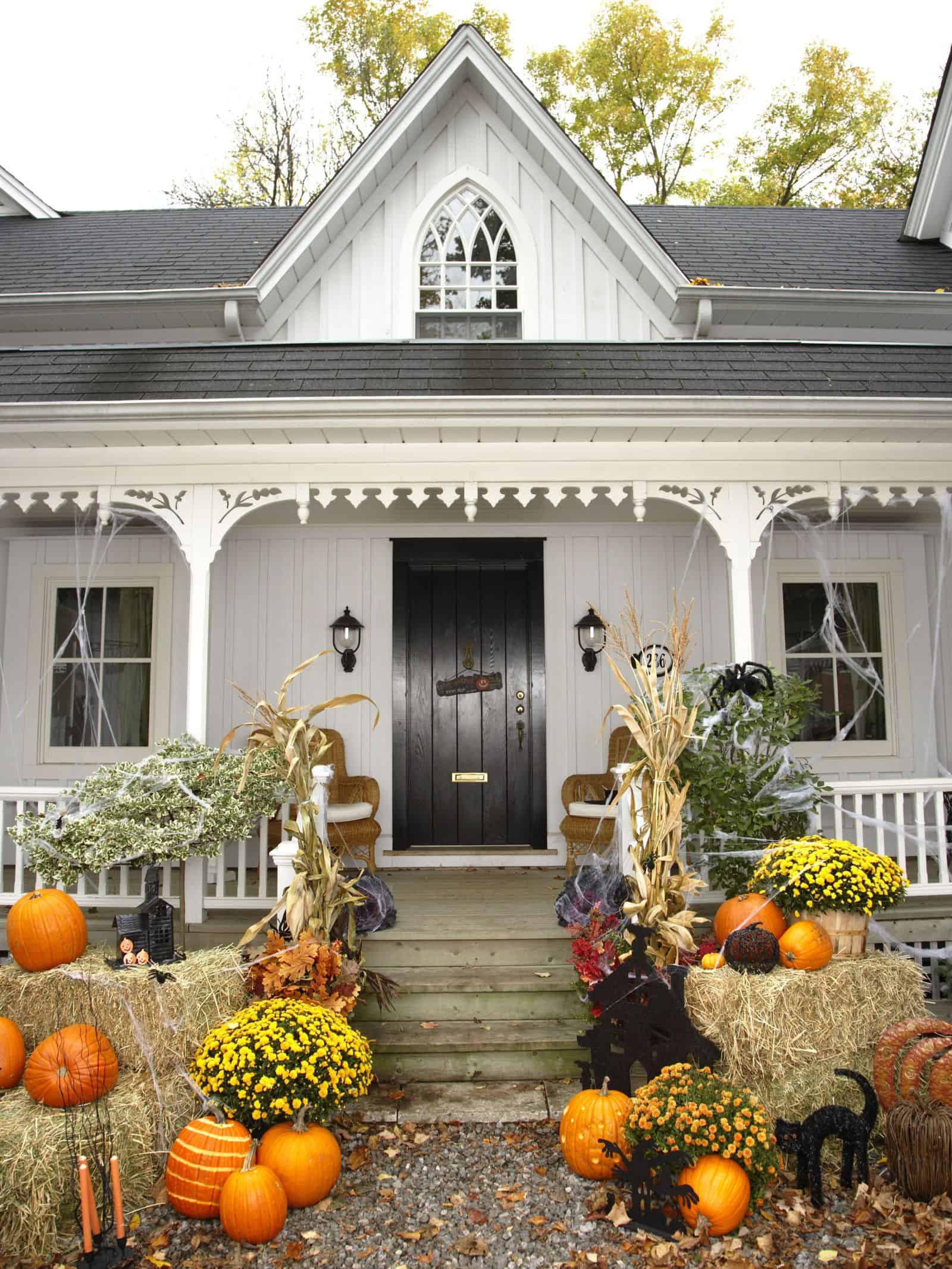 Hay is one of those fall decorative bits that always make sense this time of year. Bring in piles of hay and have them become additional outdoor seating. We all like to entertain, no matter the weather, while we might not be doing it as often or with as many people, having outdoor seating is always nice. Hay works due to being simple and festive, wrap it in spider cloth to add an extra touch of holiday cheer.
Add a Wreath
No matter the holiday, occasion, or time frame a door wreath is always a good idea. It's one of the easiest ways of decorating without getting too deep into the decorative world. Furthermore, working with a wreath allows you to decorate around the rest of the space. Work with the colors the wreath has and display them together. Doing so will help bring your display all together with an easy format.
Skeleton Display
There's nothing quite spooky and mischievous about having a skeleton display. Whether you display one skeleton or many. It's all about taking your display to the next level and having it become one of those areas your neighbors want to take pictures of regularly. Add a skeleton to your display and make it the main focus while having been one of those elements that scream "Halloween" from the moment they see it.
Dark flowers
Maybe traditional Halloween décor isn't your thing? Maybe you prefer a classier display. If that is the case, it is time to consider the florals that you are using. Flowers are no longer a thing for the summer or springtime, they work quite well during the fall as well. The key is working with darker flowers and having them clustered together. Creating a clustered approach will give you an edgy time frame. Bring in darker flowerpots and pair them with Halloween elements to make the entire space come to life.
Pumpkin Arch
If you truly want to make your neighbors envious of your porch, contemplate the idea of bringing a pumpkin arch. It's all about going as bold as possible with your archway. Bring in fake pumpkins, PVC pipes, and working them in effortlessly. Doing so creates a chic approach that is effortless to do while making a huge statement instantly. Work with a blend of colors to intertwin your décor in an easy effective manner.
Decorate the Door
When in doubt, of how to decorate your porch go for the door. Your door is one of the very first things anyone who walks on your porch will see. Therefore, you want to make sure your door will make a statement on its own. Get creative by bringing in a DIY touch and having your family get involved with your display. Whether you have your kids do arts and craft showcase or you want to do it yourself, it's all about displaying your favorite Halloween bits and having them be the focus you need.
Jack-o-lantern
Who doesn't love a jack-o-lantern? It's the magical aspect of Halloween, children and adults get to gather together carve their pumpkin, and light it up to create that enchanting aesthetic. For this idea, you want to bring in multiple jack-o-lantern's and have them as the focus of your entryway. Doing so will create a mystical aesthetic that feels festive yet chic and engaging. Pair with other dark elements to further showcase your holiday separate.
Which if these ideas are you most excited about? Share with us your ideas below.