Are tiny homes the new big thing? These days, the tiny house movement is gaining more popularity than ever and picking up speed. Little homes are not only used by environmentally conscious hipster couples or retired social hermits, but a pint-size dwelling has now become a great option for housing an in-law or visiting guests. You can even rent them out!
The concept of the tiny house movement is not simply the newest novel architectural trend, but a statement rather of people making choices to live with a more minimalistic lifestyle. Many of these tiny homes are constructed with environmentally friendly materials—not to mention the enormous reduction of energy it takes to illuminate and heat/cool these homes. They might not be for everyone, but their modest way of living is becoming more and more attractive when you think of the low cost of living that comes with it. Essentially these homes are miniature houses on the outside but studios on the inside; ideal for singles and couples.
Let's take a look at some of the coolest mini houses on the block:
Cottage Style
Tucked away in a grove of luscious greenery, this darling red-roofed little cottage enjoys a serene water view. This home includes a full kitchen, bathroom, living room, sleeping quarter, gas fireplace, laundry, and a loft all under that one roof!
This 192 square foot luxury farmhouse on wheels packs in a sleeping loft, bathroom, kitchen, living space, and a laundry machine! You can actually order this country charmer from Tiny Heirloom Homes for $65,000 including delivery and a trip to the company's headquarters in Oregon City to see its construction!
This floating summer getaway belongs to a supremely environmentally friendly couple. The 240 square foot cabin was assembled onshore over plastic floatation tubs, styrofoam, pontoons, and then was towed to sea. The couple carries water out daily by canoe for a shower and kitchen tank. The cottage home is illuminated at night by candles, oil lamps, and solar lights as well.
With a classic white picket fence and a charming window-front rose garden, this mini American Dream home sits among the bustling metropolitan city of Chicago. The 780 square foot house was built in the 1870's after the Great Chicago Fire. The tiny home was used as a fire-relief home for families who had lost theirs. Historians say many tiny fire-relief cottages like this one existed in Chicago but many have been transformed with bigger renovations.
This red-topped triangular house actually costs only $1200 to construct! The Tennessee Tiny Home is translucent to allow in natural light and the side wall can be propped up on legs to expand the space from a total of 80 square feet to 110. The other side of this A-frame doubles as shelving space as well as a support system for the roof. There is a micro loft with a hinged sunroof for extra ventilation, two beds with additional storage, a mini fridge and a kitchen sink. You can also buy the draft plans for this tiny A shaped home for $30!
This cheery cottage home resides on a Northern California dairy farm. The 260 square foot little house has an open wraparound porch and a bright interior filled with bright red and yellow hues. With details like a chalkboard at the front and a foundation made of non-corrosive and wear-resistant materials, this tiny home is huge on the charming side!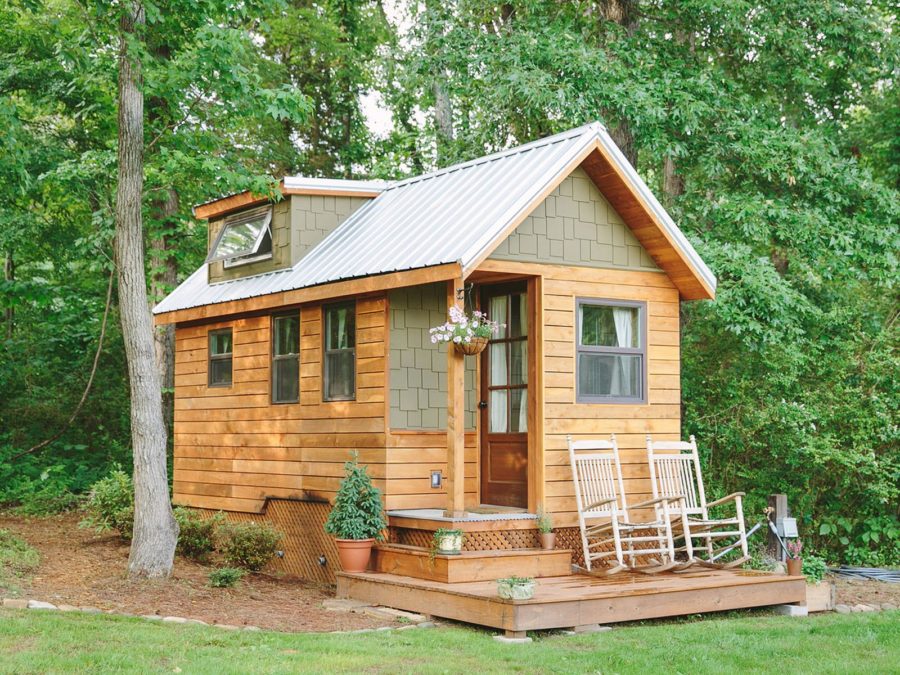 This Tennessee wooden bungalow is called the "Wind River Bungalow." The 204 square foot tiny home is built with rain screen cedar and hardy siding for extra durability. Extra customized features include a pine and cedar interior, a loft ladder integrated into a shelving system, and a polymer concrete counter space. We love the mini front deck with adorable side-by-side rocking chairs too!
Check out this tropical tiny home that stands on wooden legs over a beautiful view in Hawaii. The 250 square foot structure is called the Sunset Beach TreeHouse Bungalow and overlooks the island's Northern most famous surf hotspots. You can rent this mini cottage paradise for $1200 per week, but you'll have to climb 100 stone steps to reach it. Nestled among black lava rocks and a leafy canopy of avocado and mango trees, this three sleeper is definitely an adventure!
Modern
Tiny living doesn't just have to be cottage style. This little house takes modern to a whole new miniature level. With contemporary stone brick textured exteriors and crisp black outlining, this rectangular shaped mobile home is every bit of stylish.
A barn-inspired tiny home with an open concept gives this little home a hugely spacious feel without actually taking up more area. With rustically painted wooden panels, a fireplace chimney and an upper loft with a skylight, this camper would be the perfect getaway for a quiet vacation away from all the hustle and bustle.
Interiors
Lets take a peak inside the interiors of a tiny home. Notice how there is no furniture sitting in the middle of the room (a coffee table for example) blocking off space. Everything is lined against the walls to keep this home open and elongated. Many little homes utilize an upper loft space for sleeping arrangements leaving room underneath for kitchen and bathroom space for example. With a flat screen mounted on the wall, desk space, and bright windows, minimal living doesn't look half bad does it?!
Here's another tiny home optimized for functionality. Complete with a kitchenette, bed space, flat screen, and extra shelving space, this tiny home would be the perfect escape studio to focus and work in as a potential office space or guest house in your back yard. The modern dark hardwood flooring and white and black theme keeps this home open and not stuffy (carpet might for example).
Designed by a 3D graphic designer, this small rustic living room feels winter cozy but not claustrophobic. The upper loft is tall enough to sit upright in and fits both a queen bed and a dormer in the back for additional space. The first floor holds an open kitchen, table and stools that neatly tuck underneath, plus bay window seating and a wall-mounted TV. We'd love to take an intimate winter getaway here!