Open plan homes are getting more and more popular as do small studio apartments. And if the former allow bedrooms to stand separately, it's much more challenging to get any privacy in the latter. That's why we poked around the web to show you the most creative sleeping areas where you can feel cozy, private, and very sleepy.
Framed Glass Dividers
The trend of late is to separate your bedroom from the rest of the space with black steel framed glass walls. These may come as dividers, walls, and doors, but their main task is to keep the visual flow going while closing off the bedroom from the outside noise.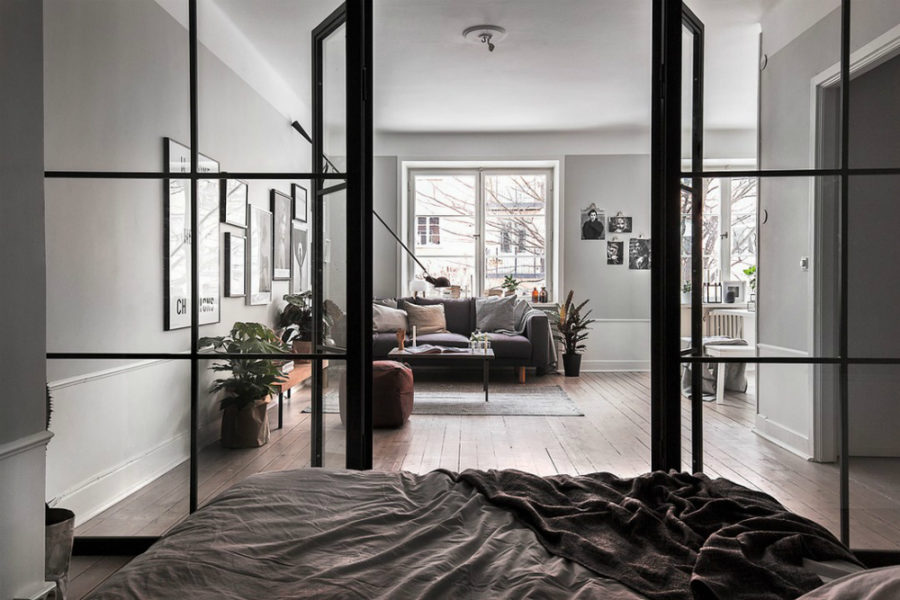 It may just be a design element more than anything else, but such a divider instantly makes clear where the boundaries are.
We completely love the contrast a black frame brings to the modern white apartment, which you can punctuate with monochromatic gray tones and muted brights.
Curtained Off Sleeping Areas
Curtains may not give you sound absorption, but they can definitely disguise crinkled bed linens and the general intimate atmosphere of a sleeping space. They're easy to incorporate and use. And they're cheap.
The easiest way to hang a curtain is if your bed lies in some kind of an alcove, closet space, or wall niche.
If you have a studio without any alcoves or nooks, though, you can still separate it into with a single huge curtain as shown above.
Sleeping Nooks
Sleeping nooks are cool because they give a sense of comfort without requiring an entire room. These can be natural interior architecture elements or come from interior design solutions and furnishings.
In the last example, the designers went to convert a closet into a sleeping room with a floating shelf and reading lamp.
In an apartment above it, there is a box-like structure that houses a bed with a home office on top of it connected by a modern spiral staircase. Brilliant!
Glass-Encased Creative Sleeping Areas
Glass-encased sleeping areas are a lot like those black framed dividers, only with a sleeker aesthetic. They allow visual communication but at the same time set the boundaries between the public and private zones.
Glass gives an interior a very contemporary vibe, but it also doesn't do much in terms of sound absorption or visual protection.
If you feel like a fish in a bowl, you can add a curtain for a more comfortable night's sleep and leave it open only during daytime to maximize space.
Half Wall
A half wall isn't exactly noise proof but it gets the job done in terms of demarcating a private area. It's simple psychology – any kind of physical barrier appears less inviting.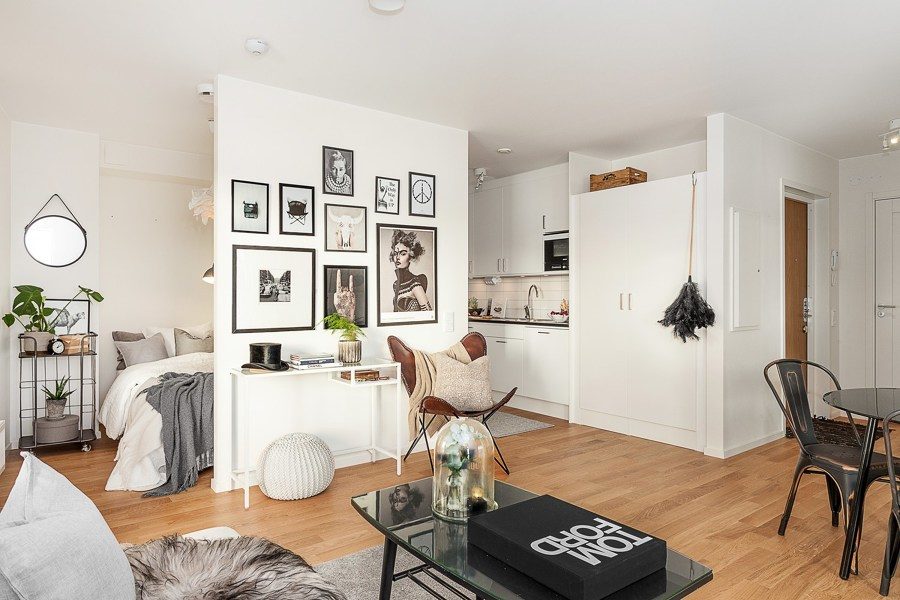 There are a lot of ways to use a half wall to your advantage. The most basic one can provide some surface for storing personal things. A more elaborate design can act as a storage-friendly divider.
A floor-to-ceiling half wall is a great avenue for an art gallery. Half walls are making up the most creative sleeping areas in Scandinavian homes.
Loft Sleeping Areas
The best way of getting your sleeping area out of everyone's way is to put it somewhere near the ceiling. It will require some investment, but boy is it worth it.
Especially tiny apartments will only benefit from a loft bedroom, clearing space for a basic living area.
Other uses for that spare space could be a dressing area, a home office, or maybe even an entire bathroom.
Small Bedrooms
It may not appear so but tiny bedrooms, that look more like nooks, have their own advantage. It's kind of ideal even to have only a bed in your sleeping area because there are no distractions that could tempt you out of your beauty snooze.
If you need your bedroom to have more functions, then it's back to dividers again. These are great at separating working space from sleeping and dressing areas.
One of the other solutions is to use your headboard as a divider. It makes for a cool office desk wall board.
Creative Sleeping Areas in Studio Apartments
Studio apartments don't always have the most creative sleeping areas, putting the bed front and center of the room but there are ways to avoid that. Tempting as it may be to use that central room window as a headboard, try looking for a more inconspicuous location for your bed.
It may be the corner of your kitchen or a zone behind your living area. The thing is – it has to stand apart. In tiny rooms, it's easy to make a mess of various areas, but here is where curtains, dividers, and special furnishings can make a real difference.
Creative sleeping areas don't always require professional design or remodeling. You can use simpler tricks to make them stand out. We love the idea of a raised platform bed with storage or a canopy bed that can be fully curtained off from the rest of the room.