Whether you're lucky enough to have an at-home library or need something inside the home office to line the shelves, everyone could use some of these versatile decor pieces – that can be functional too. Even if you just slide some on you mantle for accenting, they work! These 15 unique bookends will house your favorite reads but will add personality to the space too!
Decoist brings us our first super funky, unique bookend to swoon over. Check out this nautically-inspired whale design! Great for playrooms or for those with a beachy sense, it definitely brings a bout of fun personality to the bookshelf.
Check out these karate kids! These black silhouettes will fit well inside of more modern and contemporary of spaces. But the unique design is what makes it a light-hearted and fun choice to add to the home.
West Elm gives us one of the more trendy pieces on the list. These heavy, agate pieces are such a gorgeous way to go. Add pizazz and poise to the shelf with a pair of these beauties. And each piece will be unique in and of itself – which is even more personalized.
It was hard not to fall in love with these dainty, pink kitchen utensils. If you're looking for something to keep your cookbooks at bay, this fun design from Atelier Article is exactly what you need. They come in black too!
Mermaids are as trendy as unicorns right now and that means that this bookend is right in the pocket of decor ideas. This piece from At West End is still rather funky though, bringing in a bout of "flea market" flair to your at-home library, home office or even in the living room.
Heather Scott showed off this modern art-inspired bookend design and we love it too! It's definitely reminiscent of a starburst piece and we're really loving the contemporary, easy flair it has. Adding to the side table or the mantle, it'll work in so many different spots around the house.
You could always learn how to make some of your own bookends instead of window shopping. Just check out this tutorial over at Wonderful DIY. If you love natural elements and particularly inspired by succulents, this is the route to take!
A couple of marble blocks could be your bookends too. This unique, muti-level design makes for a beautiful, modern addition and one that's quite easy as well. Adding interest but still chic aisle, it's one of our favorites on the list.
Perhaps you have a more rustic vision for your home. If that's the case, then maybe you'll be looking for some bookends that have antlers or some deer-inspired charm. Farmhouse Wares gives us some heads that are fit for a home off filled with leather textures and deep woods.
Alibaba featured these beautiful amethyst pieces that are so versatile and would become such a fun part of your home. Even the smallest additions can make a huge impact and that includes what's on our bookshelves.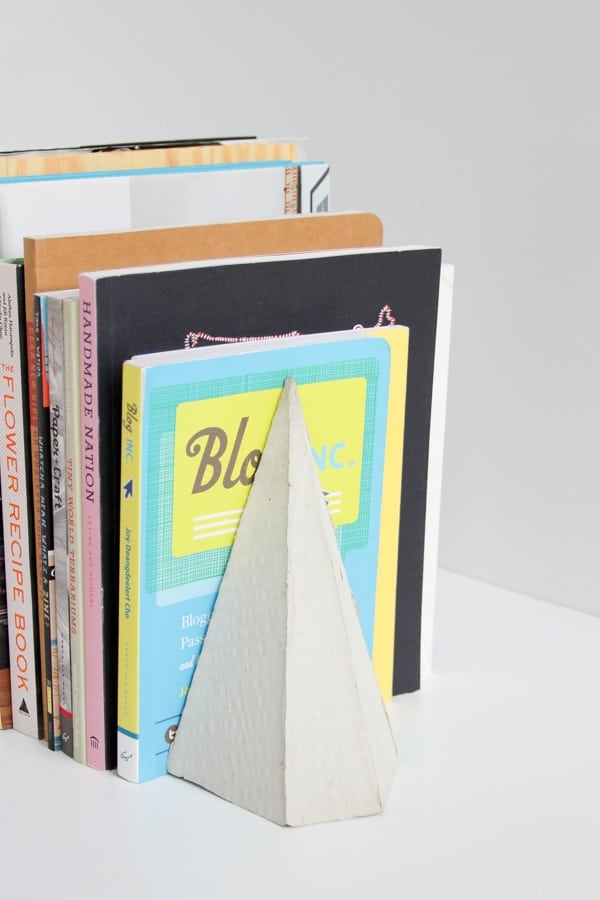 You can even learn how to make your very own geometric-inspired bookends. Well, if you visit Curbly you'll find out how! You could even paint these pieces or add embellishments and personalize it.
Smudge showed off thee adorable watermelon designs. They're fun and spunky. They'll add vivacious pops of color to your bookshelves. And they're especially great for play rooms or nurseries.
Uncommon Goods always has some unique pieces to choose from. And these camera bookends are no exception. We love how they have funky, vintage appeal and lots of trendy air as well.
These balloon animal bookends have been quite popular for a while. They come in a variety of colors, so you can mix and match if you'd like. Again, these are perfect for play rooms but we find them rather fun for our home offices as well.
And finally, if you search for a little bit, you'll be able to find some unicorn bookends too. We found these fun ones floating around on Etsy. Colorful, gilded or kept plain and white, who doesn't love this magical creature?