Catalyst Architects are the brainchild of this cottage-style copper house in Copenhagen, which takes note from nature for its materials, its overall aesthetic and the interior design. The result is a refreshing, relaxing space to call "home." Join us in a sneak peek.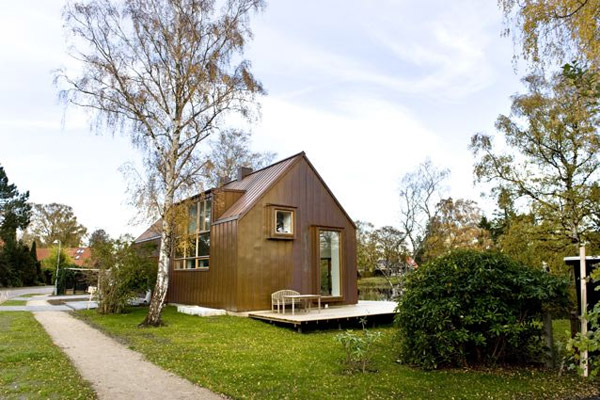 Virum Villa's setting is the main inspiration for its design, drawing on nature for its earthy, casual look and feel. The home's "barn house" style is the ideal accompaniment to this lovely lakeside location, surrounded by trees with water lapping at its feet.


It's like a storybook setting, and while not totally secluded – city and neighbors are nearby – this home has the distinct feel of a far-off cottage.
The facade features vertical sheets of copper cladding running down the roof and along walls, their warm rusty tones a beautiful complement to these surroundings.


A deck provides a nice outdoor entertaining area overlooking the lake, with sliding glass walls that open to the main living space. Facing the waterfront, this glazed area extends the living room well beyond its walls.


Interiors make the most of natural light, flowing in through expansive windows and throughout this open concept space. The aesthetic is cool and clean, and simple by all accounts. No fussy furniture to clutter, no garish colors to distract, and a clean palette of light wood floors and white walls that let you focus your attention where it belongs… the views!


The strategically placed windows frame snapshots of the outdoors, giving interiors a stunning, ever-changing natural focal point.
Inspired by nature on more levels than one, this eco friendly house also does its part to ensure the environment stays clean and green, minimizing its carbon footprint through the use of passive solar heating, passive ventilation, heat recovery system and recyclable insulation.


Catalyst Architects