Whether it's in the kitchen, craft room or home office, wall clocks work! Thankfully, there are tons out there that not only add the functional of telling time but they add personality and style too. Check out some of our fun finds and see if one strikes your fancy.
Etsy starts us off with this shabby chic number. Above your mantle, in a collage of accents or even showing itself off in the foyer, this romantic wall clock can do so much in and around your home!
Pinterest had lots of unique wall clocks to spark our interest and inspiration! And this was a personal favorite. Don the home office with a copper design that holds a industrial spirit.
Check out this extra-large design from Jennifer Rizzo! It'll function as a clock but it will also create a focal point for any room you design to place it in.
Modern, feminine and the colors are just so pretty and romantic, these clocks are one of the most versatile of the bunch. From the kitchen to the bedroom, these can fit into any corner. (via)
CB2 has a marble design that we've been gushing over. The golden, contemporary accents add a bit more chicness that we crave for our home office or mantle collage.e
Pier 1 sells this farmhouse-styled wall clock that will definitely coincide with a farmhouse kitchen, a rustic living room or even a home that's just simply got a country vibe.
Bored Art went with a piece that's both art and function. Tell time, but also appreciate it's architectural beauty.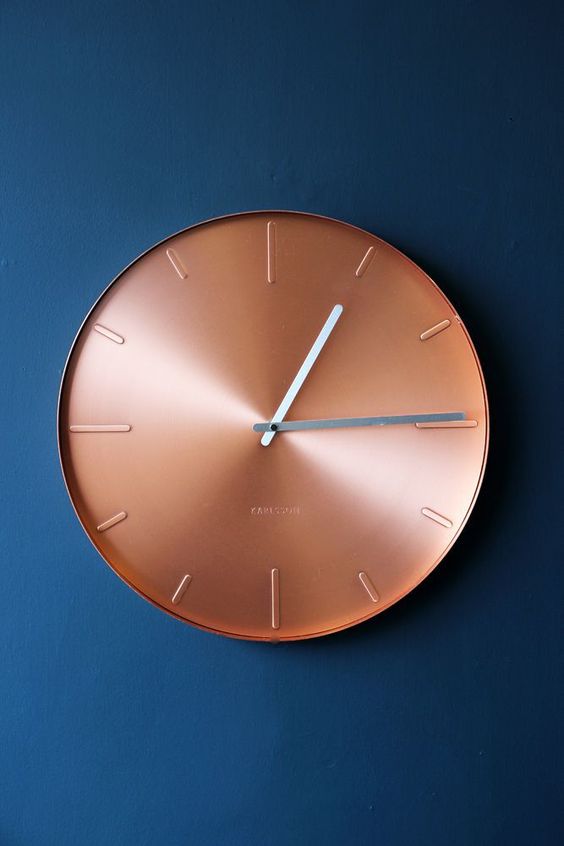 A simple, rose gold wall clock may be exactly what you need to round out the gallery you've bene creating in the hallway or to place over the kitchen door. Find it at Rockett St George.
Dip it. This color blocked, concrete wall clock from Society 6 can easily be hung in everything from a dorm room to a modern contemporary and youthful home office.
Cotton On has this cute little number up their sleeve. We really love the charming, handwritten numbers on this piece.
What about something with a geometric edge. These designs come from Anthropologie, and their color blocked accent makes us love them even more.
Pier 1 has this rustic design available as well. We're loving how this can blend into a rustic home just as much as it could belong in a stylish beach house.
A starburst could be what your house is craving. It's modern, it's trendy and again, acts as both clock and piece of art. (via)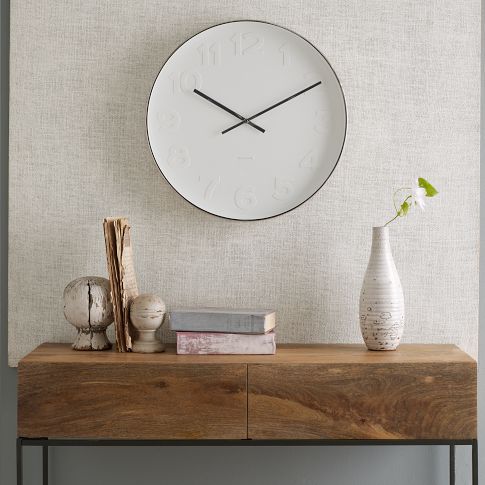 West Elm has a chic, white design that is also a really versatile piece for all kinds of home. You can easily tell time as well without the numbers deterring from the clean design.
If you're looking for something truly unique, then you'll want to check out this album clock from truABODE! And don't forget to say hi to those rock climbers.
Hung with a rope, this trendy little design can be found over at Walmart. Rustic, nautical or something more organic and zen, this one has an easier vibe to use.
Here's a fun, handmade piece from Etsy! It's a great gift for friends or to hang in a trendy apartment – don't worry, you'll still be able  to tell what time it is.
Not all wall clocks are round. Some are digital! Just like this fun design we found over at Not On The High Street.
Here's another clean, chic design that we're drawn too. Find it at Made and use it inside a more minimalist-centered home.
Etsy has such fun, unique designs to choose from. And here's another one that we felt compelled to feature. Color blocking, wooden pieces and a heart-shape, there's a lot of fun, moving parts here.
And if you visit Etsy again, you'll find this unique piece as well. It's contemporary, it's chic and it's such to standout on those clean, polished walls.
Reminding me of a henna tattoo, we're loving this piece from Society 6. Because it's black and white it can still coincide with a modern scheme even though its design speaks to a more bohemian style.
Wooden with golden accents, check out this wall clock from Sugar and Cloth. It compliments the calm, romantic space quite well, don't you think?
Etsy gives us another color blocked design. Natural wood on one side and white on the other, it's a great fit for a minimalistic home.
For something with a bit more personality, check out this steel design from Anthropologie. It's got a distinct artistic, vintage vibe that we're inspired by.
Modern styles are easy to find when it comes to wall clocks and this one doesn't disappointment. The pop of yellow adds a unique appeal. (via)
Here's another metal beauty that would look great on your mantle or even on the covered porch. You can check out the details over at Pier 1.
But if you need something just for fun Society 6 has you covered. These pineapples will bring something youthful, vivaciousness to your space.
Folksy has something extra unique for your traditional, modern home. Slender and bold, place this one in the study or home office.
Etsy does it again. The artists behind this piece had a lot of fun "puzzling" it together, don't you think?
Here's a piece that brings art and function together too. World Market showcases this golden design and we find it to be a beautiful bedroom accent.
Little House of Four gave us some easy foyer or mudroom inspiration with this little center. And we certainly like the bold wall clock she chose to include.
Society 6 has some sparkles too. For a bit of glam and some edginess, check out this fun design after the jump!
If you really like the marble trend, here's another marble clock to peek at. This time it's outlines in black giving it a more masculine personality. (via)
Even eBay may have some things for you to at least grab some ideas from! This French-inspired design may be one of our favorites on the list!
Palm leafs that look to be handprinted right onto the face of the clock, we're swooning for this beachy design. It's no surprise that it would be found well inside a beach home or a summer house somewhere daydreamy. (via)
Etsy gave us this idea but we also think you may be able to DIY it yourself! And create a personalized variation of it quite easily no less.
An all concrete design may be what you need for your minimalistic home. Clean, chic and easy lines call for these kinds of accents. (via)
Shady Oaks Farm is where we found this gorgeous, metal clock. It's large, shabby chic design has the power to make a statement in any space.
Finally, there's this wooden and metal design from Home Bunch. Rustic, shabby chic, country or just plain homey, it's a family-friendly design that you'll love.