Architectural Bureau Sretenka, located in Pestovo, Russia, has designed and created a gorgeously streamlined apartment that is an organizational enthusiast's dream! Besides having a place for literally anything you might own, it's also built in a beautifully streamlined manner that looks smooth and very modern. Their furniture choices help keep the contemporary aesthetic going by taking the concept of "smooth" further with a gently curving sofa and rounded chairs and sinks, but clean, straight lines everywhere else.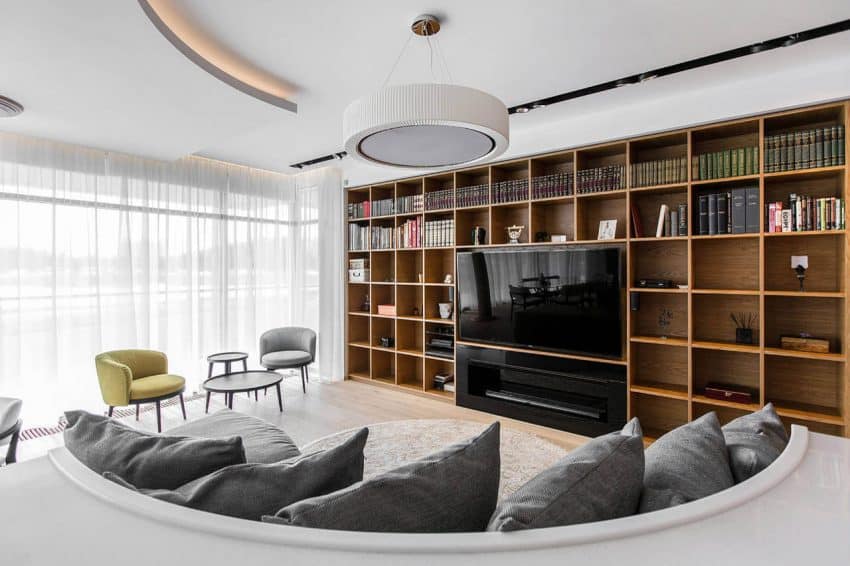 When it comes to storage, you'd be hard pressed to find a place with more compartments! Firstly, you have the massive shelving structure around the television that's part bookshelf and part entertainment unit. This space is perfect for storing books, DVDs, or small décor pieces. Moving throughout the apartment you find a kitchen that's well stocked with cupboards both above and below the counters, as well as hallways full of closets and even more storage drawers. In an apartment like this, you'd be hard pressed to find a shortage of space to put things.
Moving through to the bedrooms, you'll find gorgeous open spaces organized in a way that continues the theme of everything having a place to fit in. One room, for example, features an airy loft bed up a staircase with a clean LED light in each stair. Under the platform that the bed is built on, designers have built not just a baby's crib, but also an entire baby station! New parents can have their own space without having to go too far from their little one. Additionally, the apartment features a gorgeous master bedroom complete with a clean, white vanity and an ensuite bathroom behind a sleek glass door.
Clean glass and shining surfaces are a recurring theme when it comes to the bathrooms. Besides simply look cleaner and sleeker, they actually are easier to wipe clean! Décor wise, the bathrooms follow suit with the rest of the house in terms of texture and colour scheme. We adore the contrast of classic and modern created by the combination of clean white and shining wood surfaces, with the occasional marble to keep things interesting.
If you're looking for inspiration for creating your own sleek, contemporary interior design, this apartment is certainly one to emulate. Tell us which feature is your favourite!