While having a relaxing bedroom isn't nearly as enticing as not having to get up every morning. There are a few changes to the bedroom you can do to give the room an energizing, mood-boosting appeal that makes the space come back to life.  Furthermore, not only does it make the room come to life, but it gives you a little refreshing touch right where you need it. Think of it as a modern way of brightening up the room without the price tag. Whether you paint the entire wall, or you simply add an accent section, this guide will help you find what you need exactly where you need it.
Light Lilac
An array of purples have been on-trend, from the lightest hue to the darkest. This time we are taking a close look at light lilac, a hue so powerful it makes any room come to life. Think of it as the perfect understated element that is oh so eye-catching. The key is working with a muted palette that allows the hue to come to life while still working cohesively together. Paint your walls a lilac shade for the perfect brightening effect that is chic and less complicated.
Peachy
Not exactly pink, but not orange either, peach is the perfect in-between shade. It's brightening yet feminine, the hue itself screams chic. Pair it with soft neutrals such as beige and gray to give the room core stability. This particular color is all about bringing something unique and grounding to the room. The key is having it displayed in a bold manner such as having all your walls in this particular color.
Softer Black
We all love a stark white wall display, but we love a black wall even more. The key to working with black walls is knowing how to display them. You don't want to have extremely dark walls instead you want to consider softer black as your dose of intimate. The beauty of black walls is how well they come to life when they're paired with other dark, edgy elements. Pair them with rich charcoal hues and some metallics to break down the darkness yet bring a personalized effect.
Beige
While beige might seem like the "boring" option, it's quite the contrary. The color might be on the neutral side, but it's anything but boring. It's a dependable hue with just the right amount of warming elements to it. It comes to life depending on what hues, it's paired with. Think of it as the perfect tone that blends with your current decors. It's one of those colors that you do not need to completely change your décor for.
Oh, Glossy
High-gloss paint is back on trend and we are loving it. It's one of those trends that just keeps on giving. Ultimately, any color you use will look great when it's glossy. There is something so daring and chic about the glossy effect that will simply make the room come to life. We love the idea of using a bold color such as cobalt blue, or even orange for that shiny effect that's daring all at the same time.
Steel Gray
Can we all say "50 shades of gray?!" Gray is one of those essential hues even when you're working with a modern approach. The color itself comes to life when it is displayed with a multitude of brighter colors. It's one of those shades that you want to have bright colors paired up with. Think of it, as the perfect pairing hue, it's easy on the eye and your walls while still having a sleekness to it.
Hello Yellow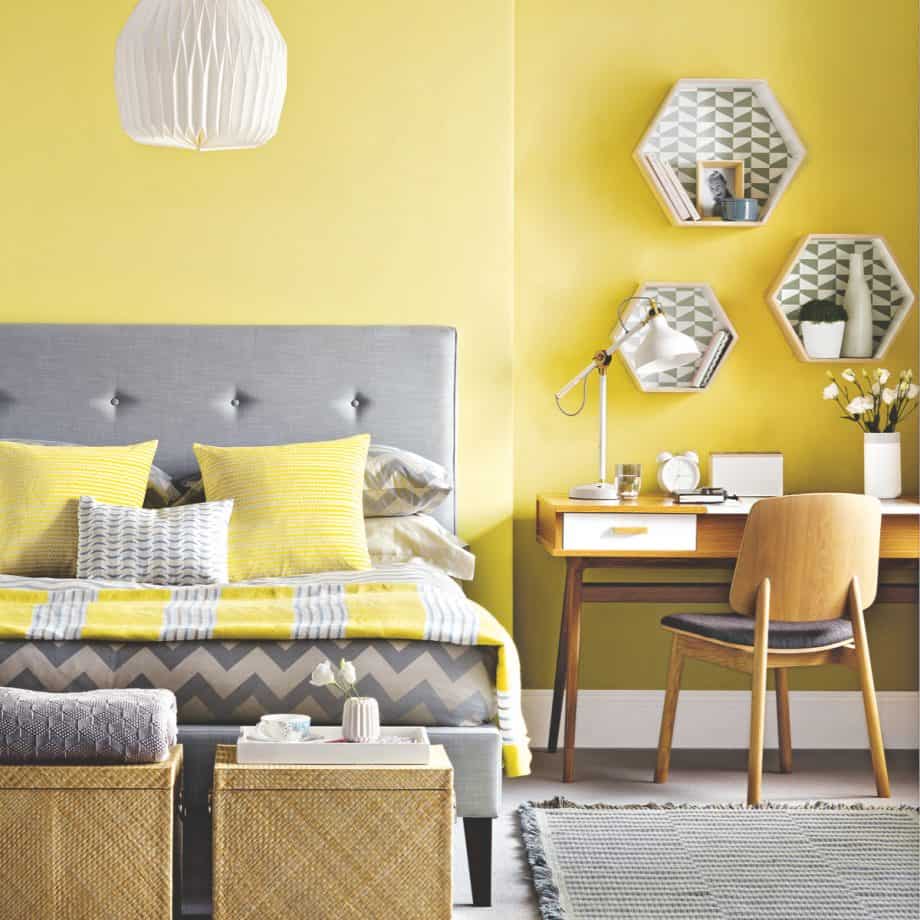 Could we possibly do a color guide without mentioning yellow? Possibly, but would we want to? The color is perfect for those that want to have a cheerful, display. The sunny shade works nicely for those that want a brighter touch to their bedroom without taking away from what their authentic décor will look like. Nevertheless, you want to pair the shade with softer hues to help create a brightening effect that's felt throughout.
Sky Blue
Though this understated shade is one of a kind and can seem to take over anywhere it is placed. It's quite understated when it is paired with other similar hues. We love the concept of having an all-blue room with hints of sky-blue shades displayed throughout. Doing so creates a bold dose of personality, right at the center of the room. It's the perfect form of using one hue to make a stylish contrast.
Monochromatic
Bring on a monochromatic appeal when you want to make a room feel more elegant. The idea is to make the most out of a room's space. This color palette works best when you have a smaller room, as it allows you to work with the overall size of the room. Add a splash of color to brighten the room in an overall area. If there's a specific area of the room that feels darker than the rest that is where you want to target the splash of color in.
Blush Pink
Even though having a pink hue might not be for everyone, having a hint of blush sure is. The color itself is brightening, welcoming and chic all at once. Think of it as one of those colors that simply makes sense anywhere it is placed. Furthermore, no matter how big or small the room might be the pairing this hue with a neutral or two will always work out great together. Think of it as the perfect form of bringing a feminine charm in the sleekest form.
Why have a boring bedroom when you can simply get a hold of a can of paint and bring it to life.