Are you looking for new and exciting shades and tones to jazz up your home? Whether you're searching for the perfect color to dress an accent wall or odds and ends in the kitchen that provide a pop of personality, we've got a complete list of new and fresh ideas. Take a peek at these 40 accent color combinations to get your home decor wheels turning tonight!
Royal blue and white will also play nice together and breath life into any room of the house. Even guest rooms or small living spaces like this.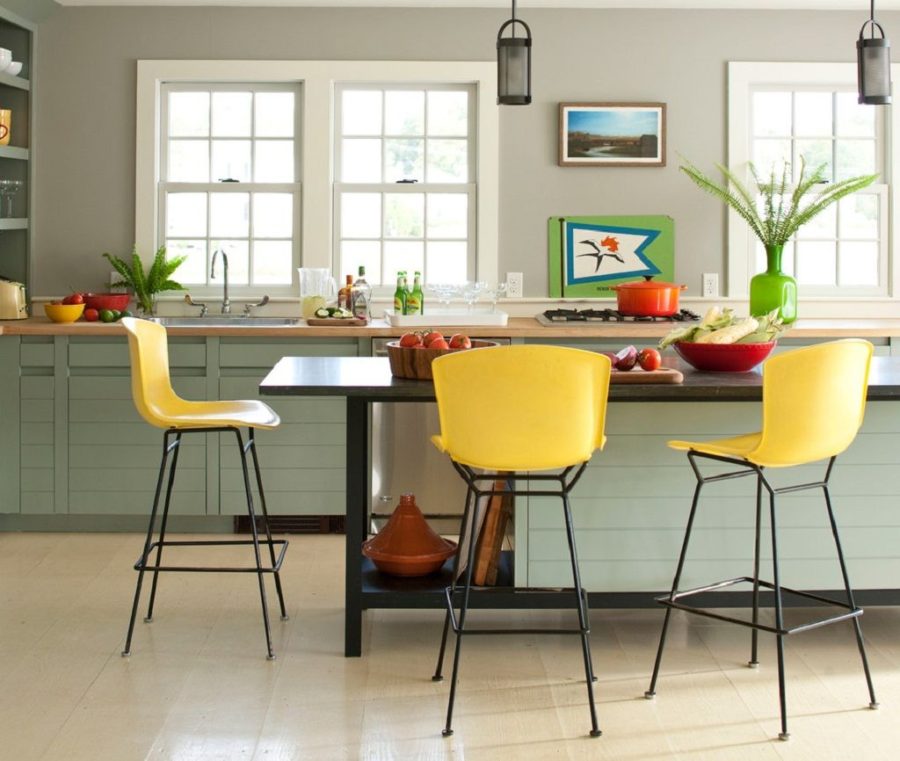 Decoist showed off this hot color combination and we find it perfect for the kitchen. Classic green, cherry reds and a hot yellows make a splash in this space.
Houzz shows off some beautiful rooms and home design ideas. And this combination of charcoal, cream and chartreuse is such a magical and youthful pairing.
Over at Decoist, you'll find this spring-inspired accent combination. From the burning oranges to the light turquoise shade, it's quite the refreshing touch.
We love this neutral yet enticing corner. Full of a passionate, mango orange and then finished off with wood and cream buddies.
Here's a darker accent pairing that we've fallen for. Black with a heavy helping of grays and purples, this is quite the relaxing and sexy space.
Check out this unique accent color combination. From golds to reds to a deep and sultry teal, it's got a cultured feel and a bold vibe.
A classic pink and purple room is something any little gal would love to have. They compliment in such a youthful way, don't you think?
Here's a modern trio of colors that offer up a bit of feminism as well. This accent color combination is both trendy and welcoming.
And for a pink with a bit of edge, accent your neutral spaces with some rose gold. It's a dustier version of pink and even more contemporary.
For inspiration more on the traditional or masculine side, check out this living space. Accented with burgundy and naturalized with cream and brown, it's a family home favorite.
At Laurel & Wolf, you'll find this unique accent color combination featured. Full of cranberry tones and a dash of navy blue, it's quite the contrast.
You'll love this accent color combination idea from HGTV. Filled with delicate style and springtime flair, coral, gray and yellow work wonders together.
Alice Lane gives us one of the more simple ideas of the bunch. Silver and grays can set off a neutral, white room quite nicely.
HGTV shows off this beautiful combination as well. Peach is a gorgeous color that compliments a variety of neutral, including the ever-so-romantic, cream.
Check out this stunner from Martha Stewart. Combining a sage green with a sky blue can make a very calm and relaxing space.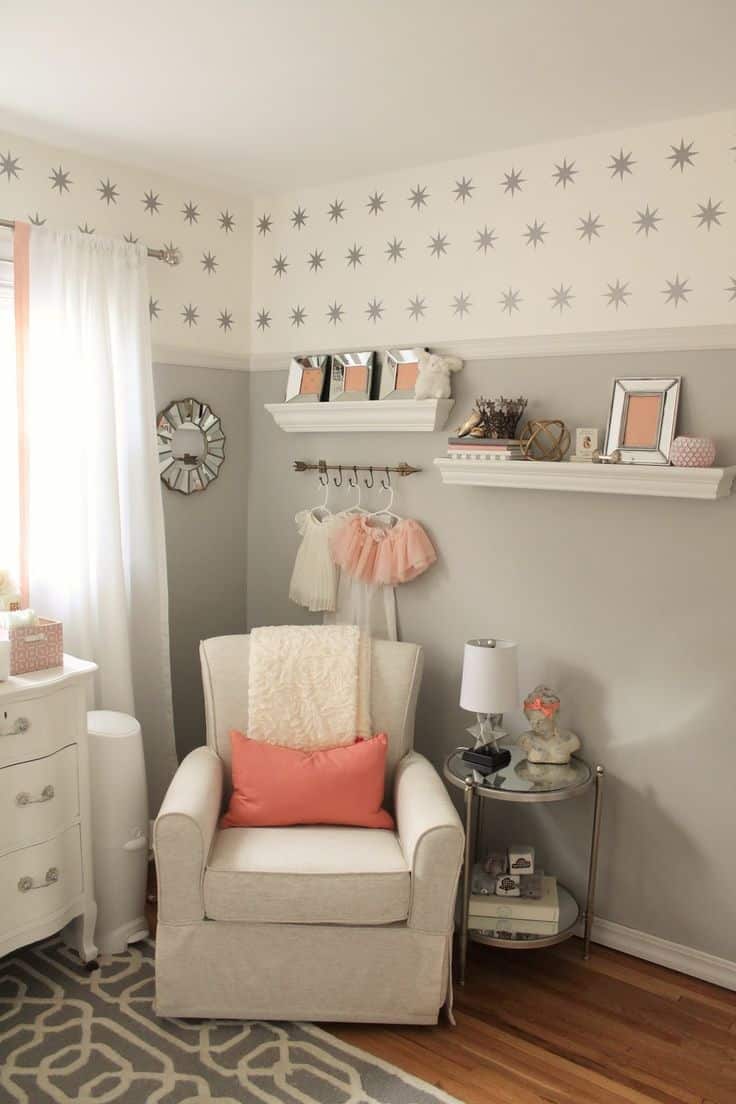 Here's an offbeat but fresh way to compliment a gray nursery. Add some coral tones and blush accent colors into the mix!
Check out this trendy and hipster living space and how simplistic the color scheme is. Cream, white and yellow accent each other quite nicely.
This living room is stunning and full of masculine edges. Diane Bergeron shows off a simple way to create edge with accenting neutrals: chocolate brown, camel and black.
If you're looking for something super unique and playful, accent your purples with equally bold tones – like golden shades and coral.
Here's a red hot living space for your to grab inspiration from. Believe it or not, orange and red accent each other quite nicely.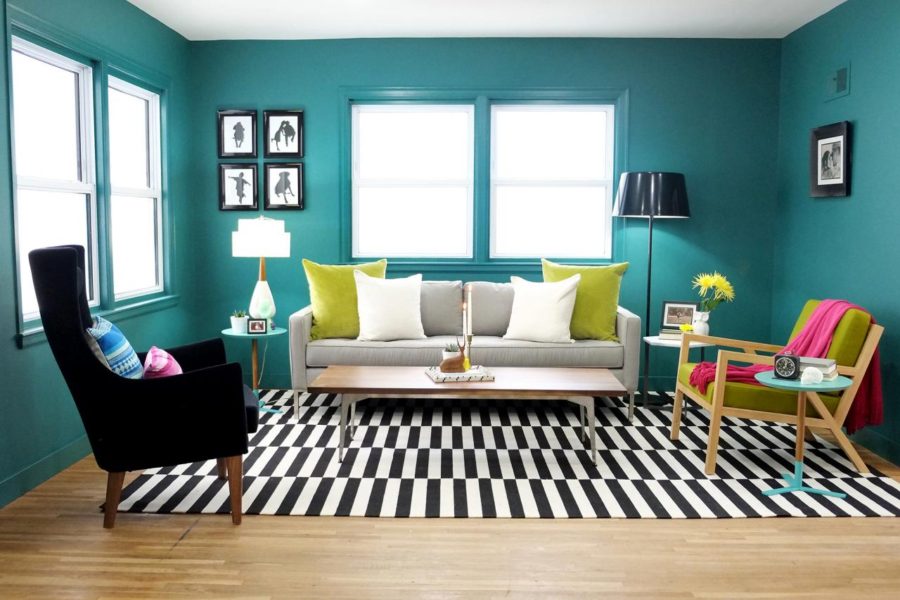 Black and white always work well together, but when you throw in a deep shade of teal and a pop of lime, you get a magical celebration of style.
Red accents a neutral room quite well too, especially contrasting shades of cream and charcoal. Modern and chic, this living space is perfect for contemporary homes.
Check out this space from HGTV for lots of different accent color inspiration. Yellow, cream, pops of pink and even turquoise make the debut here.
Navy and gold is sophisticated, modern and adds a pinch of prep to your home. Crafted Coral featured this beautiful accent combination on their site and we love it!
A sexy and mystery color combination lies here with a chocolate and plum duo. We love how rich and regal it makes the space look.
Hot pink is a great accent color, especially when involved with other bold shades like teal or rich turquoise. And this space has even more accenting bits like neutral textures and a pop of green.
Powder blue, silver and a bit of gray and white makes a gorgeous pairing for bedrooms or living room alike. They accent and compliment each other so nicely.
Orange and hot pink have so much fun accenting each other. And when contrasted with a silky, creamy white, you'll never lose, just look at this stunning bedroom.
Here's a more masculine accent color combination that's also fashion-forward and stylish too. Yellow, gray and black can be quite chic.
Lime and charcoal is both contrasting and complimenting. They accent each other in a bold and fun way that makes any bedroom pop with personality.
Romance is all around in this accent pairing. Lavender and powder blue can dress virtually any room with elegance and grace.
This seafoam green room is classic and welcoming. It's accenting with creamy shades of white and that has a neutral foundation will always add a sophisticated and feminine element.
We're loving this super trendy space and it's wonderful accent choices. A charcoal and white space popped with chartreuse and a bit of blue is incredibly fashiohn-forward right now.
Here's another version of a blue shaded room set off by different shades of yellow. This is a beautiful accent pairing.
Colorful but also calm and welcoming, we love the pops of color accenting this natural, wooden and modern space. Bright orange, royal blues, classic yellow and bit of black do wonders here.
A hot rich pink plays nice with some shimmering golds. This is such a feminine and bold pairing, don't you think?
Eggshell and gray may seem a bit drab but it's a surprising unique accent combination that provides a beautiful and trendy space. Just look at this open living room!
Aqua is accented quite well with a bit of navy and lemon doing the accessorizing. Just peek at this trendy nook.