Blush pink has become such a hit in fashion that it has spilled over to home design as well. However, incorporating this soft neutral with a feminine twist can be a bit tricky. The main reason for this is, pink has a "feminine connotation" to it; therefore, many homeowners become intimidated by the color. Nevertheless, men are becoming more comfortable with having a mixture of colors and are coming to except the hue for what it is- a gorgeous workable color. With that in mind, we have put together a guide on how to work in blush pink accents into your current décor.
Throw a Rug
If you really don't want to incorporate blush all throughout the home, consider using a throw rug in the lightest hue. A throw rug can be removed which is why it's such a good idea to work in the hue as a throw pillow at first.
Curtains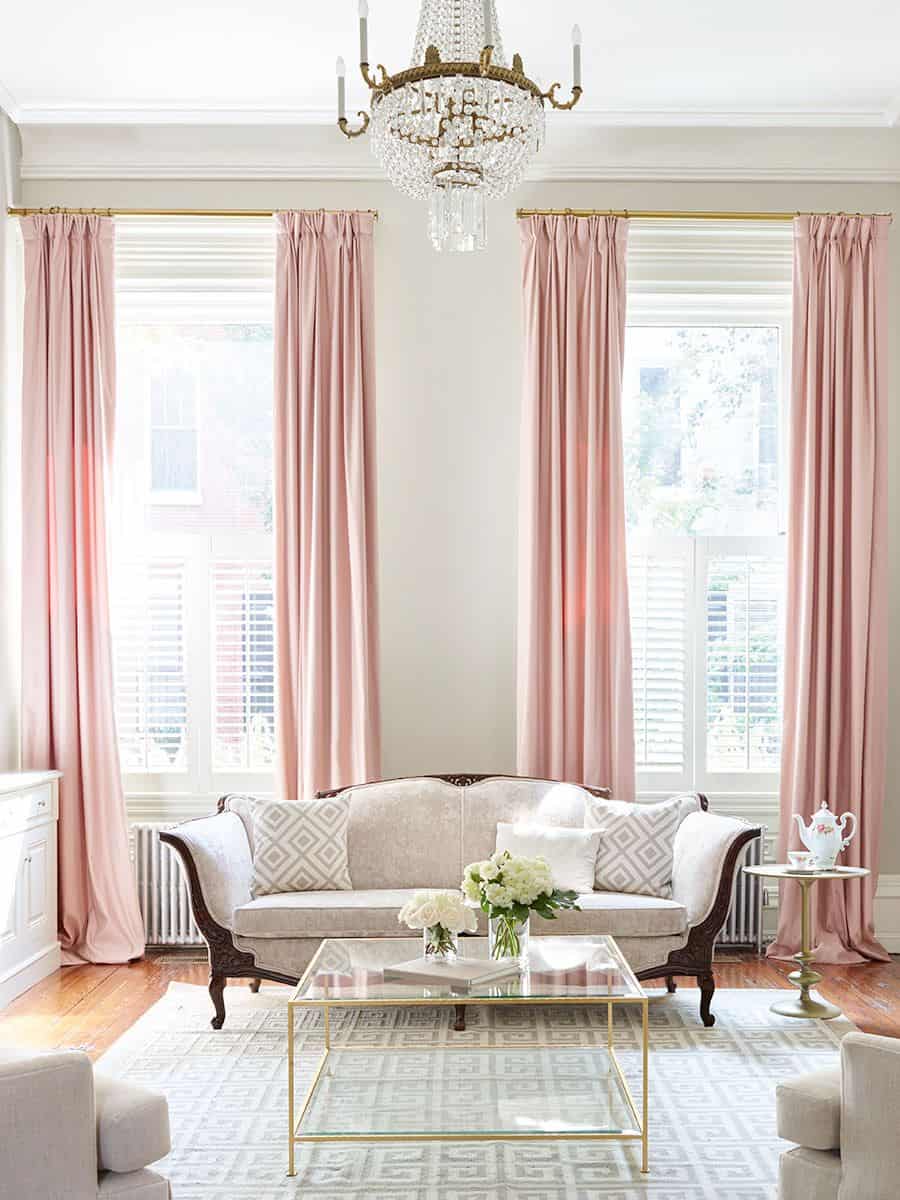 Who doesn't love a good set of curtains? We sure do, and we love them, even more, when they're in a blush hue. Have a simple set of curtains in blush pink and allow them to become the main focal point of the room.
Blush Sofa
Love the hue already? If so, take a leap on the bold side by having a blush sofa as your main seating. The softness of the hue will work as a neutral in the room while still providing a punch of color. Ideally, you want to keep the other seating as neutral as possible with hopes of having the blush hue make a statement on its own.
Take it to the Dining Room
Dining room décor is becoming more about the chairs you use and less about the other furniture pieces that already are in the space. The main reason for this being chairs are now becoming unique and different so mixing and matching different seating is always a good idea. Therefore, take your blush chairs and pair them with other seating and watch your table simply begin to glow.
Blush Walls
We love the look of blush walls, they're chic, they're fun and they're invigorating to the room. With that being said, if you aren't so comfortable about painting the entire wall blush then consider half blush walls. This will give you the same appeal but with a twist of "normalcy."
Accent Chairs
Accent chairs are always a good idea when you want to add color. The beauty of this is you can replace them multiple times, but you can also keep them and make them one of the highlights of the room, which is great when you want to incorporate color in a simplistic manner.
Blush Flowers
Flowers are always a great idea when you want to refresh the room, they add beauty and help the room feel grand without the need of adding additional décor. Blush flowers are great because they're so light and airy and can be placed in multiple different areas of the home.
Blanket
Blankets are versatile just like the hues of blush are. Add a blush blanket as part of your living room or even as part of your bedding for a beautiful feminine appeal. You might even want to consider doing both to have a blush twist throughout the entire home.
Mix & Match
Mix a beautiful shade of blush without hues such as gray, beige, white or even white. Mixing and matching the blush hue with darker shades of a contrasting aesthetics that brighten the room all at once.
Take it to the Kitchen
Hues of blush in the kitchen can appear beautifully if it is done correctly, you might want to add an accent wall in the hue or even blush pink colors or even wall art in the hue. The options are endless when you want to add the color in a simplistic manner.
Is blush pink an intimidating hue? If so, share with us why and if you will even take the plunge and try it out? Share with us your thoughts below.