Blue might not seem like the ideal color to incorporate in your kitchen, but there are actually quite a few advantages in using this particular hue. When used inside of the home the hue brings tranquility, a sense of peace, luxury and almost a feel of expansiveness. Furthermore, the hue itself has a stress relieving aspect that is great when you want to enter a room in your home that makes you feel cool and collected. Here are 10 blue kitchen cabinet ideas to upgrade your kitchen instantly.
Navy Blue
When you have a large, spacious kitchen you want to create a welcoming atmosphere that feels cozy yet lux. That is where having navy blue kitchen cabinets will come in handy. Navy blue is personal and cozy which is perfect for large spaces as it shrinks the room a bit with an intimate feel. Furthermore, navy blue will help bring a balance between cool and warm décor.
Dark Blue
Contrary to navy blue, dark blue is the perfect base tone color. Having a dark blue hue as a base tone works exceptionally well because it blends well with any and every additional color you decide to use. Pair with blue, cream or gray for a sophisticated approach.
Rustic Approach
Whether you use a dark hue of blue or a lighter one you want to use a shade that will work well with wooden aspects. Wood brings a rustic touch anywhere it is placed which is exactly what you want when you have a more rustic twist to your kitchen. The key is having a balance between how much wood is displayed and how rich your hue of blue is. You want to consider a middle ground shade that feels bold yet flows with whatever you have.
Pastel Hue
When in doubt consider a pastel hue. Having a pastel blue hue displayed as part of your cabinetry is great when you want a softer, more feminine twist to a kitchen. Pair with other lighter hues to continue evolving the color palette without taking away from how soft and intimate having pastel blue cabinets will feel.
Minimalist
While having blue cabinets might not seem like a way of achieving a minimalist approach in the kitchen its quite contrary, the boldness of using darker blue shades adds a sense of balance when it is paired in a simple space. Pair with hues of beige or white to deliver a minimal appeal right when and where you need it.
Blue Freshness
Seek hues of blue with a green undertone for a whimsical, almost wispy touch that feels new and fresh. Add a unique lamp or chandelier for a cozy display that is sweet and fresh in an overall manner. Having a unique lamp allows the room to come to life without having to solely focus on the blue cabinets. It's another form of bringing an intricate visual appeal to the space.
Blue, blue & more Blue
Why keep blue solely as part of your cabinetry add it in as part of your kitchen island or your tiles for a cohesive appeal. Keep in mind, you do not need to stick to one shade of blue, you can use multiple different hues and allow them to make a statement as they're woven into each other.
Modern Twist
If you already have blue shades in your kitchen yet feel like there needs to be a touch of something to brighten the space up, we are here to share that adding a marble island is the way to go. Not only will a brighten the room and make it feel fresh and new, but it will bring a coherent modern twist right where you need it. Doing so will instantly reawaken the space and make it feel brand new instantly.
Contrast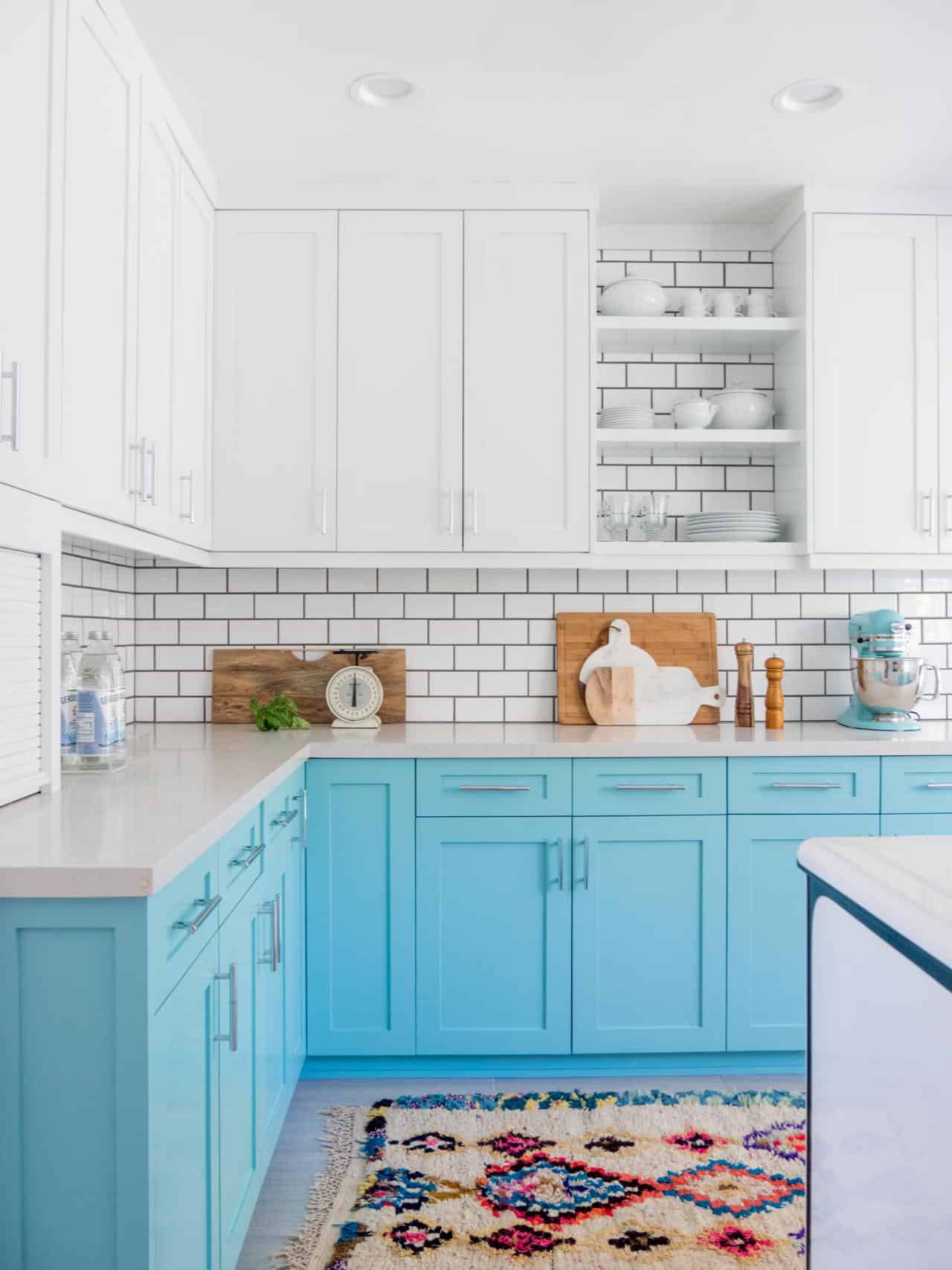 Pair your blue cabinets with contrasting dark hues such as dark gray or black. This color combination will brighten the room while creating a contrasting variation. Pair this contrast with an open kitchen design to further emphasize the welcoming appeal of the room. While still having a modern contrast that is aesthetically pleasing to the eye.
Blue-gray
Last but not least, we are taking a look at hues of blue-gray. Blue-gray has recently become quite a popular hue to soft and elegant it is. Pair with a bold accent wall created by colorful tiles for the perfect display that makes the room feel grand yet elevated.
Which of these blue cabinet ideas is your favorite? Share with us your ideas below.