Even a neutral room needs a quick revamp. For those that have read our trends for 2020 then you know white rooms are no longer the trend to keep. However, for those that love a white room, and want to keep their white room all-year-round, but give it a fresh twist this is the article for you. For those that want to add a little something extra, here are a few new ideas to bring in a seamless twist.
White Oak Floors
If there is an area of the home that rarely gets attention is the floor. The floors never get any type of attention due to everyone, always assuming it's going to be the same hue or material. This year the floor will be taking a spotlight and we are excited. For the floor, we will be looking at white, oak floors. White oak floors work due to them being easy to work with, easy to clean, and exceptionally, charming when you truly look at them. Furthermore, consider a distressed touch to truly embrace the new touch oak floors bring.
Modern Color
It's all about color when it comes to bringing a modern approach to a white room. This time is not only color, but it's also about modern color. The idea is to have an array of colors perfectly displayed without missing a beat. It's almost as if the colors are separated yet together all at once. Keep the room white and simply blend in the colors as a new touch that enhances the room overall.
White Staircase
Just when you thought having an all-white room would be the ultimate "fancy" touch, here comes having a white staircase. White staircases are becoming the touch of white that any room needs. It's all about having a statement in white that makes the room feel grand yet doesn't take away from the room's natural aesthetic. Furthermore, it creates a playfulness that is almost chic and enchanting.
Sculptured Furniture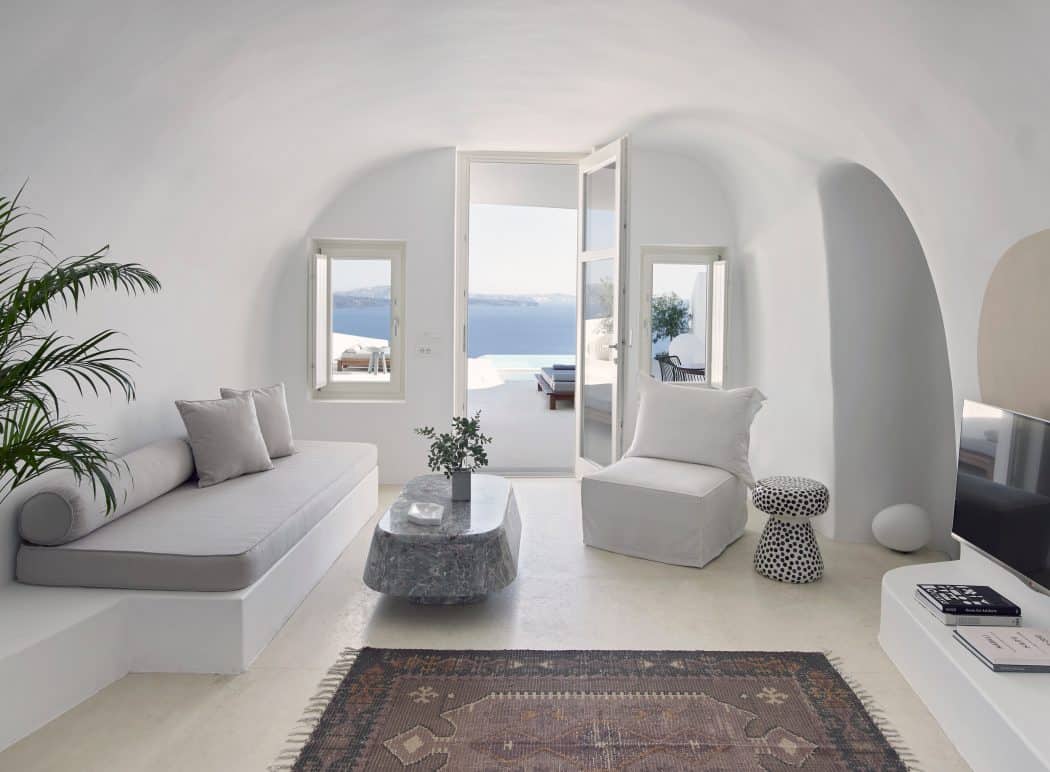 Sometimes all a room needs to feel brand new is a change of furniture. When that occurs, you want to take the idea of sculptured furniture and embrace it. Consider using two-three different furniture pieces, bringing them in a white finish and embracing them overall. Furthermore, have them floating in the room to truly embrace the change while making it have a new chic, grand gesture.
Youthful
Whether it's the dining room, a playroom, or even the living room, bringing bright hues that help enhance the room can immediately create a change of pace. Doing so will not only enhance the white hues you have but will further showcase the idea of making the room feel fresh. Bring in shades of blue, yellow, orange or even green to truly enhance what the room has to offer all at once. Its the contrasting approach that makes sense.
Revitalized Art
Sometimes a room needs a refresher! When that is the case bring in a revitalizing effect by adding art. Art is key when it comes to upgrading a space. Crisp walls, come to life when they are paired with a colorful effect that is felt with art. There is something about art that makes the room, come to life overall. Work with a colorful twist to fully embrace the room without taking away from what you already have.
Add Pattern
Though bringing on colors is an excellent way to create texture in the room, bringing in a pattern is another format. However, this time you want to bring pattern. Not just any pattern, but a subtle pattern that is still white, but with a distinct contrast. Whether you use gravel to create a contrast or you work with sleek lines its completely up to you. The bolder the pieces the better.
Contemporary Black and White
Black and white doesn't always have to be the same, sometimes it can be contrasting and unique. Instead of having the same, display bring a contrasting touch to further brighten the room. It's all about making the room feel as grand as possible with an opening appeal. Work in black and white tiling to making the room feel easy yet flow seamlessly. Think of it as the perfect form of making the room come to life.
Blue Accent
Any room can make big use of having some sort of color accent, especially when it's such a royal hue like blue. Blue is an exceptional hue as it not only works well with any other shade, but it makes the room feel grand. Furthermore, having a blue accent makes the room come to life. Pair the entire white shade with bold hues of blue to further enhances the space's appeal. Whether you decide to use one shade of blue or multiple its completely up to you. The idea is to have a shade that truly embraces what you already have.
Minimal
White is such a bold yet understated color on its own, reason why some individuals tend to forget to work with it. For a simple touch bring in minimal decor. It's not only simple, but it gets the job done effortlessly giving you a touch of character, color, and texture in a sleek manner. You want to work with the minimalist touch and allow it to enhance the room's natural palette.
When it comes to having a white room sometimes there is a little something extra you can do to freshen it up seamlessly and quickly.