Window treatment ideas have evolved from simple curtains and blinds so much for the past few decades. And since the design rules are much more flexible these days there's a lot of ways of implementing those ideas.
Good Old Curtains Revisited
Curtains stayed people's favorites when it comes to window treatments. It doesn't mean, however, that they should be boring and bleak. Creative curtains may become just the right accent for any room.
Here, neutral curtains blend with the general color scheme, but a patterned pelmet turns them into an eye-catchy detail.
Pelmets have a more formal aesthetic, so if you are aiming for a relaxed look better opt for valances. Both are great decorative elements that can further dress up your windows.
In this Greenwich village apartment everything has a dramatic flair. Jim Thompson silk curtains dyed ombre dark red though take center stage in the white living room.
This coloring technique is perfect for giving your old curtains a bit of a makeover. It's cheap and can liven up any old living room in an instant.
Speaking of livening up your living or dining room, printed curtains bring in the dynamic no other element can replicate (well, perhaps, except for a rug).
The key is to pair up the color of a print to a big piece of furniture like in this dining room above. Matching that navy blue cabinet the printed curtains fit into the picture perfectly.
Curtains don't have to be made of fabric. These beaded-aluminum curtains greatly complement this modern New York apartment.
Minimal and slightly sparkling these stylish curtains fit well with the sleek modern aesthetic that's always heavier on cold, solid textures rather than soft fabrics.
Dramatic Drapes
Designer curtains can look differently. Shelly Riehl David creates frilly meringue-like window treatments that evoke an old French cottage feel in the room.
In a minimal modern interior they probably wouldn't look out place but rather give it an unexpected design element.
Pelmet curtains can also bring a bit of drama to the room. In this English retreat curtains with appliqued pelmets look quite dramatic thanks to their muted bright red color.
Outfitted additionally with the printed Roman shades windows became extremely decorated and yet functional.
Dramatic drapes aren't new in the world of design, but their use dwindled considerably over the past century. In this farmhouse residence designed by Jeffrey Bilhuber the double windows called for dramatic curtains.
Following an existing focal point Bilhuber dressed the central part of the window with pelmet printed curtains and flanked them with matching green drapes.
Trendy Shades Galore
Shades of all kinds became incredibly popular lately. A wide range of colors and prints offers a great variety of choice. Best fit for bathrooms and kitchens shades can also be easily paired with other window treatments, if necessary.
Neutral shades are as good as the blinds only they offer a lot of different styles. Even neutral prints and patterns can bring a great dynamic to the interior.
Here the shade's print matches that of wallpaper emphasizing floral motifs. Shades are probably the most versatile of all window treatment ideas.
Shades can be paired with pelmets, valances, and even curtains. It's all a matter of functionality and aesthetic you're going for.
Here printed shades are accented with a turquoise pelmet that matches the accent color of the interior tying different elements of decor together.
Bathroom windows are often left untreated but a bright Roman shade can do a world of difference there. Just be sure to choose the print that will work with your tiles. And go for the contrasting color that works with the color scheme.
In this bathroom design the shade is almost as important as tiles. You could even say they contrast each other competing for attention. But it doesn't take away anything from the interior.
Unusual Roman Shades
Bright shades are often a welcome accent in an awkward hallway or a utility room. As long as it works with the color scheme it won't look out of place.
In this bathroom renovation by Brian Patrick Flynn the bold ikat-patterned Roman shade corresponds perfectly with the room's color scheme creating an eye-catchy accent in an already bright room.
Ikat print is a great way to add some exotic flair to your interior. In this Upper East Side apartment formal luxury style meets unexpected modern accents with ikat Roman shades thrown into the mix.
A combination of black, grey, and beige proves to be impressive. But it would be a bit boring without the dynamic printed shades.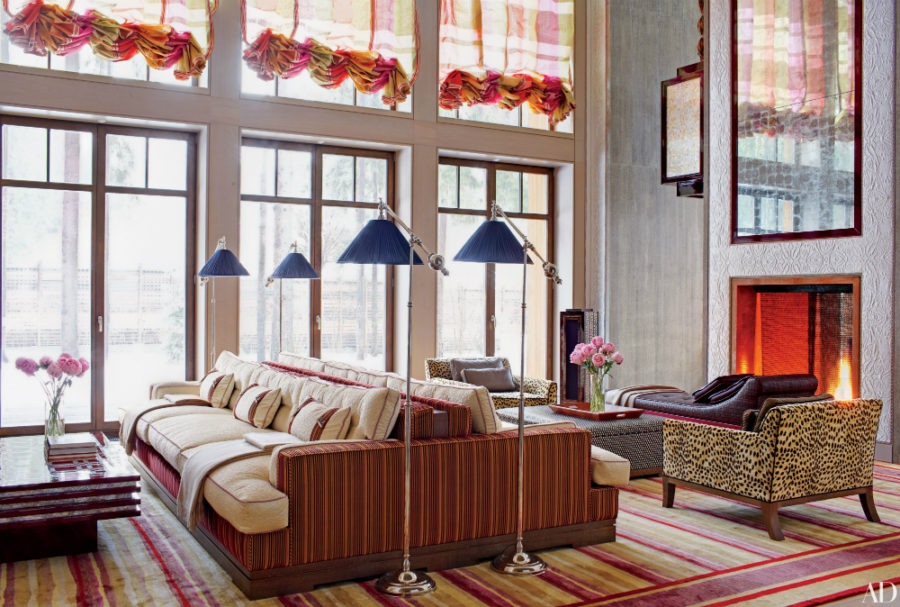 Shades, as any other window treatments, come in a great variety of materials. These are made of a semi-sheer fabric that offers minimal sun protection, but their colorful frills are adding a lot to the interior dynamic.
Echoing the stripped multi-color carpet and sofa those bright shades are there solely for purely decorating purposes.
Graphic shades became trendy a while back. They don't have to feature a print or actual graphics. Some just have inspirational words and phrases printed on them.
They seem like a great addition to a library or a home office. Here the tiny bedroom acts as all three so the graphic shades make a perfect fit.
Statement Window Treatment Ideas
Kitchen windows don't usually allow any kinds of dramatic window treatments, but shades and valances work for any windows.
Don't be afraid to use statement valances independently from curtains. They will provide both a decor element to the room and a bit of sun protection.
This beautiful country retreat is a study in bright accents. Pink, green and blue are used seemingly randomly throughout the room but they are tied together with both the matching wallpaper and the carpet.
Bright window treatments don't overwhelm the interior though since the central window features only a valance.
Creative Window Treatment Ideas
Want to instantly jazz up your interior? Get inspired by these creative window treatment ideas. Sure, they may require more effort and funds, but they are worth every minute and penny.
Frosted glass is underappreciated as a window treatment. There are so many possibilities and designs to explore and create.
Here the BBQ area with a dining set uses frosted glass as a feature wall. It must also be a sunny side, so it's more protected during the day.
Faux grilles are perfect for those challenging glass transoms. Besides the rich choice of materials, finishes, and shapes easy installation proves they are a great window treatment.
They also look beautiful on the regular windows and can offer some privacy for the sliding glass doors. You can even order them as room dividers.
Decorative window screens bring some mystique to the interior. They are also good at increasing privacy for the ground level rooms.
Screens come in different styles but the Oriental ones look the best thanks to their intricate patterns and motifs.
Stained glass isn't as popular as it used to be, but lately it's been getting some love from the modern designers. And it probably has something to do with all the church conversions.
Of course, you don't have to live in a church to make use of stained glass. A few colorful panes are enough to make your windows stand out from all the rest.
DIY Window Treatment Ideas
When it comes to DIY window treatment ideas there is no limit to what you can do. And you don't even have to spend that much money. You don't even have to know how to sew.
Coffee sack or burlap curtains are easy to make and they give a room that unparalleled rustic charm. The only problem is fixing them.
Here's where you can either use what you have (an old curtain rod) or employ your experience and savviness to find a way.
Barn doors aren't just for entrances. You can use them in many different ways including as shutters. These will surely add some rustic charm to the kitchen or a dining room.
Just install the sliding mechanism above the window and you can easily control the amount of light and privacy in the room. But the best part is that you don't even have to wash them.
Don't want to splurge on expensive drapes? It's time to get busy with some old fabric scraps. You may even use old sheets if you have to. The principle is easy. Cut the fabric into strips and tie them around a plastic tube that will be your curtain rod.
Window treatment ideas don't stop at curtains and shutters, of course. You can repurpose anything from old beads to umbrellas to dress your windows, but those are bold ideas for adventurous DIY-ers. Still there are lots of options on the market and many more ways to use them.