To use curtains or not to use curtains? This has been a constant question for many of us throughout the years of decorating and redecorating our home. Using the correct pattern and fabric can make all the difference in the way a room is displaced. Curtains have the ability to completely change the aesthetics of a room by simply switching their pattern or fabric feel. If you are undecided on if you really want to have curtains in your home, consider one of these statement pieces they could be exactly what your room need for a completely new upgrade.
Pattern Curtains
Nothing says, "I'm Here" like a pair of patterned curtains that completely draw your attention. If the room you are upgrading needs a bold piece patterned curtains are the way to go. Use a pattern that really catches your attention, such as Chevron, stripes or even floral print. These patterns will bring out the rest of your décor and add to the space instead of overwhelming it.
Match Your Curtains to Your Furniture
Looking to make a statement without adding additional color? Match your curtains to your furniture. The color of your curtains should be the same as the color sofa or any furniture you have in the space. Doing so will add a powerful statement while still being somewhat understated.
Neutral Is a Go To
Colors and patterns are always fun. However, when you want to enhance a space having a touch of neutral can do the trick.  Neutral curtains are an excellent way to add an undercover neutral tone in your colorful world. Choose curtains with a neutral print for a twist on your pop of neutral.
Sheer is Always In
Sheer curtains have always been preferred for a beach themed home a home on the beach as they are airy and light. However, they work well with any space and any décor as they essentially do not add weight or an additional décor piece. Instead, they add an interesting visual to your windows. In a dark colored room, sheer curtains are an excellent addition. They bring in light exactly where you need it.
Add a Hint of Rustic
The rustic trend is here to stay. If you do not want to have your entire home have a rustic feel add rustic curtains for a hint of rustic appeal. Rustic is easy to work around as it just gives the home a trendy twist that is modern yet cool. Rustic curtains are great in dark colors they add warmth.
Be Bold with Gray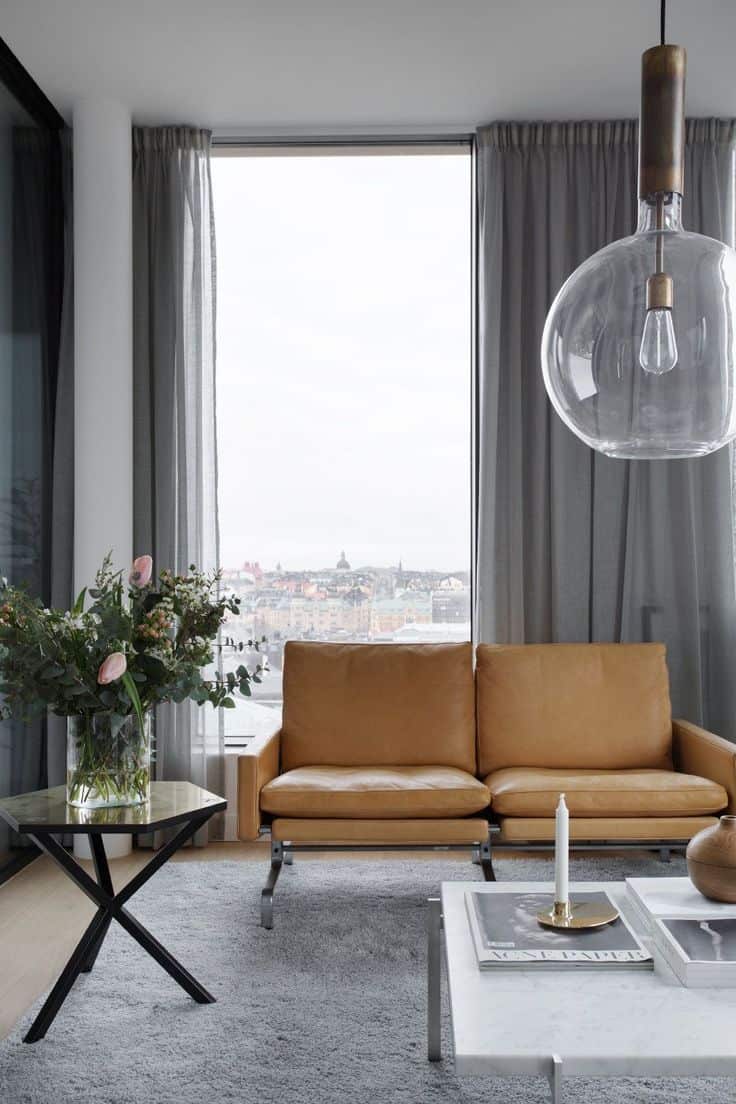 Gray curtains work beautifully in a monochromatic space. They can be subtle enough to not disrupt your décor while still being bold. Gray is a great color to pair with any décor as it is considered a neutral but with a twist. They twist being its hint of darkness. We prefer a darker gray when it comes to curtains as it works better in multiple different spaces. Whereas lighter grays work best in rooms that have a lighter color scheme.
Touch of Red
Nothing screams in your face like red. In a room that is soft and, pretty red is the color that will give it an edge. Red is bold and powerful while still be pretty. It is a color that commands your attention. Therefore, having red curtains will bring out the darker tones in the room, adding warmth along the way. While adding red curtains also add red small details such as red throw pillows for a put together look.
Sunny Yellow
Yellow may seem like the last color you may want to include in any specific room. However, it can be quite the contrary. Yellow has a way of bringing out the best in neutrals. Therefore, instead of being a "loud" color it actually becomes soft and mellow when it is paired with soft colors that are almost neutral.
Drastic and Dramatic
Bold is very much in. Nothing screams bold quite like having ombre colored curtains. Although they are not popular to have, they are an excellent conversation and statement piece. Consider having ombre colored curtains that blend perfectly into each other by selecting colors that are bold as well as easy to decorate around.
Effortless White
White curtains may seem like they wouldn't make a statement. But it's actually the contrary.  White curtains bring light to the space that they are placed in. Paired with dark furniture they could be exactly what your room needs to feel fresh and new once again.
Which statement curtain are you most interested in having in your home? Let us know your take in the comments below.