From the home office to the living room, texture is a great way to add interest and depth to any space. And when it comes to major pieces of furniture, like a settee or a sofa, you can really create a new groove inside your home. These 20 velvet couches will add sophistication and eclecticism to your home by just a push inside
A rounded back for extra cushion and wooden legs to add contrast, this Lola tufted design from West Elm is everything you need to build you eclectic and textural living room around. Add some plush throw blankets and pillows to create a romantic, yet modern, look.
We're swooning for this ultra contemporary and chic Sophia sofa. It's made for comfort but the steel blue tone and the modern edges make this such a focal piece for not only the sitting area but the entire house. This is what you build on and style your vision around.
This design is a bit simpler and will work well within a variety of homes. This piece can mold into more eclectic spaces or ones with a more traditional, family-oriented field. We love this kind of blue too because it is so versatile within the neutral families and contrasts well with popping tones.
Add this gorgeous emerald couch to your living room to really get the party started. It's perfect for a more formal sitting area but if you want to be bold with your color choices and set the scene for something fashion-forward and inspiring, go for it! We're even drawn to the metal stud detailing.
If you're looking for a more romantic piece but one that's sturdy and on the large side, this Graham choice was made for you. It has a more vintage, shabby chic spirit and will fit in well inside homes that have a touch of femininity sprinkled about. There's a certain amount of welcoming energy that it has as well with its plush cushions.
A smaller sofa from ID, we've fallen in love with the thing, golden legs on this rich, blue velvet piece. It plays well with cream and gilded accents. And will set the scene quite nicely in both formal areas and ones that you want to plump up in a more lush fashion for the family.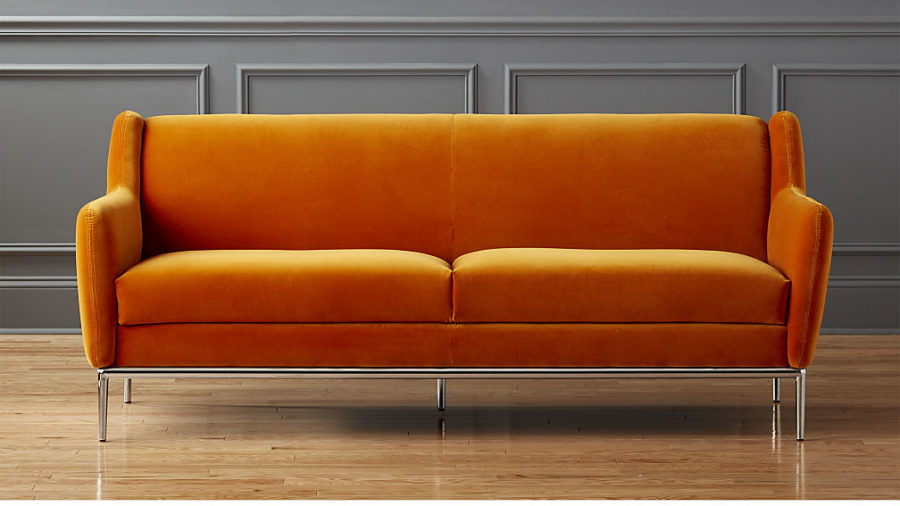 If you're looking for something vibrant, you'll want to take a second peek at this gorgeous amber sofa. Full of bright, rich color and clean edges, its clean palette aura will make it a fun piece to play around with and personalize as well. Just imagine some smooth, chocolate brown accents or even metallic decor pieces alongside of it.
Slide this inside your extra-large master bedroom or even inside your home office. This piece, with its curved arms and back and its sultry, purple tone add a bit of romance and sex appeal to your home. We also love the tufted accents providing a more Victorian spirit.
Here's another more subdued design that you can snag from Amazon. Not only is the color perfect for blending, its simple shape will work for different spaces of the house, even in smaller room. This one also has that clean palette feel that works for personalizing.
This design from Urban Outfitters is one of our favorites because it's one of the more family-friendly on the list. You get the unique textural look that velvet has but with the style and comfort of a traditional sofa. Not to mention, this mink-tone is a beauty!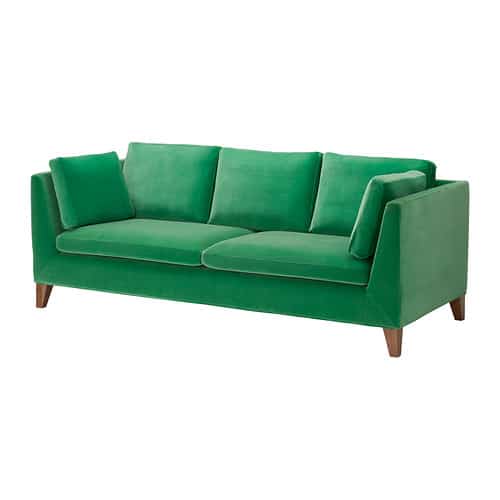 Here's a super modern sofa that, when dipped in a beautiful, offbeat shade, can stand on its own. But thanks to the clean edges and simplistic design, you can also stylize to your liking. We love the Swedish-flavor it has, which makes sense since you can get this one from IKEA.
Tufted and dipped in black, we're in love with the sultriness that this sofa has to offer. If you're looking for some edge and sex-appeal to amp of your home's decor, this is the piece to start with. It'll pair well with all kinds of accents as well, including the more industrial route.
Maybe you're looking to add velvet for extra texture but want to keep in line with your subdued, masculine tone. If so, the Orianna couch could be the answer to your vision. With a charcoal foundation, wooden legs and golden studs, you get a beautiful mixture of interesting accents.
Here's a beauty from Pottery Barn that coincides with the more traditional of styles. It's a classic, Chesterfield shape as well that will stay timeless throughout the highs and lows of interior design trends. This sofa is all about comfort and style, the design blends those too requirements beautifully.
The Line has a showstopper up their sleeves. It's hard not to love this ultra-modern design. Between its rich, blue color and metal legs, you've got contrast that will easily be dropped into any open room with ease. The deep-button, diamond tufting will catch your eye too.
Probably one of the more unique designs of the bunch, this too coincides with contemporary style but with innovation as well. It has a more glam spirit and applies art deco fashion in its foundation. But, it doesn't look like a vintage piece, instead it's one that is paving the way for the future of furniture.
This multi-color piece is quite the showstopper, don't you think? If you want a pop of color and a focus to a space that's a bit on the drab side, dive in here! The "Leo" has colors that will set the scene but lines that are clean and won't add fuss.
Whether you have a small living room or need a piece to sit inside your home office, this Neiman Marcus find can get the job done. There's studs that set off the rich, warm blue tone and the curve of the back adds a soft touch and bit of romance. It's a "haute couture" piece for your living room!
Another personal favorite from the velvet couch bunch, Cullen speech to minimalists that love to declutter and feel clean. It's posh in all the right ways but it's also been made for those that want to start small and build on a posh design. It also comes in some other fun shades like indigo and verde.
And finally, this Amazon find also has a more traditional vibe and can easily find its way inside family homes easily. But the best part is the contrast and piping! You'll still get a unique look without being overly fussy or high maintenance.