Here are 21 of the best upcycled furniture ideas that we've seen out there in a while. And you know what they say, recycle, repurpose, reuse – and you reduce waste. This is what they mean by sustainable home decor – designing with a small footprint. But don't worry – we're not talking about the milk crate furniture of your student life. This is seriously upscale, upcycled furniture. And you can have these immensely creative pieces and at the same time, feel virtuous about helping the environment. Sounds like a good plan for the planet.

Upcycled furniture ideas like tailgate truck bench from Recycled Salvage are works of art as well as furniture. It would look incredible against an interior white brick wall, wouldn't it?


And here we have Preston Moeller's rubber band chair – a real statement piece. Who would have thought that upcycled furniture could be so much fun?


Upcycled teak boat furniture – reclaimed from old Indonesian fishing boats. Now that's a sustainable home decor idea. Source


James Plumb has upcycled old suitcases into dressers – but there's no reason you couldn't use one of these in the dining area to hold flatware and linens – even plates. Or use it in the home office for storage. What a great upcycled furniture idea. Source


These reclaimed cupboard doors have been turned into a gorgeous desk – a fine example of truly upscale upcycled furniture. Source


Maria S.C. test tube chandelier (yes, named after that Madame Curie) by Pani Jurek. Upcycled test tubes create a real wow home decor idea.


This reclaimed wooden slat chair comes from Gruba sustainable furniture design in Argentina. What a great upcycled reclaimed wood idea.


Don't these upcycled colanders make incredible wall lights? Find old colanders at thrift stores and help recycle and reuse. Source


This upcycled coffee table has been created from an old factory cart – that's a fantastic idea, isn't it? It was almost completely repurposed in its whole. Source


This welded upcycled metal furniture is from Recycled Salvage.


This upcycled coffee table furniture uses a window to create a shadow box effect. Source


Been wondering what to do when you replace that mid-century wooden garage door? Make some upcycled furniture – dining room table or coffee table – or both Source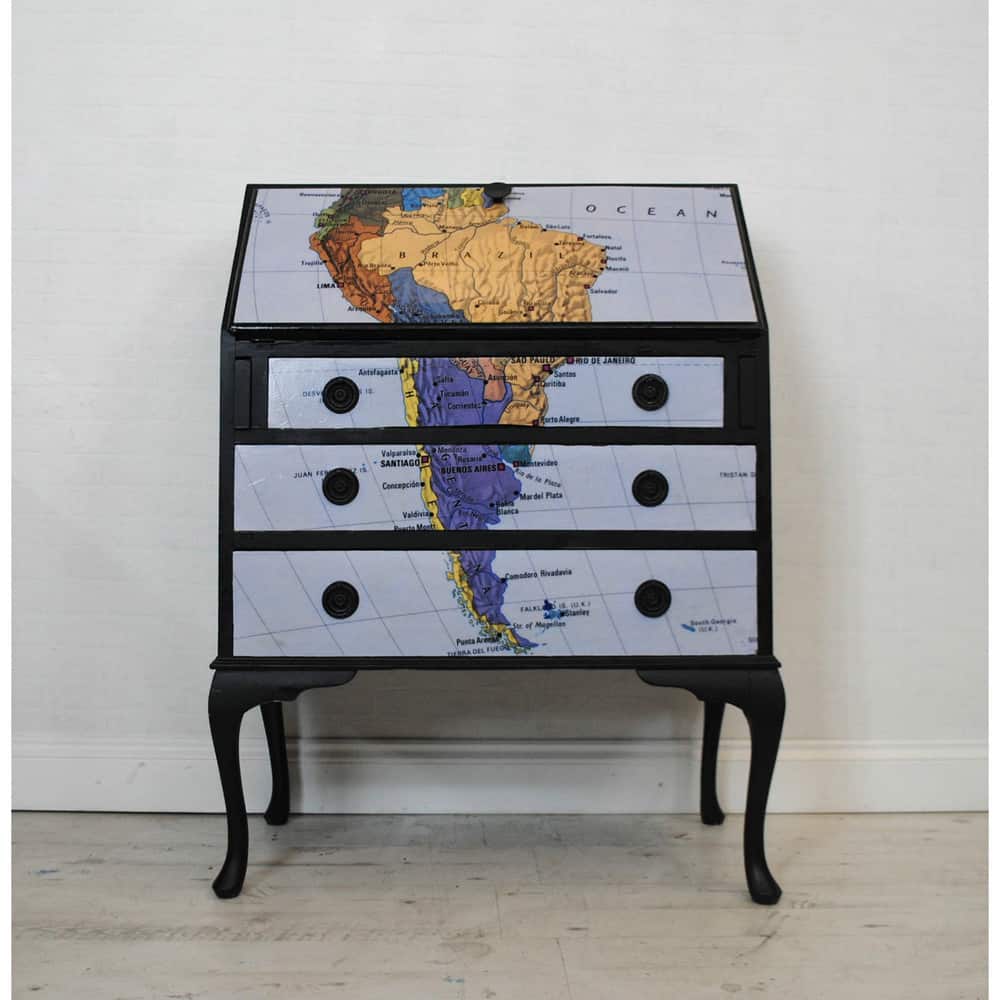 What a great upcycled furniture idea – a vintage high boy dresser with maps! Source


Now this is a unique furniture idea – upcycle oars into a headboard! Source


Can you believe this gorgeous outdoor bed used to be a trampoline? Source


The American Pipe Dream Chair from BRC Designs.


Spineless coffee table – upcycled furniture made from books spines. Source