Modern living room is not only a place to relax and watch TV. Today it is a highly multifunctional area with all kinds of additional purposes. But if you just want to make it look good enough to receive guests, your design/decor brief should be quite straightforward and simple. Ultra modern living rooms are just right for this type of living, where versatility comes second to style.
Spacious sectionals, double sofas, and beautiful views seem to be the core of ultra modern living rooms. Neutral tones, while favored and revered by many designers, can give way to brights and even dark shades.
Designing a modern living room, think about the overall picture and atmosphere you'd like to create. A balanced color scheme will always help the interior look well-designed.
Don't be afraid to experiment with modernist and contemporary furnishings as both do well when it comes to creating that modern look. Although be wary of tilting more toward mid-century modern aesthetic too far, as your living room may end up looking mod rather than modern (as in contemporary).
Contemporary Modern
Contemporary modern style is a fine balance between minimalism and unique designs. Think minimal sectionals and mid-century modern armchairs and coffee tables or vice versa. Tripod floor lamps, iconic lounge chairs, and cool modernist couches will help furnish your new open plan living room to create that perfect balance.
Don't forget to take advantage of more postmodernist furniture as well. It can be quite designing, and it mixes beautifully with mod pieces.
There is a lot of fun to be had, mixing and matching items from the last seventy years. Each and every one has its own little history.
Modern Luxury
It is hard to imagine contemporary style interiors without one or two luxurious elements or objects in view. It may be just the sheer number and size of windows or a gorgeous sculpture. If you cannot afford designer furnishings, we say go with unexpected finishes instead like metallic spray paint or luxurious-looking wallpaper.
Tufted or velvet sofa makes for perfect focal point in the room, especially if it's a vibrant jewel hue. 3D wall coverings are great at bringing dynamic to the interior, but they can also fake a luxury finish.
Don't underestimate how much impact lighting has on interior. A statement piece can instantly transform a minimalist room into a luxurious den.
Ultra Modern Living Rooms with a View
Ultra modern living rooms often have such breathtaking views, they don't need a fancy design. But most of them still come well-designed. This combination makes for a truly luxurious area that you'd want to keep sharing with guests and relatives.
Floor to ceiling windows are a very modern architectural element, and they happen to work best for opening up the views and harvesting daylight.
They also create the coveted indoor/outdoor atmosphere that each and every one of modern homes should have in order to feel and look truly contemporary.
Neutrality on the Middle Ground
Neutral tones are the best when it comes to creating a base for your decor. They mix nicely together, and support almost any bright accents. Neutrals can also promote the feeling of contemporaneity in an interior.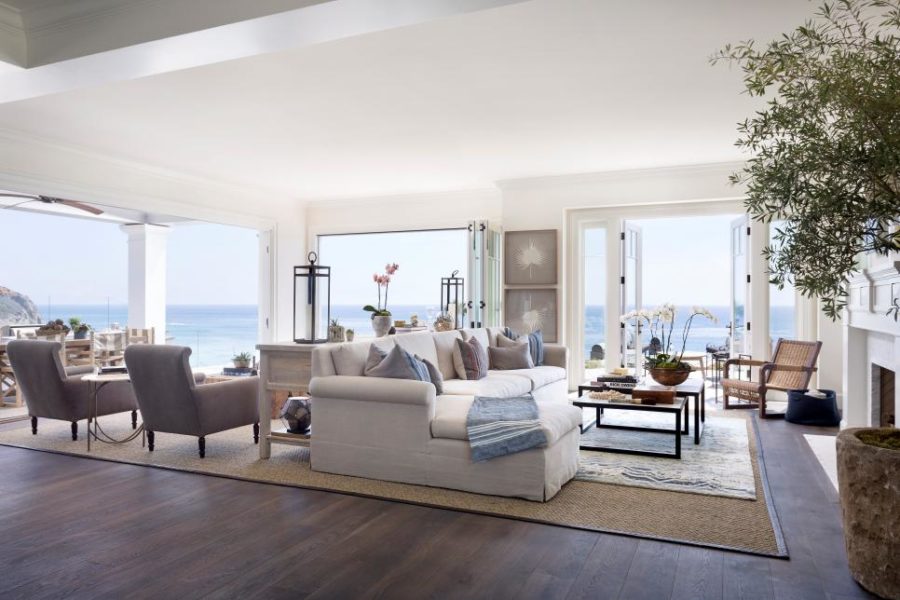 Light greys and taupe browns are quite popular today, and it's no wonder since they can turn an average room into a subtle beauty. It's just a matter of how you use and accentuate them.
Golden metallic finish is, of course, one of the more widespread accent, but black steel makes for a decent alternative.
Color Game
Brights can always liven up the decor, make it more dynamic. You don't even have to think much about combinations. If it looks good, it looks good. And even a simple single bright element in decor can pay huge dividends. Don't make things complicated.
If you want more sophistication in your interior color game, though, take a cue from professionals – mix contrasting hues in sparing quantities.
Not sure about which colors to put together? Here are a few unusual examples of pink and green, magenta and blue, and dark blue and pink pairings that look pretty nice.
Ultra Modern Living Rooms with Feature Walls
A feature wall hasn't fallen out of favor. It's just that huge windows in contemporary living rooms have taken its place. Still many a designer try to accentuate TV or fireplace with new kinds of wall coverings and architectural elements.
A feature wall or wall feature is a great way of filling up all that blank space in ultra modern living rooms. Not all of them have to be typically white and sterile.
Double Height
Double height ceiling is another modern architectural element you'll often see in our ultra modern living rooms. It opens up the room further, and gives it more grandeur.
While some may argue that the sense of privacy in such living rooms may be lost in vastness of space, others may appreciate all that area that can accommodate more people.
While these ultra modern living rooms are beautifully contemporary, these stylish bedrooms come in all kinds of styles that will suit any personality.