A tripod floor lamp has been experiencing a popularity boost recently. Showy, stylish, and functional designs appear in interiors of all styles and homes of all sizes. And that probably has to do with their reinvented new looks and multifunctionality so valued in today's home decor.
Besides their mobility and area of effect, floor lamps are incredibly decorative. And a tripod base makes them look especially designing and sculptural.
Modern Tripod Floor Lamps
Usona's Floor Lamp 13309 is a blend of contemporary materials and Art Deco shapes. Its stylish slim base repeats the angular lampshade form, which makes it all the more intriguing.
Copper accents turn the modernist design into a more contemporary trendy accessory that can be used in any room from a sleek living area to a luxurious kitchen.
Again we see a mix of modern style and latest trends in Anthropologie's Triangulate Floor Lamp Ensemble.
Connected at the base with a brass stability ring not our typical floor lamp also has a decorative joint beneath the lampshade echoing brass surface on the inside.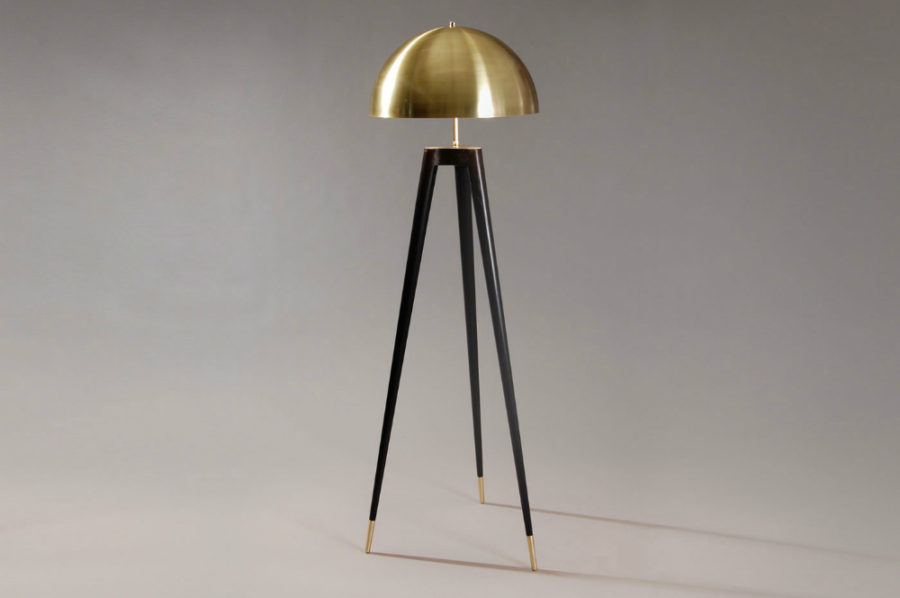 An updated mid-century lamp by Matthew Fairbank is another no ordinary floor tripod that you'd want in your eclectic or contemporary interior.
Its gold-dipped black wooden legs make a perfect base for a dome-shaped metallic lampshade resembling a hotel reception bell.
Modernity With a Twist
In order to avoid the old-fashioned aesthetic of a mid-century modern style this lamp was given an asymmetrical wooden base, which still looks modern but not too much.
Contrasting with a traditional round lampshade in a beautiful blue hue and wire pattern the lamp becomes a versatile accessory for contemporary homes.
With an eco-friendly home design trend on the rise a branched tripod lamp is no longer only a social statement but also a stylish decor addition.
Anthropologie offers unique branched lamps handmade of reclaimed driftwood and leather with shibori-dyed shades in modern style but with contemporary sensibilities.
West Elm created this tripod in collaboration with LA-based studio Commune. They decided to combine mid-century modern style with Japanese aesthetics and ended up with a sculptural tripod in a trendy rose gold color complemented with brown leather.
An extremely conical white linen shade punctured with a black trim further lends it a contemporary touch.
Victor Tripod Floor Lamp doesn't look like much, but it's surely different and not at all boring. With its pot-like iron shade the mid-century modern design adds functionality to the classic floor lamp with an aluminum built-in shelf.
Though simple in style the lamp can be easily complemented with a flower vase or any other display object that will decorate its minimal frame.
Quirky-Shaped Tripods
ETSY's creator ThEeRabbitHole thought that another boring tripod lamp wasn't going to cut it and went for the lotus-shaped shade top and was right to do so.
Made of silk, wood, glass and brass the floral design is one-of-a-kind and a definite stunner.
Designer Tom Raffield also likes his lamps to be out and outer. His Skipper tripod made of ash wood is a testament to his intricate tastes.
You'd hardly find a more sculptural shade (at least the one made of wood). It's both elegant and modern, so you can use it in interiors of many different styles.
George Nelson's Bubble Lamp turned into a tripod lamp is the best thing a sci-fi design fan could hope for. First designed in 1947 the lamp went on to become a part of the permanent collection in Museum of Modern Art in New York.
Cool and not overly expensive Equinox is a great floor lamp for a contemporary and modern home alike.
Industrial Style Lamps
Industrial tripod spotlights had a big moment half a decade ago, but they look hardly surprising today. Besides with their highly utilitarian aesthetic it can be quite challenging to implement them in a contemporary interior without breaking its flow.
Cliff is a tripod lamp by Lambert & Fills that looks like it's missing a shade top. And while with a fabric lampshade it would look quite contemporary, without one it's much more fitting with the industrial style.
Borrowing from an Old Hollywood style West Elm created a tripod spotlight that would fit perfectly with a mid-century modern living room.
With its wooden base and rounded aluminium shade the lamp really oozes that old movie studio vibe.
La Forge offers another atypical industrial style Edison bulb-powered tripod with a fan-like lampshade.
Unlike all those other spotlights this one will not only attract attention but also won't break the flow of a monochromatic contemporary interior design.
Colorful Lampshades
Another affordable tripod lamp you can buy from ETSY is this African drum shade designed by OSxN. It's surprising that at just $85 you're no only getting a beautiful design handmade in U.S. but also a print featured in ELLE France and Deco Home Magazine.
Though the base (or pendant fixture) are sold separately this is still a better deal than you could find anywhere else.
Although they make mid-century modern style lamps Stilnovo bring a touch of color with their multicolor printed fabric lampshades.
A simple base allows it to become a major focus of the entire design, which in turn can become a focal point of a room's decor.
HIVE lamp is a work of Ana Kraš from 2010. Crafting the prototypes out of steel wire and cotton strings the designer played with shapes and colors to create truly unique shades.
The lamp stands on a quite elaborate oak base that works as a hook for the lampshade rather than being a solid part of the lamp.
Incredible Textures
Vita Copenhagen produces incredible lamps. They also specialize on unusual shapes and textures from feathers to sculptural waves of Carmina lamps that are surprisingly affordable (for this type of lighting).
Designed by Søren Ravn Christensen and Anders Klem the intricate lamp comes in bright hues from the presented azure to sunlight yellow.
Silvia tripod lamp is another Vita product you'd want to bring home. Stylish black layered bloom lampshade comes with a variety of base finishes that complement and contrast the eye catchy shade top.
Ultra appealing it can lend its dynamic to a room decor becoming a focal point or a powerful accent.
Søren Ravn Christensen's EOS design is one of Vita's most popular lamps. Available as a pendant, table lamp, and a tripod EOS is an embodiment of a trendy home design element.
Made of natural goose feathers it glows softly, so it won't make a good reading lamp but it will bring pizzazz to the interior.
Keep Resin is hand-made and crafted in Australia. Presented in an unusual form it's available in a variety of finishes (including marble) and sizes.
The floor lamp has its lampshade unconventionally hanging from a tripod instead of being perched on top. An additional metallic shelf allows to further dress it up with decorations and accessories.
Barely There Tripod Bases
If you're after an unconventional tripod floor lamp, Kotlic must be it. Slim, stylish and incredibly contemporary it makes a cord an integral part of its design.
While other lamps would make you wish for cordless lighting technology Kotlic uses straight and curvy lines of its base and cords to create a dynamic design.
Michael Anastassiades is a lighting jeweller. His designs while simple and elegant attract attention, invoke great admiration.
This tripod lamp is a purely contemporary piece, a gorgeous bundle of glowing sticks that'd look great in a living room or sleeping quarters.
Lambert & Fils's creations are subtle in what they want to say or show. This gorgeous mantis-like lamp is a great fit for a minimal but stylish interior.
Made in Quebec the slim golden base features nice black contrasts, which make for a trendy combination. Its small smart lampshade is but an elegant accent as the lamp itself in the context of home decor.
Eye-Catchy Lampshades
The Wish by dCOR design is not just a floor lamp, it's a modern sculpture in its own right. It's also a light show once you flip on the switch.
Made of metal, it'd make a fitting addition to any contemporary home bringing detail and metal shine to neutral color schemes.
Our most favorite of tripod floor lamps is Fabrice Berrux's incredible Iris. Elegant, beautiful, and simply mesmerizing Iris glows gently and warmly through its pleated shade. A beautiful addition to any interior design.
Floor lamps while space-consuming can bring a lot more to the design than light. Creative and sculptural they will make any place more exciting.