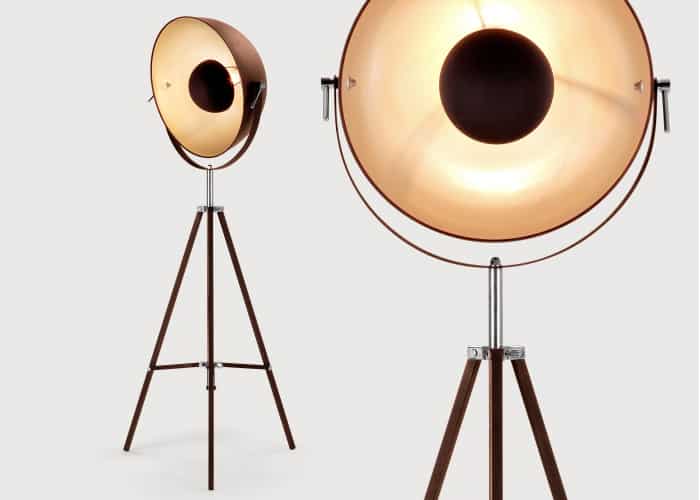 This chic collection of tripod floor lamps from Made has something to offer every taste. From the classical glitz of "Chicago" to the nautical "Navy" and from the cinematic "Alfred" to the intriguing pair of lights in "Robyn" – which would you choose? Or perhaps more than one of these fine lights would fit in your home? Chicago, pictured above, is an antique copper and gold delight. Inspired by film set lights, the soft glow is no accident. The inside of the shade is fitted (by hand) with gold foil and the bulb orients inward to reflect the golden ambiance. And voila, you're ready for your close-up.

The Navy tripod floor lamp is a luscious blue all the way to the floor (that is, unless you prefer the style in natural or black). The tripod base is made from beach and rubber wood, and then drenched in a nautical blue semi-glossy lacquer. The fittings are chrome metal and you can adjust the lamp to any height. Wouldn't this one look great in a library or a master bedroom – positioned over the chaise lounge for afternoon reading?


And then there's Alfred, in all his cinematic glory. Fashioned after the Klieg lights from old film sets – possibly even named after Alfred Hitchcock! Adjust the grates (like shutters for your lights) to allow more or less illumination. Adjust the height and the angle to control the light's direction. These would be a fantastic addition to an office or studio. The golden era of Hollywood lives!


We close the two pair with a pair of our own – Robyn X2. The example we like happens to be robin's egg blue, too. A large and a small tripod lamp make a statement when displayed together on the floor. Although the smaller of the pair is actually a table lamp, there's no reason you couldn't use it as an accent to the larger piece. Stylish and durable (crafted from real steel), Robyn X2 is double the light power. Whichever of these tripod floor lamps fits your style, you can't go wrong with one of these elegant light statements from Made.


Robyn X2 is available in black or blue.


The pair is one large, one small.


Give your room a photo studio feel!


Navy looks great at the office.


Navy is also available in natural and black (go figure).


Fittings are made of polished chrome.


Alfred gives a sense of cinema to each room it graces.


Alfred's tripod legs are natural wood and chrome.


Alfred is a throwback to the golden age of Hollywood.


With Chicago, you're always ready for your closeup.


More information: Made