Contemporary is probably the only style that can evolve and change constantly. Don't confuse it with modern, though, as its aesthetic was a thing of mid-last-century. The difference? Modern style doesn't change. It is a certain aesthetic that you can recognize from clean undecorated interiors with lots of natural wood, plastic, leather, and linen. Simple furnishings is another important element of mid-century modern style. Contemporary, however, can have all that and then some. Think clean white walls, huge windows, unconventional furniture shapes, and open layouts. If you are into an idea of an airy living space filled with peculiar offbeat accents then here are 40 contemporary living room ideas that will reanimate your home.
Minimalist Contemporary Living Room Ideas
Minimalist contemporary may sound redundant but when you see how different contemporary interiors can look like, you'll know what we mean.
Clean simple lines, neutral color schemes, and streamlined furnishings are quite easy to work with. Put them all together and add a few statement accents like chandeliers or artworks. That's all it takes.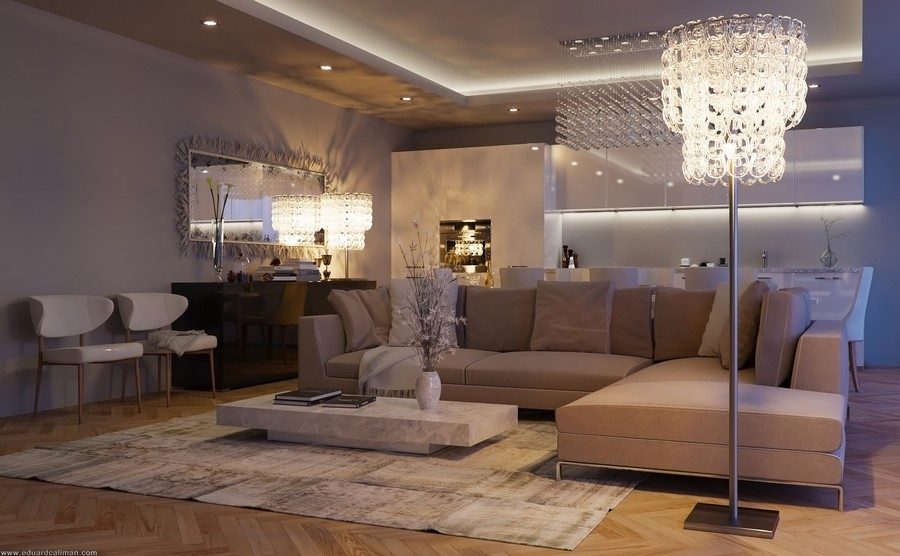 Open Layout Contemporary Living Rooms
Open layout is probably one of the most prominent and defining elements of contemporary design. It offers a sea of possibilities. At the same time, it's easy to create as well as decorate. Many designers use sectional sofas to effortlessly demarcate a living area, but it's not the only way. Think console tables, rugs, and half walls, which can hold TVs and bookshelves.
Sophisticated Contemporary Living Room Ideas
While contemporary design is all about clean lines and minimal decor there isn't a rulebook that forbids making things a bit fancier. Stone inclusions are often used in fireplaces and tabletops as luxury accents. Statement chandeliers also bring their fair share of glam. But you can never underestimate how much colors and textures can do for design.
In each of these interiors muted neutrals are punctuated with velvet and leather textures. Present patterns don't attract as much attention, whereas accents are also quite subtle.
In sophisticated design every little detail has its place. No extra elements or furnishings are cluttering the space. Even coffee tables in Claire Paquin's living room are transparent. Keep this in mind when striving for sophistication in your interior design.
Small Contemporary Living Room Ideas
We often see contemporary living areas fit into rooms the size of a skating rink. But homes with smaller square footage can too enjoy the benefits of contemporary design, which are open layout and conversation-starting furnishings.
Contemporary style works when it comes to shoe-box apartments. Plenty of white reflects any natural light from the windows enhancing the area visually while clean lines cut out all unnecessary elements that would otherwise clutter a tiny room. And the right open plan design can simply make small apartment feel more spacious.
Contemporary Living Rooms With Bright Accents
Bright accents can help liven up a sleek contemporary aesthetic that can at times give off a sterile vibe. Using them is not as simple as throwing in some pillows, though. You have to add neutral hues to soften harsh contrast between pristine white and intense brights.
Contemporary Art in Living Room Design
Contemporary style is very art-friendly. In fact, those empty white walls call for some decor and drama. One of the designing techniques is based on coordinating artwork colors with an interior's color scheme. And it's quite popular, probably because it ties decor together without effort. It's a sure way to a tasteful and eye-catchy contemporary design.
Another technique is to choose a piece that would create an inimitable focal point in the room. Usually it is a painting or a portrait rather than an abstract color painting.
Luxurious Contemporary Living Areas
We've stressed at the beginning that contemporary living areas are usually clean and minimal, but since the style is still evolving it's subject to whatever changes your soul demands. Fill it with premium materials and high end furnishings, if you like. There are no rules that say you can't.
Luxury may manifest differently, but it always has to do with premium quality. Other elements that bring luxury to any interior are rare materials like natural stone and recognized designer/brand styles like Barcelona or Eames chair.
Modest Contemporary Living Room Ideas
Going back to more affordable, small-spaced contemporary living room ideas, it can be a stylistic choice as well. For instance, if your interior architecture is comprises of numerous windows, beams and arches your room decor doesn't have to be that expressive.
Besides, simpler cleaner furnishings and color schemes allow other things to stand out. Take potted trees, for example. They look terrific and will set you back a fraction of the cost of a designer chair.
Natural Materials in Contemporary Design
Modern interiors are heavy on natural wood and molded plywood in particular. But since contemporary style borrows a lot from mid-century modern aesthetic, natural materials are being used extensively in contemporary interiors as well. Wood looks good and versatile, however, its high cost is a serious downside.
Contemporary living room ideas aren't one-look-fit-all. They can look very different and quite exceptional if you explore the style a bit further. With extraordinary designs on the market and creative ideas on the web you have to really try to create something completely unremarkable.