Here's an unusual barn conversion house in Hampshire, England by AR Design Studio, where historic meets modern, as evidenced by the home's striking mix of minimalist interiors and rustic house style that hark back to the home's horse-stable roots. Once home of the 1946 Grand National Winner 'Lovely Cottage,' the rundown stables were converted into a stunning three-bedroom family home that, we think, is a winner in its own right. This UK farmhouse is worth a tour!


The brick exterior house has a warm, weathered quality about it that screams farmhouse style. The original structure was outfitted with large, modern windows that hints at (and offers a sneak peek of) the contemporary interiors.


From the architects, "This dilapidated stable block has been remodeled into a refreshingly minimalistic house whilst retaining key pieces of its characteristic history, such as the re-conditioned stable partitions."


Behind the stained wood and steel partitions, the ultra modern kitchen is bright, white and entirely the opposite of its time-worn walls.


The partition divides the kitchen and the dining area, where a barn board table is topped by a trio of gleaming chrome pendant lights that illuminate the space. The white walls bounce light around and enhance the home's sense of space.


The bathroom boasts the same drastic contrast between old and new, which sets the distinctive style tone for the whole home. The dramatic tile walls are earthy, yet contemporary. And adding a touch of luxury, a towel warmer tucked into a wall niche!


Check out these amazing, one-of-a-kind sinks – "painstakingly restored drinking troughs, which have been brought back to life as wash basins, located in the ensuite bathrooms," according to AR Design.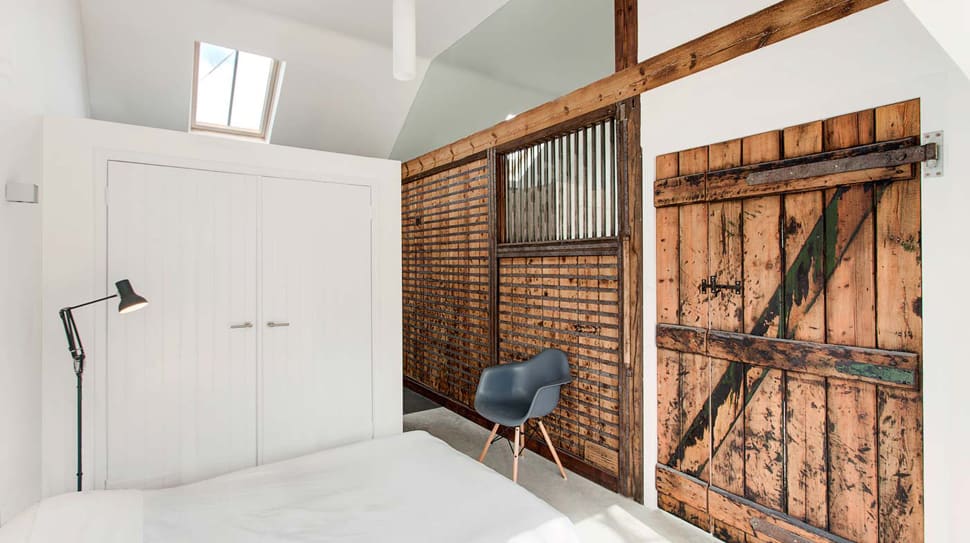 The old stable elements are always the focal point, striking against the cool white backdrop.


The exposed wood beams overhead stand out against the clean, white walls and crisp angles of the interior architecture.
AR Design Studio
via Dezeen
photo credit: Martin Gardner