From abandoned stable to striking stone home, Abaton Architects undertook this testing transformation here in the countryside of Extremadura, Spain. What was once a rough, rickety, discarded shelter is now a coveted, contemporary family home that combines modern style and conveniences – exactly what a good home should be.

This stone structure seems to step up the hillside with uneven levels that climb the ascending landscape. The rustic stone exterior is complemented by barn-board doors and shutters, one opening spanning two floors with double-height timber closures. These swing open to reveal a surprisingly clean and contemporary interior that is still curiously in keeping with the farm-house aesthetic.


While the interiors are modern in style, the countryside is never far off, whether you find it overhead in the sloping white-washed wood ceiling, in the rustic decor and furnishings (we love the authentic wood-burning stove!), or in the outdoors visible through the expansive, floor-to-ceiling windows.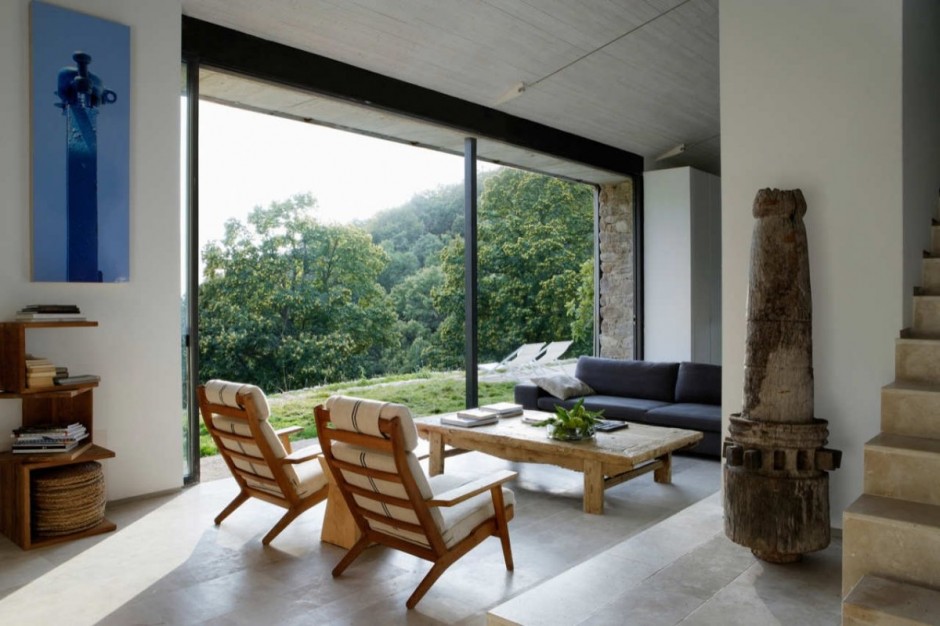 But even the pastoral outdoors get a modern makeover with a cool water feature set within a central courtyard. Just pull up a chair, slide open the windows and enjoy a breath of country air.


Award-winning Abaton Architects has over 20 years under its belt, and has made its mark with ultra-modern architectural designs. While this rustic/contemporary stone stable house is a step away from their usual style, it's as exciting and modern as any.
Abaton Architects