Hoashi means "Good things" and these Time Flies clocks by Haoshi are just that and more. Aside from presenting a beautiful way to be punctual, the visuals within each clock tells a poetic story in a variety of different ways. From birds to fish to cats and wolves, Time Flies X Clocks are X-straordinary.


The Cuckoo X CLOCK is not your traditional cuckoo clock, far from it. Under the premise that "it's a big world out there", this clock features a bird within AND a bird outside of the clock.

The second bird, or mate is flying home to perch and adheres to the wall in whichever location you choose to place it.


The Cuckoo X CLOCK can be set to only sing between the hours of your choice. In other words, no more all night long chirping.


It's a big world out there and everyone needs a friend, even a Cuckoo bird.


Sparrows love to flit between houses and for this reason Haoshi designed the Sparrow X CLOCK with four flying companions to flit around your wall while two look on from their clock face perch.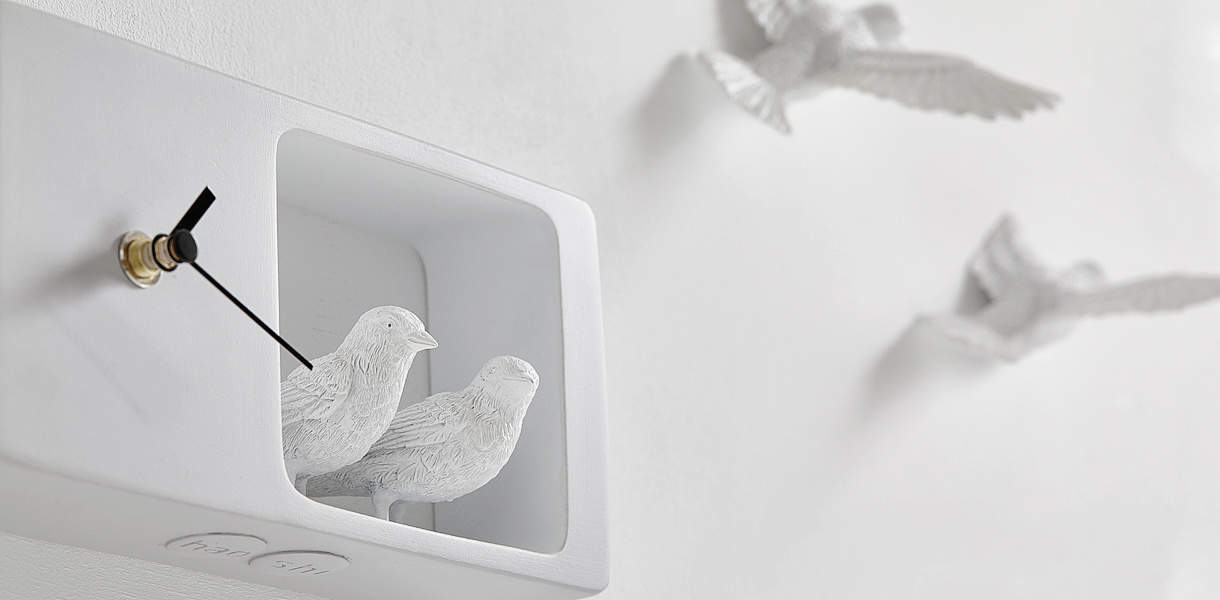 The two sparrows that perch within the clock pay homage to the sparrows that stay for awhile on Hao Shi's front window before they fly away to their next destination.


Sparrows represent the good things in life, so a few flying and perching on your wall is not such a bad idea.


The Cuckoo X CLOCK tree replaces the birdhouse with a section of trunk.


The Swallow X CLOCK waits for no one. The swallows continue to fly around and around seizing the day and enjoying every second of it.


Swallows symbolize luck and hope so Hao Shi hopes this clock will bring everyone "the wings of good fortune and the ability to fly up high in life." We wish the same for him.


The Goldfish X CLOCK leaves the air behind in favor of the sea and also forfeits the standard hour locations for a more fluid formation – and yes that pun was intended.


Moon X CLOCK celebrates the nocturnal life within its minimalist moon and cat silhouette.


This clock revels in the quiet solitude of nightfall and represents tranquility.


Are you a night owl? Or do you identify more with the cry of the wolf, the intelligence of the raven or the finesse of the cat.
Haoshi is "good things" and we agree.
Time is something we all deal with day after day and clocks are a necessary part of our lives. For that reason I truly believe that clocks should be a personal and beautiful object that we can enjoy while we make sure we are not late or early. Luckily designers and artists are getting into the action and coming up with some amazing modern wall clocks.