As one of the most traffic-heavy areas of the home, the bathroom tends to get used and abused regularly, especially if you entertain frequently. Additionally, if you are considering eventually selling your home, having a charming bathroom can boost the price point of your home. Keeping that in mind, tiles are one of the best forms of enhancing your bathroom while still keeping your authentic décor.
Green Tiles
Glossy green tiles work great due to how rich and enchanting they truly are. Furthermore, the color itself is completely taking over 2019. Green is coming back with a vengeance and we are obsessed! Think of it as the perfect form of enhancing a room that needs hints of color here and there. Whether you choose an accent wall of green tiles or you add a few tiles here and there.
Hexagon Tiles
Hexagon tiles are great due to them already having a built-in design. Furthermore, they add visual appeal without having to do so much. These tiles come prepared to make any room come to life while still working with any palette. We love the idea of having them incorporated into a black and white color scheme. Having a black and white bathroom no longer needs to be boring it could be everything you envisioned with a twist of modern glamour by simply bringing in these tiles.
Oversized Marble
For a sophisticated twist, bring in oversized marble tiles. The simple use of having larger than life tiles will make any room feel grand and luxurious without all the added hard work. Furthermore, they add beauty right where you need it most. The key is working them into rooms that already have marble displayed. Doing so will make sure the room feels grander yet cohesive all at once.
Reflective
Though we love the idea of having a simple display of tiles, we love a reflective finish even more. Having tiles with a reflective finish work great due to helping create this modern approach that incorporates your décor seamlessly. This air of beauty comes with reflective tiles that make a room come to life.
Crisp White
For a minimal approach that makes the room come to life, white is the way to go. Having white tiles is perfect when you want to bring a balance without taking away from what you already have. Additionally, white works great in a smaller bathroom that needs an expansive quality. The simple use of having crisp white tiles will make the room come to life in a grandiose form. Add a pop of color here and there to make the room come to life with just a hint of modern bits.
Navy and White
When it comes to classic pairings navy and blue is a staple. These two colors together make a beautiful pairing that come to life when they are displayed in a room. We love the idea of having sleek navy and white tiles paired with minimal décor to provide that bit of color and texture. The idea is to have as sleek of an approach as possible.
Warm Pastels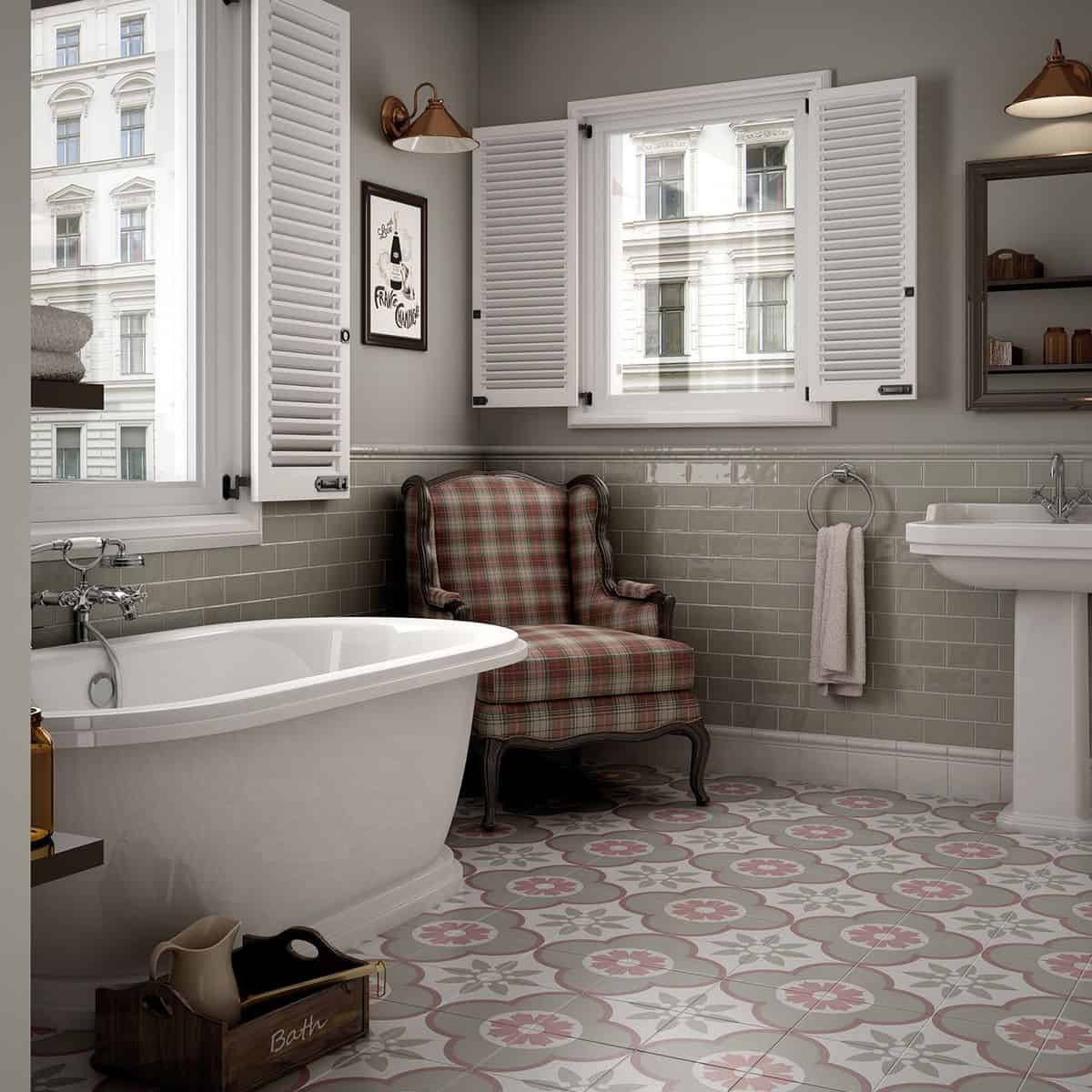 Simple pale tiles can make a huge difference, especially when you want to blend color and neutral bits. Pastels work great when you want to incorporate a fun twist, that doesn't take over the room's aesthetic. It's one of those pairings that makes the room feel grander yet, add some spice to it right where you need it most.
Blue
When in doubt, consider a blue hue, blue alone can make a huge statement in a room. It's one of those colors that works well anywhere it is placed. Pair with other sleek colors to make the hue stand out from the rest. Furthermore, contemplate having your blue hue as the statement color of the room for a statement that makes sense.
Mosaic
Mosaic tiles are one of the most beautiful tiles you can have in a home. They are designed to appear put together yet have a luxurious touch. Think of them as one of the best forms of adding personality and style to your bathroom. Consider colorful mosaic tiles for a brightening display while still being sleek and having that middle eastern feel that these specific tiles are known for.
Pop of Color
Take into consideration what color you would like your bathroom to be. If you want a pop of color brings it in with tiles. There is no better way to bring a pop of color than to create a beautiful display with bold tiles. Tiling is truly unique while making the room feel grand and sleek all at the same time. When in doubt, consider having two different tile colors as an option or even creating a pattern.
Which of these bathroom ideas is your favorite? Share with us below.