When decorating your bedroom, you want it to be as personal to you as possible. Your bedroom should feel like an extension of who you truly are. The idea is to have a chic space that makes you feel comfortable enough where you want to retreat to the room yet enjoy it so much you don't want to leave. Here are stylish bedroom ideas you haven't seen just yet.
Fun Headboard
Having a full upholstered headboard could be just what your room needs to come back to life. If your space feels like its missing something refreshing it could just be the headboard you have. Bring a fun twist by changing up your headboard and bring color as well as texture to the room.
Loose Lines
Bedrooms tend to have an intense tighter feel, whether that be due to the décor that is notorious to the room or how you originally decorate the space. This time around you want to consider loosening up your décor. You want to use a softer palette with an open and airy approach that makes the room have a chic approach while still being easy on the eye. The idea is to provide a display that is modern with open floors and soft décor.
Multiple Textures
As stated above, having loose lines could be the way to go, but if you truly want to change things up consider bringing an abundance of different textures. Texture is big and we are obsessed. Add in texture by having patterned curtains, paired with bold colors and even grander items. Furthermore, take a look at adding wallpaper to make the room feel fresh and new with that classic textured approach.
Choose Bold Light Fixtures
There is something ultra-charming and chic about having bold light fixtures. When you want to bring something fresh and new to the room, having bold fixtures makes the room have a modern twist. The idea is to bring as many elements that match with your lighting. You want your lighting to be the main focus while still standing out from the rest. Pair a few fixtures together for a brightening effect.
Lilac
When in doubt of what color to paint your bedroom consider lilac. It's the perfect in-between hue that works well for any decorating style and persona. Even if you aren't fond of the color, lilac has a unique way of blending in with whatever you already have. Think of it as the perfect hue to sprinkle a bit of feminine into any room. Pair with neutrals for the perfect display.
Black Walls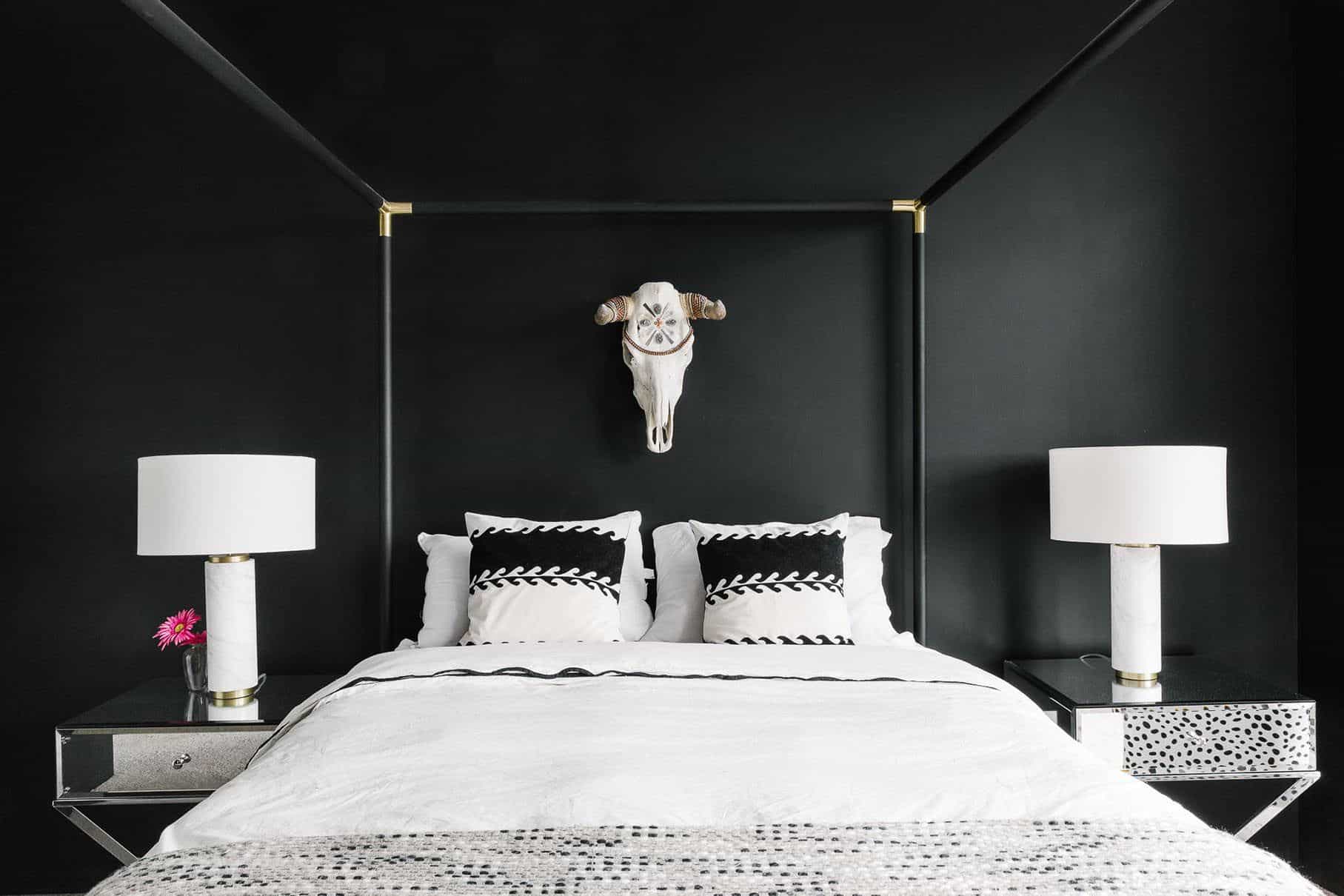 While lilac might just be the color to choose if you want a feminine approach, black is the perfect hue for those with an edgy soul. But not just any black item- black walls. Black walls have their very own thought process. They work well alone or with other edgy elements, all while being sleek and cohesive. There is something about them that screams chic and edgy while still being and unique. Pair with other edgy bits to complete the look.
Layered Rugs
If you already have one rug in your room, it might be time to consider having two. The simple act of layering your rugs can make a huge statement right when and where you need it. Instead of switching things up simply add another rug and make it the focus of the room. The trick is using similar rugs and having them make the room feel fresh and new from the moment you step into the room.
Repaint Your Walls
The very first thing anyone looks at when they enter the room is the color on the walls. There is something about the color of your walls that can make or break a room. Give your room a fresh coat of paint to brighten the space. Use a vibrant or cream color to enhance what you already have. The room will appear as if it was brand new even if you simply added one or two additional decorative bits. Changing your walls could be just what you need for the perfect fresh upgrade.
Minimal Please
One of the main issues many of us will come across in a room is how cluttered it will become. Let's face it the bedroom, tends to become cluttered due to how many items go into. It's time to remove the clutter and bring in a minimal approach the key is having only what you need and having it exactly where you need it. Work with an open floor plan for the perfect charm.
Statement Walls
Whether you create a statement with wallpaper or by having your walls painted. The key is working in different ways to create a statement. You want your walls to make sense to the room without taking away from your décor. Add a fun wallpaper when you want color and texture to be the main focus. Furthermore, consider having one statement wall instead of all the walls painted or with wallpaper. The options are endless.
How do you plan on redecorating your room? Share with us below.