If there is one accent piece that has remained true to home décor, it is the coffee table. An item that will always be needed and loved by everyone. For some, it's a display table for knick-knacks they know and love, for others its where they can eat a snack or two while watching TV. Regardless of what you decide to do with it, it's always one of those items that is well-loved and better used. With that being said, the following coffee table ideas are stylish, trendy, and chic while being functional.
Add a Contemporary Rug
Okay, so now you have the coffee table you have always wanted in your living room. It's time to spice it up and give that space new meaning. To do that, consider using a contemporary rug. Not only are rugs chic and cozy but they make any room feel luxe. It's about embracing the space and allowing the room to have a modern twist that is also easy on the eye. Work with a colorful piece that makes the room regularly come to life.
Visually Appealing
One of the many uses, coffee tables have is being able to display things effortlessly. Whether that is a book, a plant, a vase, or a combination of all three. There is something very "magazine home-esque" about having a coffee table with an array of books neatly placed. Opt for elegant, thick, oversized books that have a colorful appeal to add visual interest to the table itself. You could use colorful recipe books, hardback photo albums, and/or luxury fashion designer displays that instantly feel grander in the room. Stack two-three books in different sizes for a contemporary slice of heaven.
Include a Bold Item
Once you begin decorating your coffee table, it's kind of hard to stop. It's one of those things that catches you off guard yet is oh so satisfying to have. When it comes to bringing a luxury item, consider working with a luxury vase, or architectural piece. Both items will brighten the room while giving it something extra. Consider going for a bold dose of color for that charming appeal.
Don't Be Afraid of Layering
Though coffee tables tend to be smaller in size it does not mean that you should be afraid of adding multiple pieces to the table. Contemplate the act of layering. Layering helps the table feel more put together and engaging. Bring in stacks of art, books, flowers, and even a tray with small trinkets such as candles. The display should feel sleek regardless of how many items you decide to layer on the table. You want to keep it as chic and engaging as you possibly can.
Add a Smell Factor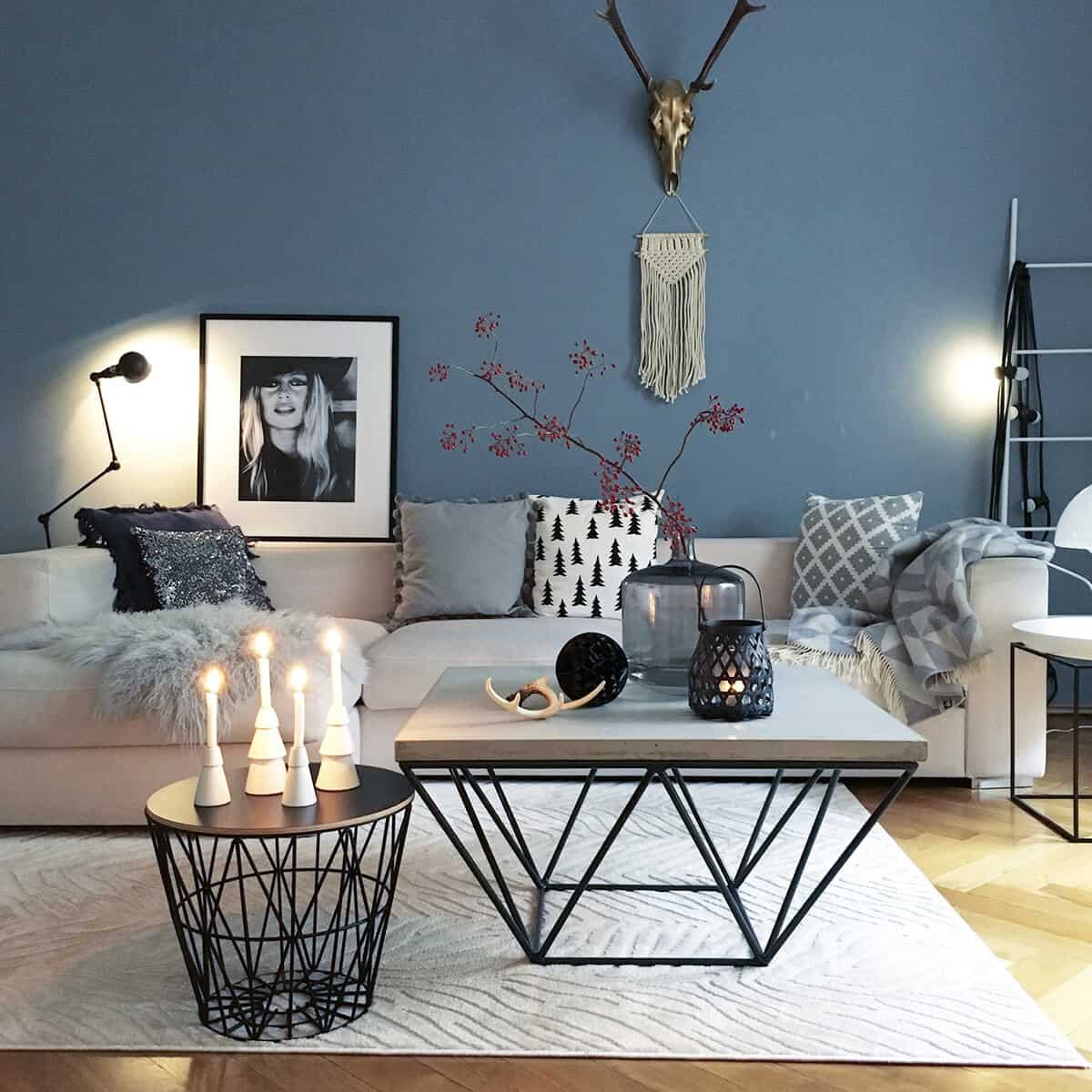 Once you have begun shopping for candles, there's no turning back! There's something about having a good smelling candle that instantly puts you in a good mood. Therefore, bring in a lux looking candle holder and pair it with your favorite candle and enjoy the view. Using an aromatic element not only makes any space feel more welcoming, but it will instantly boost your appeal. Furthermore, it adds a layer factor to your coffee table. If you don't like candles work with a diffuser, both will get the job done effortlessly.
Shapes are Key
Not all coffee tables need to be the same, many of them come in an abundance of colors, shapes, and sizes. Keeping that in mind, you want to focus on the square footage of the room. It is extremely important to take into account how much space you have for décor. If you have a large sofa, consider working with a smaller coffee table for that contrasting appeal, whereas if your couches are kind of small- go the opposite route with a large table. You could even consider using a stacked table, for that welcoming feel.
Keep it Simple
Though we have spoken about layering and going bold with your décor, there is something about having a minimal space that speaks to us as well. Getting creative is great and all, but being able to have a few key pieces that make a statement on their own is just as valuable. Work with a few statement pieces, and give them some space, so there's enough room for every piece yet they feel cohesive. You want to create a balance that makes the room come to life effortlessly.
Use an Ottoman
Ottomans are one of those functional items that serve as a double duty decorative piece. You can sit on them if necessary or you can use them as decorative pieces. Use a few ottomans to make an impact easily and quickly. The beauty of it all is, you can use them for both subsequently. Furthermore, work with colorful ottomans and allow them to be the main focus of the room.
Glass Top
If glamour is your thing, or if you feel your décor needs a little something extra, having a glass top coffee table is one of the best ways to do just that. A glass top isn't just chic and beautiful to look at, but it's extremely versatile. Having such a bold appeal allows you to get creative with the decorative pieces you decide to use. We recommend going with a minimal approach so that your table stands out from the rest. Bring in a colorful approach by adding trinkets or smaller plants such as succulents for a textured approach.
Add Art
Art is one of those magical pieces of décor that can make any room come to life, even if you are simply laying it down on the table. Whether you decide to go big and in charge or you decide to go minimal you want to make sure the piece you use makes a statement. When in doubt, use color, the color will always make a room feel new even if the piece you use is extremely small.
When it comes to your coffee table, how do you style it? Share with us your decorating tips and tricks below so we can use them too!