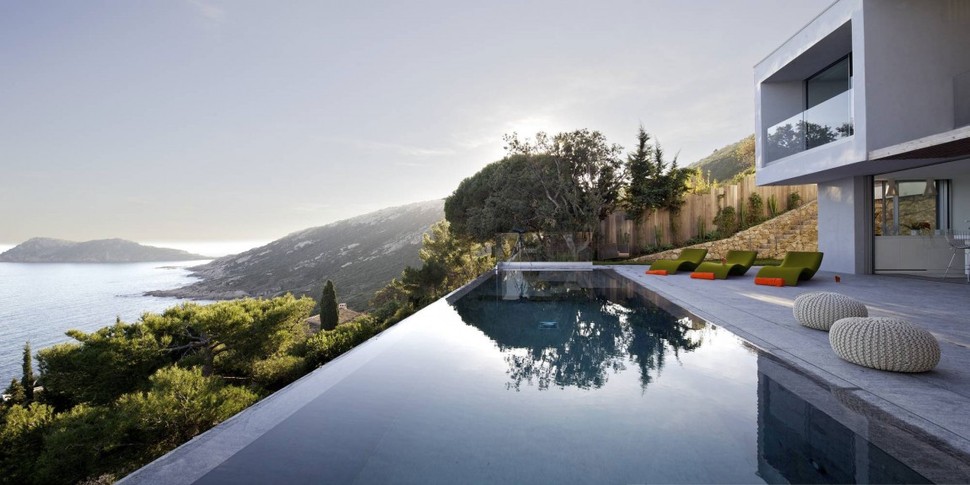 Perched atop a hillside in l'Escalet, this new property offers spectacular views of the Mediterranean Sea and of the Côte d'Azur. Built as a retreat for high-end holiday makers, the villa is a great example of tasteful contemporary architecture and design. It is completely integrated in the rocky landscape with its concrete, wood and glass volumes and terraces. Because of the characteristics of the terrain, the house is accessible from the bottom by a glass elevator that stops on the ground and upper floor. The ground floor is occupied by living room and kitchen, which are extended to the outside through floor-to-ceiling sliding glass doors. The terrace is at the same level as the indoors, covered in the same extra-large concrete tiles. An infinity pool comes to complete the picture and mix with the horizon. The upper floor is divided into four bedrooms, which all have their own small balcony overlooking the see, either from a front or from a corner position. The balconies are closed with glass balustrades, so that the guests don't lose even one millimeter of the magnificent view. On each side of the pool, protected by a glass balustrade, there is a bedevere point that offers breathtaking views on the surroundings and the sea.

Protected by a wooden structure that filters the sun light, this pergola offers the perfect spot for eating outside while enjoying the view. Next to the dining table, the couch is placed in the center of the view, inviting to rest and contemplation.


Curvy beach beds and cozy poufs are placed next to the pool allowing for sunbathing and socialization at the same time. The style is contemporary but colorful and the shapes are organic, like trying to blend in with the landscape.


The cook has a privileged position in this house, with the magnificent view that can be of great inspiration in creating Mediterranean dishes! White and glossy, the furniture shines in the sunlight.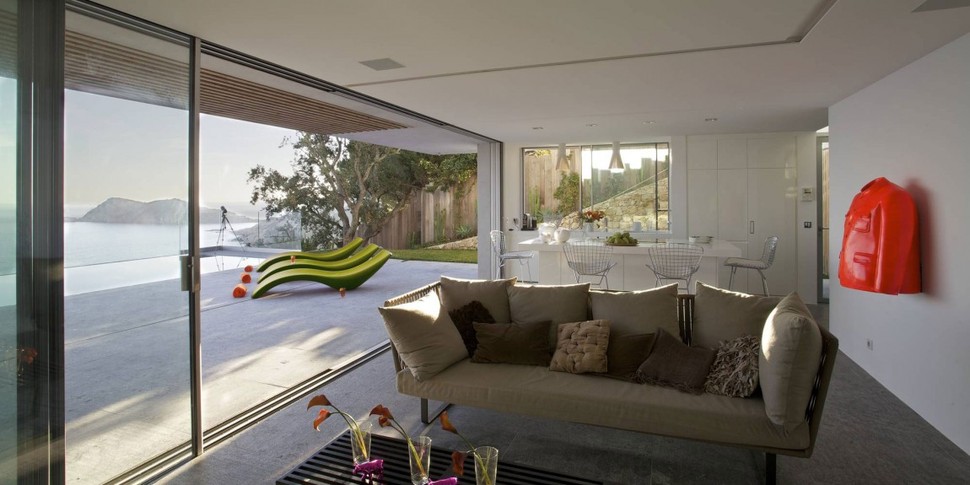 The art is modern and carefully chosen. A red coat made in resin, dressing up an invisible body, hangs from the living room wall in a very intriguing way.


Accessible by elevator, the four bedrooms on the upper floor are small but cozy, each with their small private balcony. The en-suite bathrooms are luxurious, with sinks made out of rock and mat black oval bathtubs.


Villa L'escalet Saint Tropez