Built by LLP Arkitektkontor for a young family in Sweden, this cottage-style home fulfills every desire for contemporary style and livability without showing off or breaking the bank. Set on a scraggly property, shielded from neighbors by vegetation, the compact residence blends into its surroundings via use of worn wood and industrial metal for its exterior appointments. Taking advantage of its concealment, a large bank of windows along the building's longest edge floods it with uninterrupted sunlight. The interior is comfortable and up-to-date, with bright yet pleasant colors and a slightly arched ceiling. The dwelling's main public room, encompassing a kitchen and living area, take up about two thirds of its entire footprint, a continuous and open recreational space. The final third of the home contains two bedrooms and a bathroom, tucked against one edge. Despite its diminutive size, the house is complete with all the amenities of modern life.

The house sits on a relatively isolated, flat lot, its worn wood and metal exterior finishes mirroring the dry vegetation and soil surrounding it.


Because of its property's privacy from neighbors, the house is completely clear on one window-filled side. Plenty of natural light flows in through wall windows that would be nearly impossible to pull off comfortably in a more crowded locale.


With white-accented window frames and a tall chimney jutting from the roof, the compact home almost has the feel of a traditional cottage. Unlike most cottages, however, its overall architecture and interior design are thoroughly modernized.


The window wall along the dwelling's rear peers into a large combined living space, as well as into the children's bedroom. The windows extend from floor level, giving away the height of the foundation of the abode.


The sides of the tiny residence are mostly wooden; the rear window wall provides more than enough light for large side windows to be necessary.


A concrete cutaway porch frames the entry of the house, whose glass panels are accented by technological silver rather than the conventional white seen in the back.


The interior trades rough-and-tumble finishes for posh polish, with chic furnishings and bright white walls to make each room as airy and open as possible. A single open-format main living space takes up the majority of the floorplan.


The floorboards inside are lightly-colored and chic, punctuated by knots and other intentionally-kept imperfections. This smooth, light wood is a purposeful contrast to the worn, grey finish of the exterior.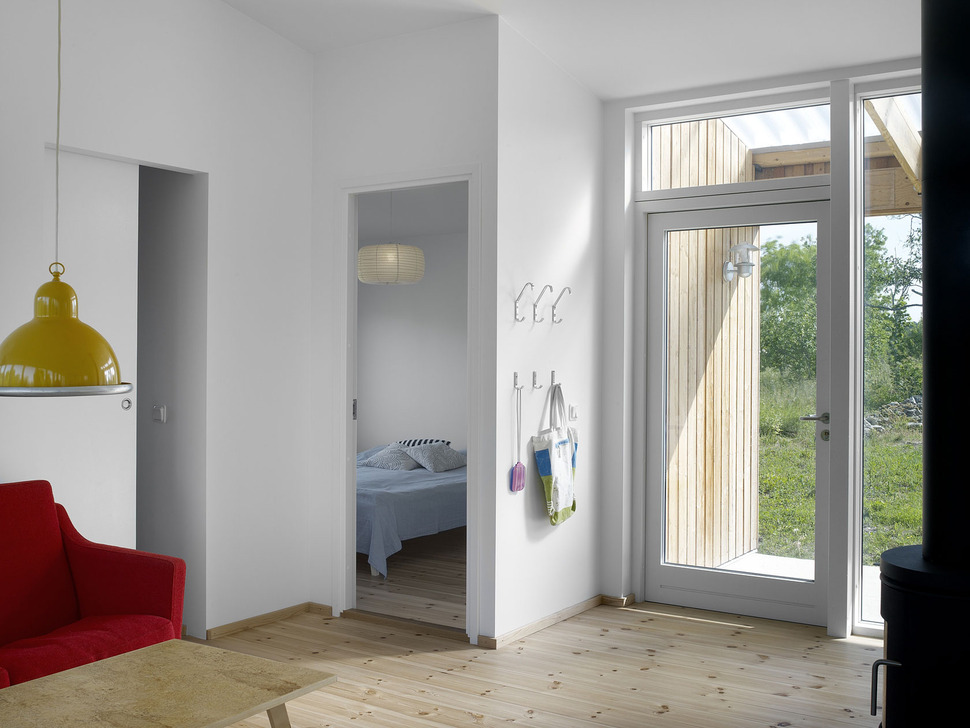 Just off the living room sit three sliding doors, each leading to a different private room of the house. Instead of setting private spaces within a space-hogging hallway, they are all directly accessible from the main recreational space.


The kitchen area, set aside by a few minor walls, is a smart blend of vintage and modern touches. It features monochrome fixtures and appliances, as well as a traditional tile backsplash and fairly common cabinetry.
LLP Arkitektkontor