In tune with the simplicity, efficiency and innovativeness of Nordic architecture and industrial design (think IKEA!), this stylish loft house designed by Sweden architects Sandell Sandberg has a surprise around every corner. From its hot fireplace feature to the industrial style loft design idea overlooking it, the home features a playful side without compromising looks and function – in our opinion, the key elements that make a truly awesome abode. Keep reading to see why we love this modern-meets-traditional Swedish home.


Located in the traditional fishing village of Kivik at the southern tip of Sweden, this house has a certain "primitive" quality about it. Pale pine floors and soaring ceilings envelop the hub and heart of the home – a living area with an amazing fireplace front and center.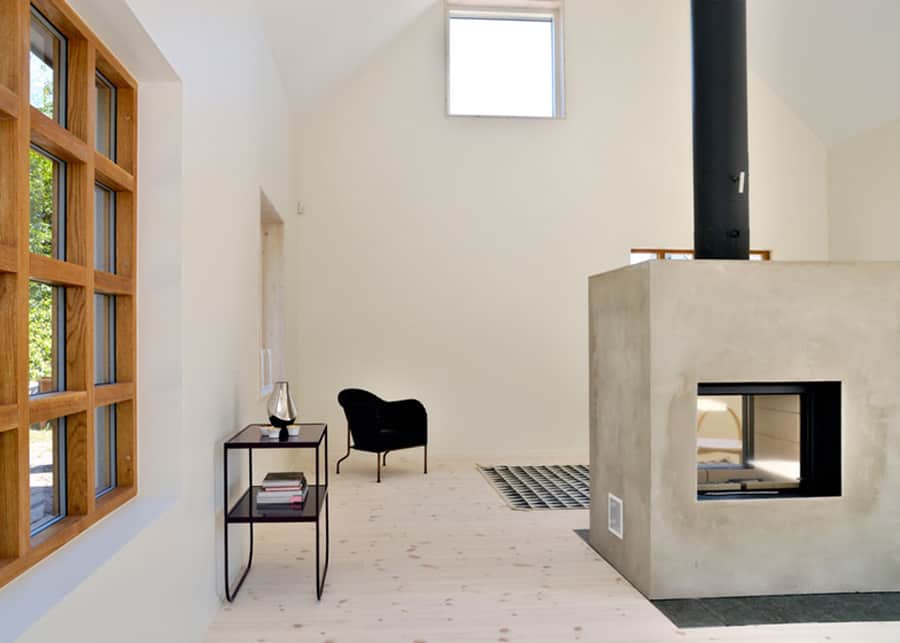 The wood-burning cast-iron stove is set within a heavy concrete block, which holds the heat (a must in this cool northern climate!) while bringing a bold focal point to the open concept interior. Tall walls tower over this intimate living area, broken up by natural wood framed windows that flood the space with warm sunlight and leafy views.


The home is a combination of two-storey and single-level living spaces. The kitchen is tucked beneath the upstairs loft – separated, yet connected to the main living space. Interiors are awash in white, which makes the different areas melt into each other.


On closer inspection, you'll find the kitchen features crisp lines and a cool, clean color palette to match – organization and serenity, in what is typically a chaotic part of the home.


Follow the white pine floors upstairs… Along the slant of the roof line. All roofs are pitched at 45-degree angles to comply with the building regulations.


Once upstairs, your eye can't help but drift back down to the vast open living area below. The cast-iron black chimney reaches all the up to the roof and draws your eye vertically.


This sweet little loft area is a private getaway tucked away from it all without being isolated from the main-floor living area.


Skylights throughout the upper level bring natural light into every nook and cranny. We love this rug – X marks the spot!


This combination bathroom and laundry area is the picture of efficiency, marrying style and function into a small but sweet space. The diamond pattern aqua wall tiles splash up this bath – a cool contrast to the warm, natural wood details.


The exterior takes shape in two sections – the front of the building finished in Danish hand-crafted brick, and the rear done in black pine on the ground floor topped with a grey zinc roof. A small garage sits alongside the main house.
Plans:


Sandell Sandberg
via Dezeen
photo credit: Skeppsholmen Sotheby's International Realty