Traditionally kitchens tend to come with multiple different areas that we all wish we could improve, some of them have little to no cabinetry, and others have limited space. Having limited space in your kitchen can put a damper on your décor. However, when done correctly, your small kitchen can become the perfect location for entertaining and dining festivities. The following small kitchen trends will help brighten your space without taking any extra added space.
Lacquer Cabinets
Lacquer cabinets are great when you have a smaller space due to their charming appeal that is sleek, modern while still having that expanding aesthetic. Pair with matte touches to allow the lacquer cabinets to make the statement they were intended to make.
Multiple Pendant Lights
Pendant lighting is great due to its expanding feel, especially when you use multiple pendant light fixtures. Use one hue to keep the area cohesive, but add different shapes and/or even sizes to allow your pendant lighting to make the statement it was intended to make.
Charming Blue
We love using shades of blue in the kitchen. A charming blue shade can bring a beautiful touch to even the smallest space. Pair with wooden elements for a well-rounded appeal that adds a farmhouse charm without being heavy or too simple.
Stylish and Simple
Stylish and simple is perfect for a smaller space due to its use of furniture that you may already have. The key is working on your space and allowing it to make the statement, it is intended to make. Pair with stylish pieces to bring your décor up a notch.
All-white with vivid accents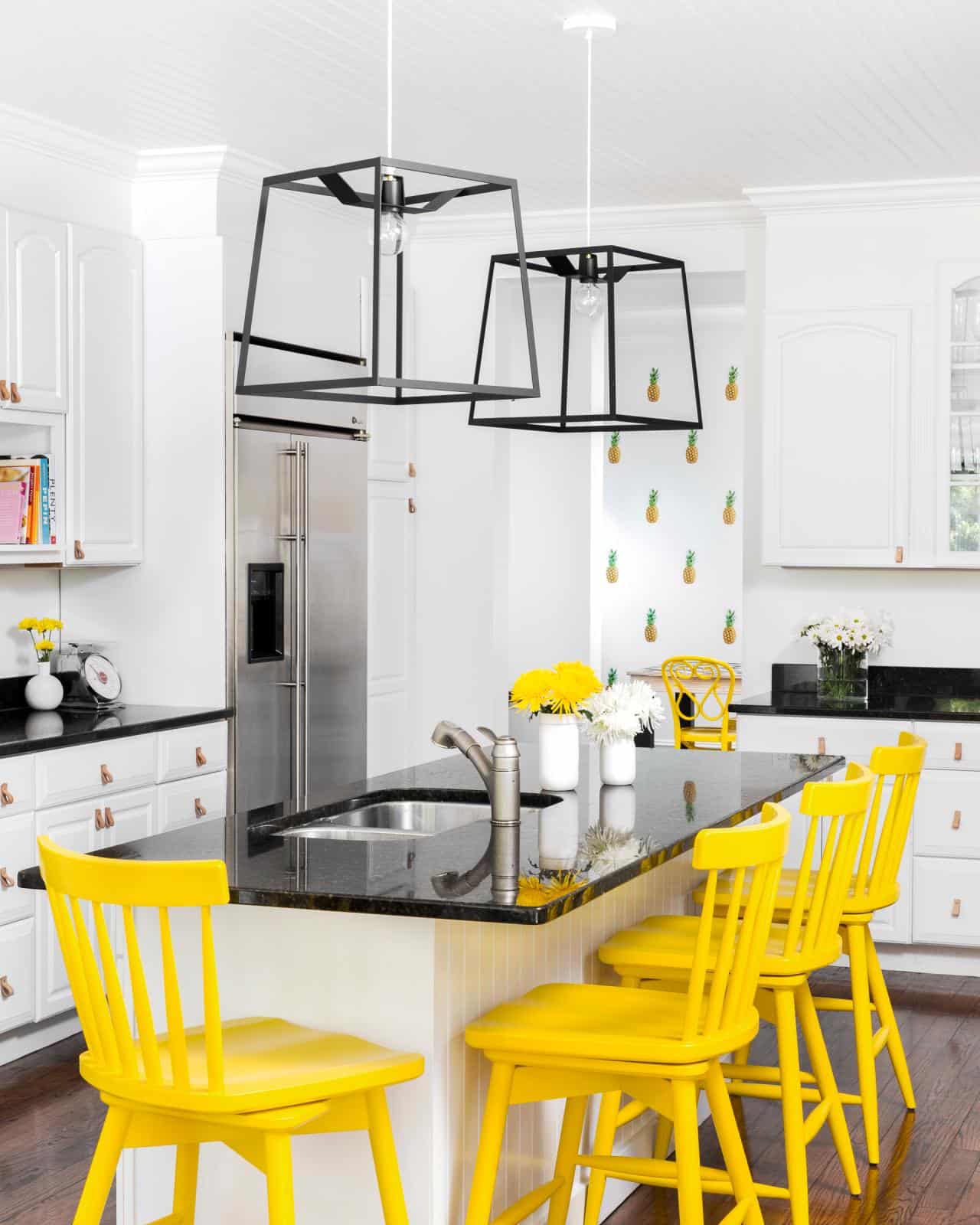 An all-white kitchen is always a good idea, especially in a smaller setting. However, to take it up a notch by adding vivid accents. The vivid accents will bring the space back to life in a simple manner. Add a bright accent wall, colorful lighting fixtures, and/or daring stools in a bright hue or interesting shape.
Dark Cabinetry
If you have an elongated kitchen, dark cabinets could be exactly what you need. An elongated kitchen can be tricky to decorate because of the way it is laid-out. Paint your entire kitchen a rich darker hue such as navy, black, or even dark gray for a rich darker feel.
Add a touch of Antique
A touch of antique is perfect in a small space that news a hint of old-world beauty. Furthermore, a touch of antique can bring a charming chicness that brightens the space. Add an antique center table or countertop for a perfect contrast that still adds that antique touch.
Black and White Flooring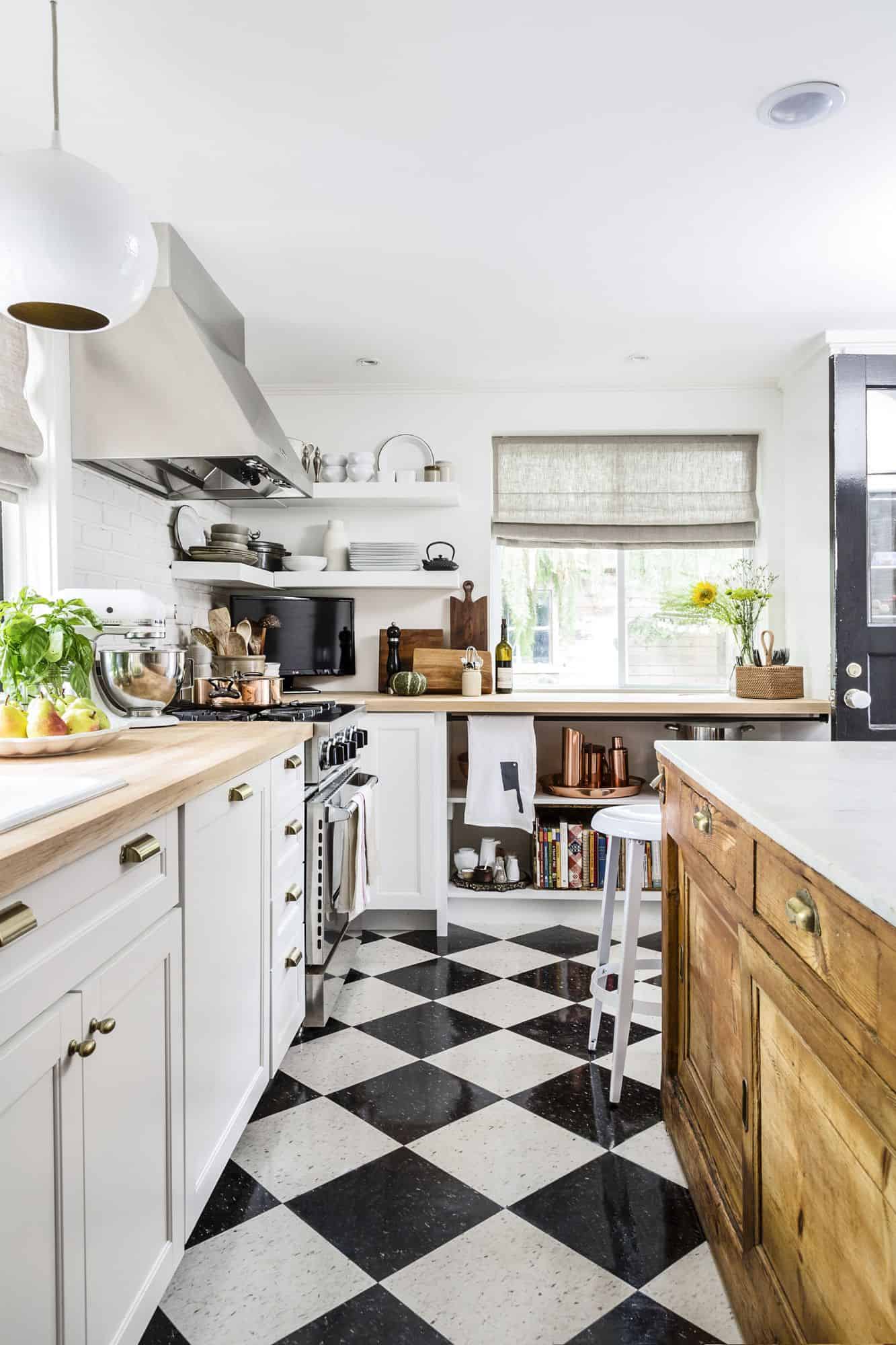 Black and white flooring have become extremely trendy not only because it is cool to look at but because it works well with almost all décor options. Pair your black and white flooring with a colorful kitchen or with an all-white space when you want to allow your flooring to make a big statement.
Monochromatic
A monochromatic palette is perfect when you want to have a color palette that works well with numerous different décor options and you want to allow your furniture to speak for itself. Consider having simple pieces elevate the area while still being monochromatic.
Colorful Corner
Having a colorful corner in your kitchen has become the IT trend to follow in small kitchens due to their ability to bring color and an extra touch of beauty even in the tiniest space. Pair with a chic seating area to create a balance between the spaces.
Pops of Black
Regardless of what colors are used in the kitchen a pop of black can bring it all together in an effortless manner. Consider adding bold pops of black throughout the space to bring hints of neutral to the kitchen area.
Which of these trends would you be interested in trying in your kitchen? Please share with us your ideas in the comments below.