At a glimpse, decorating and reorganizing a small bedroom might seem intimating, limiting, or even difficult. When there's an abundance of square footage to play with, everything seems to flow together. However, when there isn't much to play with, you might feel stuck. We are here to tell you, you can have a great space without needing to use too much square footage on hand. The following ideas are sure to inspire you to look at your smaller space in a new light.
Go to the Dark Side
Contrary to what you might think, dark colors in a small room do not make it feel smaller. It can have the opposite effect when done correctly. The key is adding light tidbits here and there. You want to consider the entire room and work around it. Take a dark shade such as navy, green, black, or dark gray and paint the walls of the room that hue and go from there. Doing so will instantly give you a rich appeal without making the entire room dark.
Daring Bed
There's no better way to upgrade a small bedroom than to add a daring bed. Doing so will instantly create a luxurious appeal to the room with a cohesive approach. It'll be as if the room came to life with the simple use of one decorative item. The key is playing with the size and texture of your daring bed. We recommend going with an intricate, eye-catching bed frame, that takes the room to the next level. You might even want to consider the color of your bed frame for a grander approach.
Multiple Light Fixtures
To help your room have a bigger feel bring in multiple light fixtures. Having more than one fixture will instantly give the room an expansive feel. It's all about where you lay your lights, are you displaying them clustered together or throughout the room? The answer is simple: display them throughout the entire room. Doing so will ensure every dark corner is bright and airy removing that smaller feel, the room will naturally portray. It's all about tricking the eye.
Monochromatic Color Palette
If you truly want to take advantage of the entire space, you have- it's time to work with a monochromatic color palette. The simple act of working with a monochromatic palette will instantly give it that large approach. You want to stick with 2-3 colors and use them repetitively. Using them multiple times in the room will ensure the space feels grand without you having to go overboard with your color scheme.
Statement Wall
Though having too many items with patterns can make a room feel smaller, one wall with a daring pattern can instantly bring a lively approach. When most of us hear an accent wall we might instantly think about adding a "wallpaper" accent. However, this time around, we are speaking of adding a painted mural. Yes, it will take more time and yes, it will be a bit more costly, but the room will have an endless feel of enchantment. Making it a win-win for all.
Consider Stripes
Just like murals are the new form of adding an accent wall to your smaller bedroom, stripes are too. Stripes are coming in hot this 2021, mainly due to how chic and easy on the eye they are. Furthermore, they've become quite popular because it gives you the freedom of using your preferred color palette within the stripe spectrum. The key is working with vertical stripes. Vertical stripes work to embrace a room due to how they can instantly make your walls look longer.
Dramatic Curtains
If there is one item, you can add to a small bedroom to give it a larger feel- it would be dramatic curtains. Dramatic curtains work so well due to how attention-grabbing they are. It is one of those items that will instantly make the eyes gravitate towards that direction. When selecting your curtains go for a bold appeal and select a colorful finish. The two will instantly expand the feel of the space with a chic approach.
Oversized Art
Art adds personality with a hint of color. It's all about taking the room to the next level with art pieces that bring the room to life. It's one of the ways you can plug into your smaller space to inject chic appeal. Furthermore, having oversized art pieces can instantly make any room come to life without having to go overboard with your décor or with any pieces that might overtake the room.
Eye-catching Pendant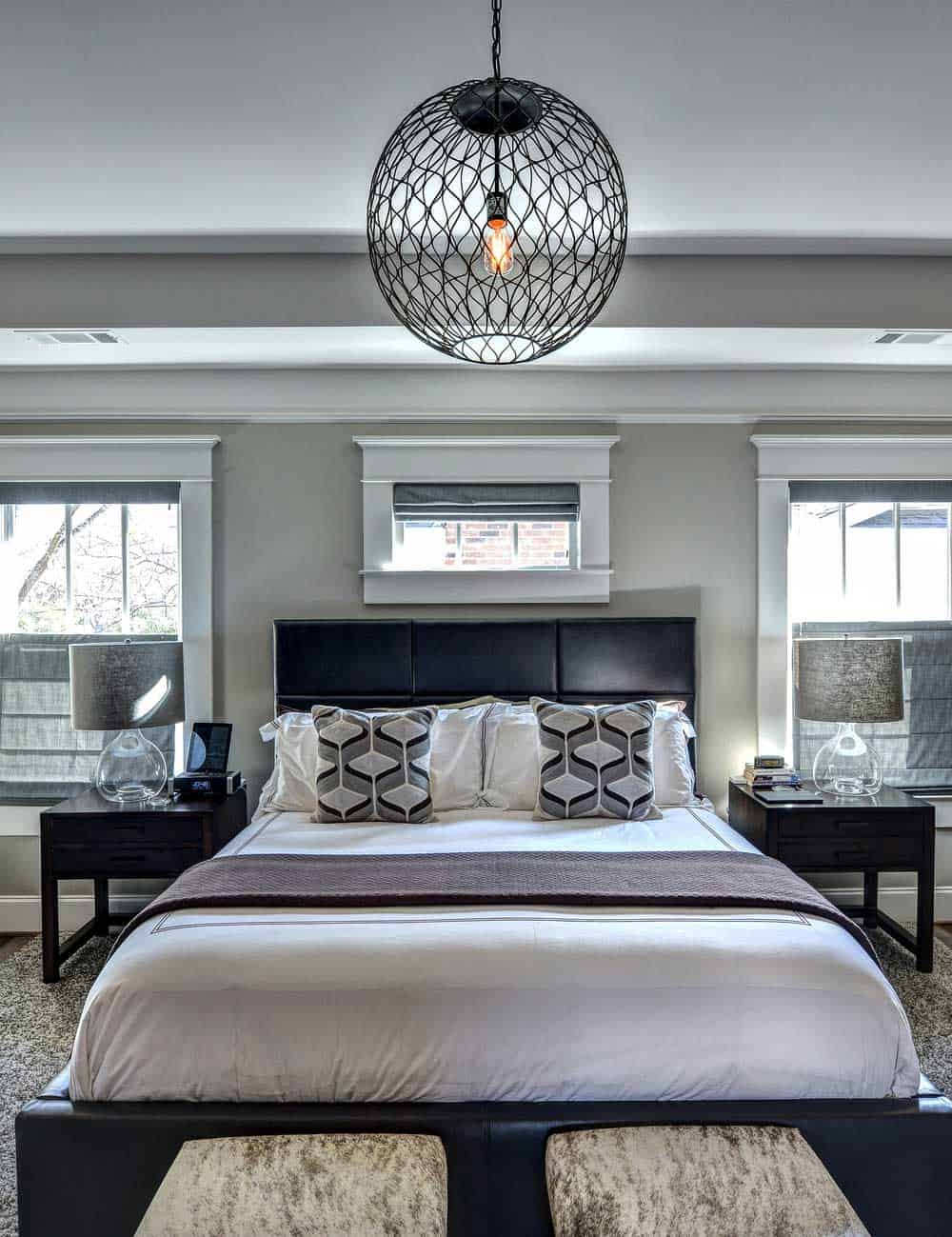 When it comes to decorating a small room, it's all about having an eye-catching element. For an eye-catching element bring in a pendant, but not just any pendant work with a light source that is bold and daring. Having a daring touch will instantly expand the space. This works due to the light reflecting off your pendant. It's all about creating an illusion that makes sense to the room.
Mount Your Tables
Instead of having side tables that will take up space or not having side tables at all due to being afraid of your décor taking over the room, bring in mounted tables. Mounted tables work due to how minimal square footage they take. Furthermore, they're extremely easy to mount, so you can have them up and running in seconds. It enables you to use a smaller table to give you a little extra room to work with.
Having a smaller bedroom doesn't mean your entire space is one and done, it simply means you can get creative with your décor to showcase a well-put-together space.