Nested on a clifftop on the Central Chilean coastline, this seaside villa organically integrates itself in the topology of the site. Architect Raimundo Anguita designed an amazing structure that offers panoramic views from every corner and level, giving the house a contemplative dimension. On the outside, the structure blends in with the site. The undulating concrete roof seems part of the waves of the ocean, light but sturdy, ready to face the harsh winds that blow in this region. Concrete and rock look very much alike, thus camouflaging even more the house in the geology of the cliff. There is a vertical alternation between tall concrete pillars and glass surfaces that allow to see through the house down to the ocean. The house is on two levels. The bottom level bites into the cliff, and its flat roof covered with vegetation looks like a natural terrace of the slope.The top level slightly sticks its head out, but is smoothly absorbed by the landscape thanks to its transparency and its organic shape. As a consequence, the interiors are tall and airy, with dramatic infinity perspectives.

The living room space has an incredible volume, thanks to its glazed walls and its double height. The best views from inside the house are from the top of the wooden stairs. This position opens a great plunging view on the ocean through the living room and its glazed walls.


The layout of the house creates many gardens and patios. The open plan kitchen as well as the bedrooms benefit from access to such carefully landscaped patios.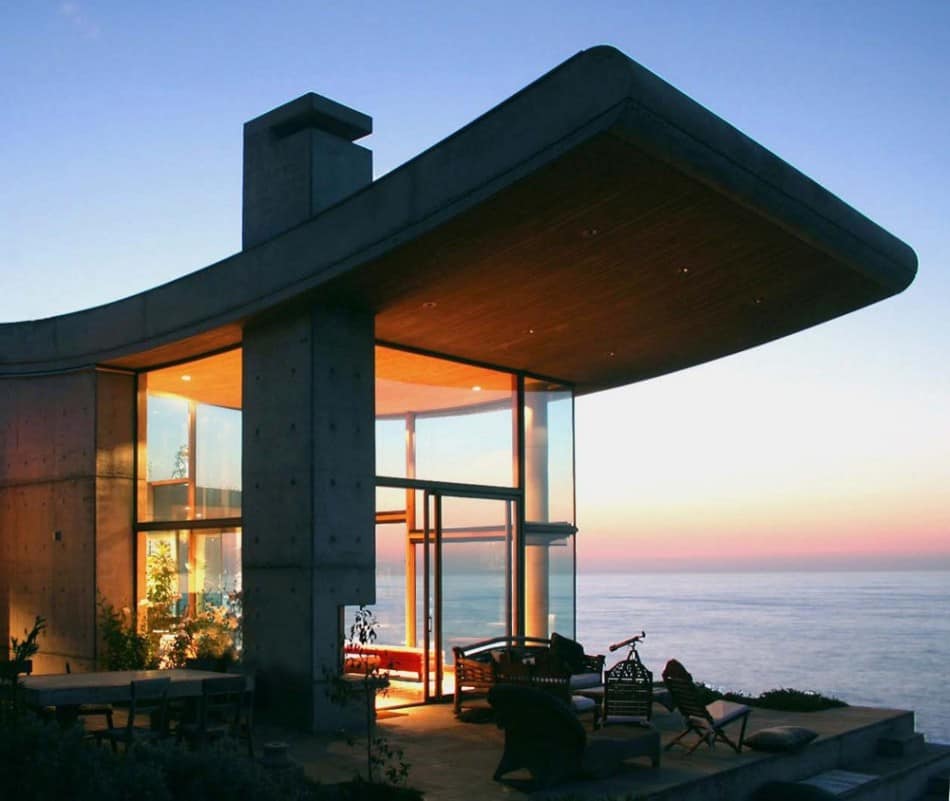 The living room walls are completely glazed and double height. The thick cantilevering concrete roof seems to float he air, like a breaking wave. It also protects the terrace that sits on the edge of the cliff, overlooking the abyss.


This terrace is the main outdoors area of the house, and the one with the most spectacular views. An open fireplace is carved out into a tall concrete pillar, and the sitting and dining areas are organized around it.


The materials used for the inside are concrete, wood and glass, in a harmonious blend. The furniture is neutral and functional,leaving the spotlight to the contemporary art that adorns the walls.