Cozy, comfortable and laidback, three essential words that everyone wants to use when describing their living room. Who doesn't want to sit in a cozy space that is so comfortable you don't want to leave? From dark and traditional to vibrant and modern the following living rooms will bring a chic fall vibe that is sure to showcase how to make your living room twice as cozy with a simple rustic touch here and there.
Barn inspired Details
Is there anything that screams rustic quite like barn-inspired decor? We think not! Which is why we had to begin our guide with this beautiful chic idea. The idea is bringing a balance between modern and rustic. That's exactly what barn-inspired decor does. It's the perfect in-between hint. Being barn doors and warm browns to give you the perfect vibe. Pair with creamy beige for that well-rounded approach.
Neutral Palette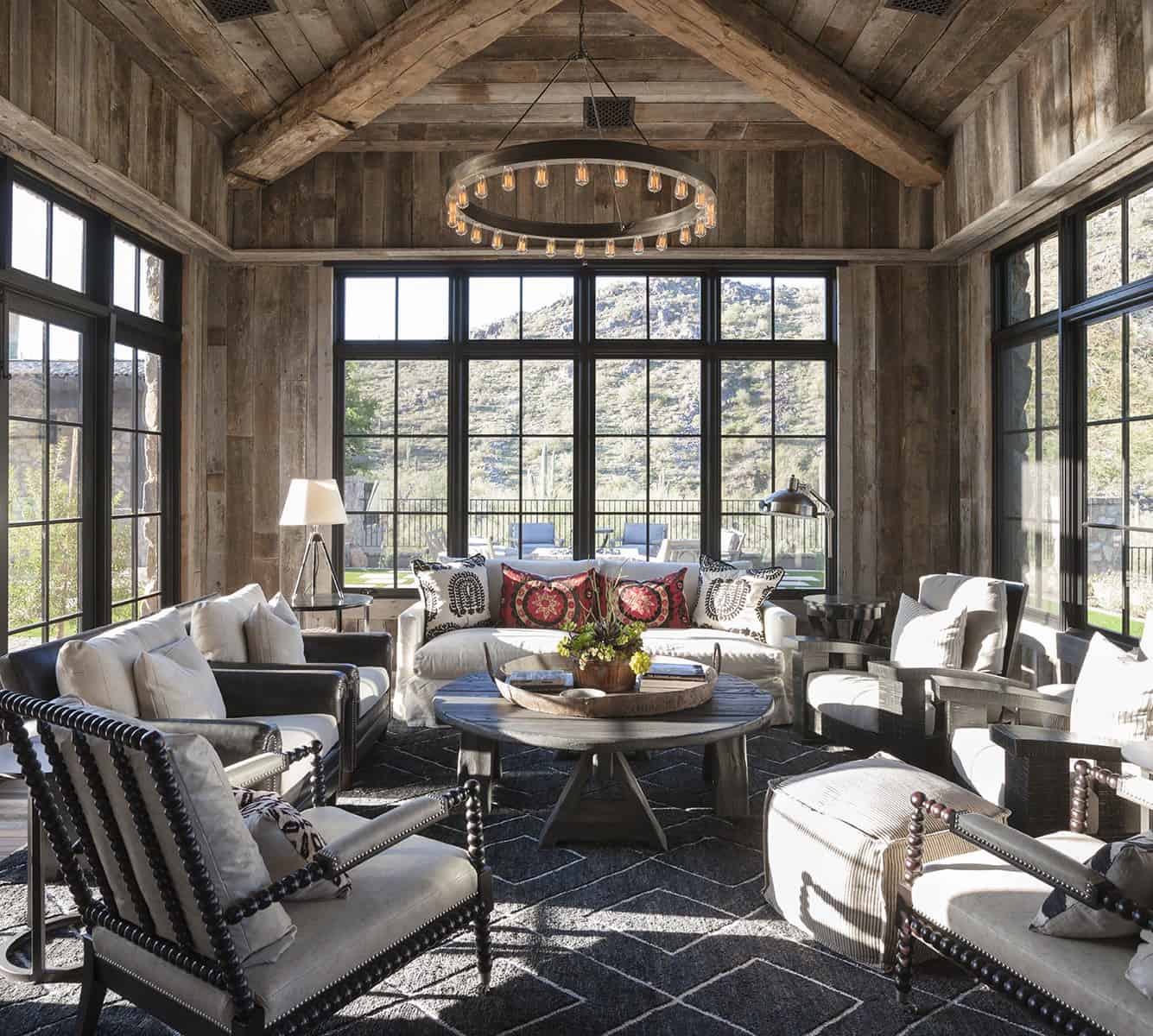 A neutral palette is always a great idea. Whether you are decorating for fall or you simply want to bring a hint of neutral to the room, creating a palette around the color scheme will work extremely well. Blend in wood shades and work them with blends of gray, navy and beige to give your neutral palette a more modern aesthetic.
Wood, Wood & more Wood
Wood is the epitome of rustic decor so it makes sense to bring it into the room as much as you can. If you truly want to go big with your decor, add a wood panel wall for a statement piece that is still very rustic. It's one of those accent pieces that does not take away from the rooms overall feel.
Modern
Keep your decor in an asymmetrical format for a modern feel that is still rustic. It's not about changing your decor, it's about opening up your decor and allowing it to breath more with crisp and clean lines. These lines help the modern appeal while the rustic decor stands out from the rest. The key is using crisp, clean upholstery that does not overstuff the room.
Whitewash Brick
If you love the look of brick, but want to bring something fresh and new with a rustic twist, bring a whitewash to your brick. Not only will doing so refresh any old brick you might already have but it will further enhance the rustic touch you are adding to the room. It's a balancing act that will make the room feel warmer.
Load the Room with Texture
Fall is all about texture and you want to bring that in a big way. Doing so will instantly warm up any room. It's all about having the living room become one of the coziest room with a large dose of comfort. Bring in blankets, baskets, as well as patterns. Patterns add a layered approach right where you need it most. Even if you add only two-layered items the pattern will make it feel twice as bold.
Pickled Wood
Give your walls a fresh touch by picking your walls. Pickles walls work because it gives them an extra dose of texture. It's all about making your wood feel new and warm. Having this minimal effect will bring a cabin feel to the entire room. Furthermore, it makes the room feel brand new without a lot of effort needed. It's about keeping the space sleek without spending a whole lot of money.
Focus on the Fireplace
If you are lucky enough to have a fireplace, it's time to embrace it and fall in love with it once again. Face all of your decors in the direction of your fireplace to truly make it the statement of the room. Having your decor facing in that direction will make the room come to life with a warm hue. Decorate your mantle to further showcase that it's a main focus in the room.
French Doors
While you want the room to feel warm and cozy you also want a freshness to flow throughout and that's where French doors come into play. They make the room feel large without taking away from the decor. It's a welcoming feature that also feels sleek and luxurious. Add a dark trim to your French doors to upgrade the warm aspect of the room.
Dark Paint
A simple touch to add to a room for a cozy aspect in dark paint. Paint your walls a darker hue when you want to make the room have a classic, charm. Even if you only do an accent wall, in a rich hue, that will be enough to expand on the rooms rustic aesthetic.
How do you bring a rustic hint to your living room? Share with us your decorating tips below.