Have you ever looked at a retro movie and your first thought was "how cool is their kitchen?" The idea of having a retro kitchen may seem far-fetched. Mainly due to the fact, that most retro appliances are no longer up for grabs. However, you can always add different bits and pieces here and there in your kitchen for a retro twist that is still modern and works well with your décor. Here are a few retro kitchen ideas that will help you upgrade your current kitchen.
Pop of Color
Retro kitchen décor is known for having one or two pops of color. The idea is to have a bold aspect in the kitchen space. Therefore, incorporate a bold shade of orange, yellow, red, or blue in your kitchen either with a daring accent wall, colorful kitchen island, or bright stools. Adding that pop of color will brighten your entire kitchen space.
Get Creative with Pattern
A retro kitchen is never a retro kitchen unless there are one or more patterns in the space. Pattern works exceptionally well in the kitchen because it allows you to use multiple different shades that help bring the entire space together. Add one or two patterns in the kitchen and pair it with a bold color.
Turquoise Blue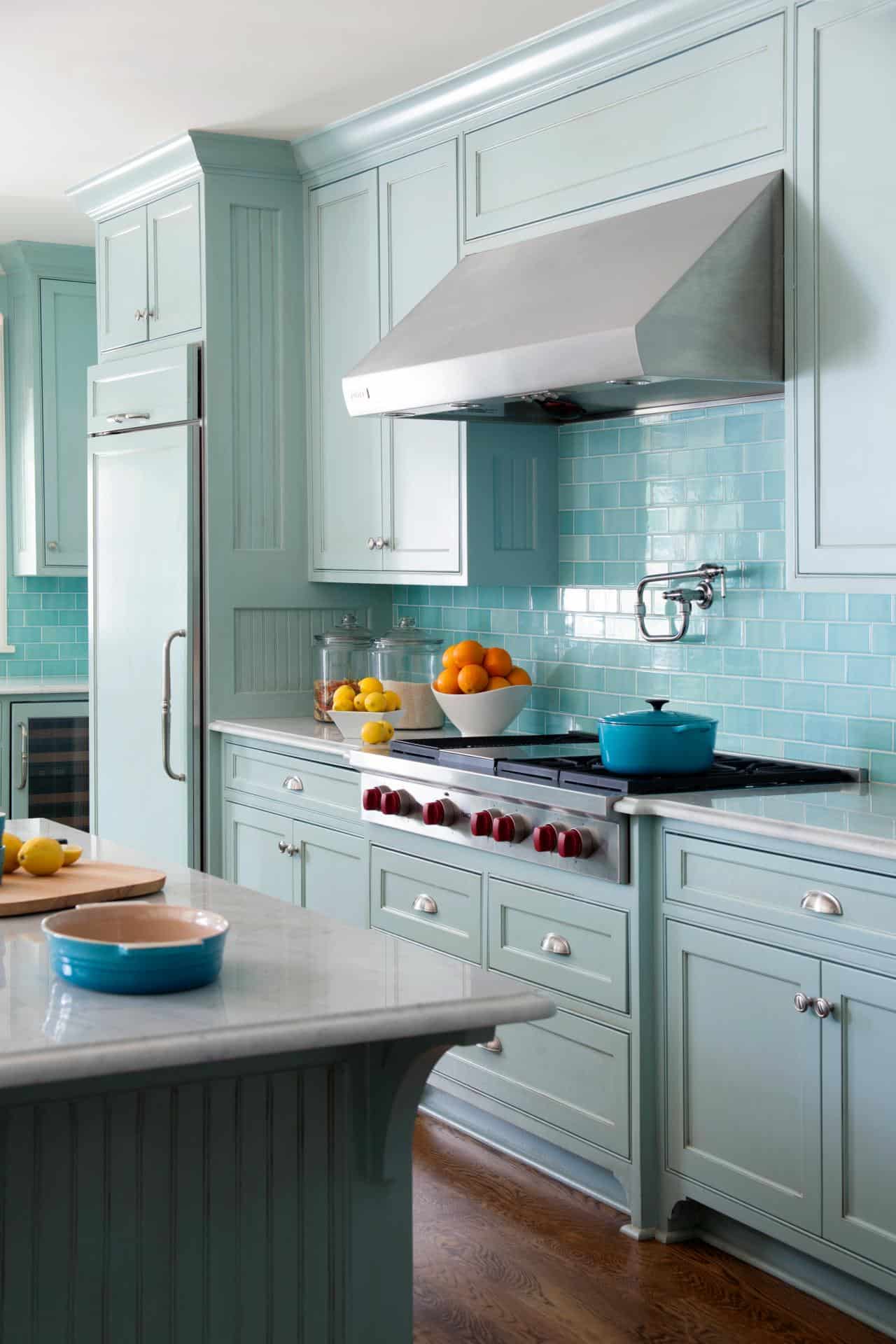 There are numerous shades of blue. However, nothing screams "retro" quite like having turquoise blue in your kitchen. Have a mosaic tile backdrop for a punch of texture in the kitchen. Pair it with other turquoise pieces and even pendant lights for the ultimate retro feel.
Maybe Pink?
There are a few colors that take us back to the 1960s and give off a diner feel. One of those colors happens to be pink. Although pink may be the last color you may consider for your kitchen space it is actually a beautiful shade to have. Not only does it work well in the kitchen, but the vibrancy of the pink paired in a neutral room gives off a cool vibe that's retro yet trendy and modern.
Mix and Match
One of the main things you may notice from a retro kitchen is the mixing and matching of colors. Combine two or more colors together for a patchwork feel that simply works. Do not be afraid of mixing in a slate green with a few red pieces as this color combination works great together.
Glossy is IN
If you have really taken a look at a retro kitchen you will notice that not all paint is solid matte. In fact, most of the cabinet and wall paint is actually glossy. A glossy finish paint provides a bolder punch of color because the color is more reflective. Nonetheless, consider painting your cabinets a bold color with a glossy finish for that retro feel that stands out from the rest.
Classic Touch
What is more classic than red and white together? These shades work so well together they're a staple in any retro-inspired home. Combine red pieces with white items and even a checkered white and red pattern would work exceptionally well in the kitchen space.
Diner Twist
When we think of retro we may immediately think of a diner. Diners were huge in the 1960s, they were a staple that molded the fashion, décor and even the food. Furthermore, switch your kitchen island to an island that has a diner feel to it. The idea is to give your kitchen a retro twist in a bold way.
Old School Accents
The idea is to have old school, meet new school in a trendy way. Ideally, you would want to simply incorporate old-school accents into your kitchen décor. This can be done by having retro stools, unique yellow pendants and/or upgrading your refrigerator to a retro alternative. The key is to have old school accents that brighten up the space in an ingenious way.
Citrus Feel
When in doubt consider orange. Burnt orange hues will bring together any retro décor. There is something very cheerful about the color orange. Therefore, it only makes sense if you want to have a kitchen with a retro twist that you add in different shades of orange. Consider adding an orange light fixture for a cool lighting effect every time you turn on the light.
Retro chic is chic décor is coming back on trend in a big way. Let us know which of these you will be integrating into your home in the comments below.