Check out this modular lighting system, dubbed "Synapse" from Luceplan – it's like Leggos for grown ups! Each module has three branches and they clip together to create a snowflake pattern. Pieces are double-sided, so you can hang them in the middle of the room or even use the pieces to create a partition – like a screen of snowflakes (but hanging from the ceiling). Designed by Argentinian master Francisco Gomez Paz, Luceplan says this modular system is "halfway between object and architecture" — and they're right. Hang it from the ceiling like a free-standing lit sculpture, or mount it on the wall like a sconce, use five pieces, or use 10 pieces. The final configuration is up to you and you'll want to experiment with styles and light colors once you see how easy they are to assemble. And don't forget that it's remote controlled for ease of use — you can put it up as high as your room will allow. Then just use the remote control to change the hues — and the room — on a moment's notice. The color-changing efficient LED lights will keep your power bills low. And make no mistake – this is an intelligent system – each piece contains three variable-color RGB LEDs on a printed circuit with remote control. Built for tomorrow, but you can get yours today.

Hang Synapse from the ceiling or mount it on the wall.


Pieces are two-sided for use anywhere in the room.


Components clip together simply!


A wonderland of snowflake art and light.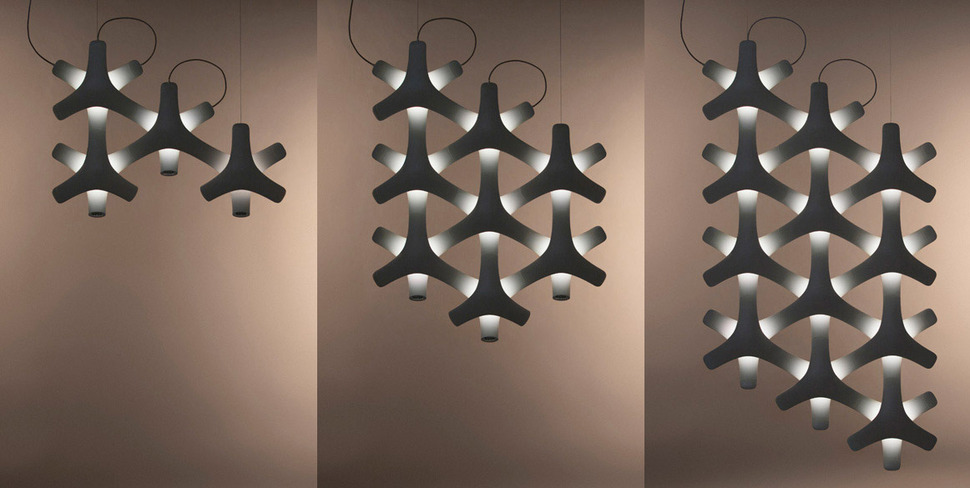 More information: Luceplan