Just like the patio, the porch is one of those areas that doesn't get as much attention due to the weather still not cooperating. Additionally, let's not forget most if not all of us are stuck in quarantine, wishing, and wanting to go outside. For the lucky ones, who have a porch its time to embrace the space and take it to the next level, with a few of these delightful ideas. The following ideas will help your porch become the perfect, relaxing oasis to create a delightful, ethereal outdoor space.
Minimal
To create the perfect vacation oasis, you want to take things into your own hands and go the minimal route. Minimal décor works great when you want to create a magical space due to it truly allowing you to embrace the square footage you have. Whether you have a lot of space or you simply don't, going the minimal route will ensure the area feels as open as possible. The key is working with statement pieces that bring it all together seamlessly. Add a large chair, a table, or even both and keep the rest airy and chic.
Charming Palm Trees
Whether you enjoy the look of palm trees, or it's one of your favorite patterns, it's time to embrace it and bring it to your porch. We love the look and feel of having a blended touch of palm tree patterns perfectly paired with real plants. Bring in furniture that is made out of rattan, and pair it with palm tree patterned cushions to truly embrace the freshness this pattern tends to provide. Furthermore, add in a few small plants and your showcase will be complete.
Indoor Retreat
If you have an indoor porch do not panic, you can still create the perfect porch oasis for you and your family. The way this can be done is by bringing a sofa, a smaller center table, and even a dining set to your porch and allowing the outdoor space to mesh seamlessly with the décor you have inside. It's all about making your porch feel as outdoorsy as possible without truly being outside. Think of this area sort of like a second living room or even an additional dining space. Add a light fixture to complete the cozy aesthetic.
Pale Wood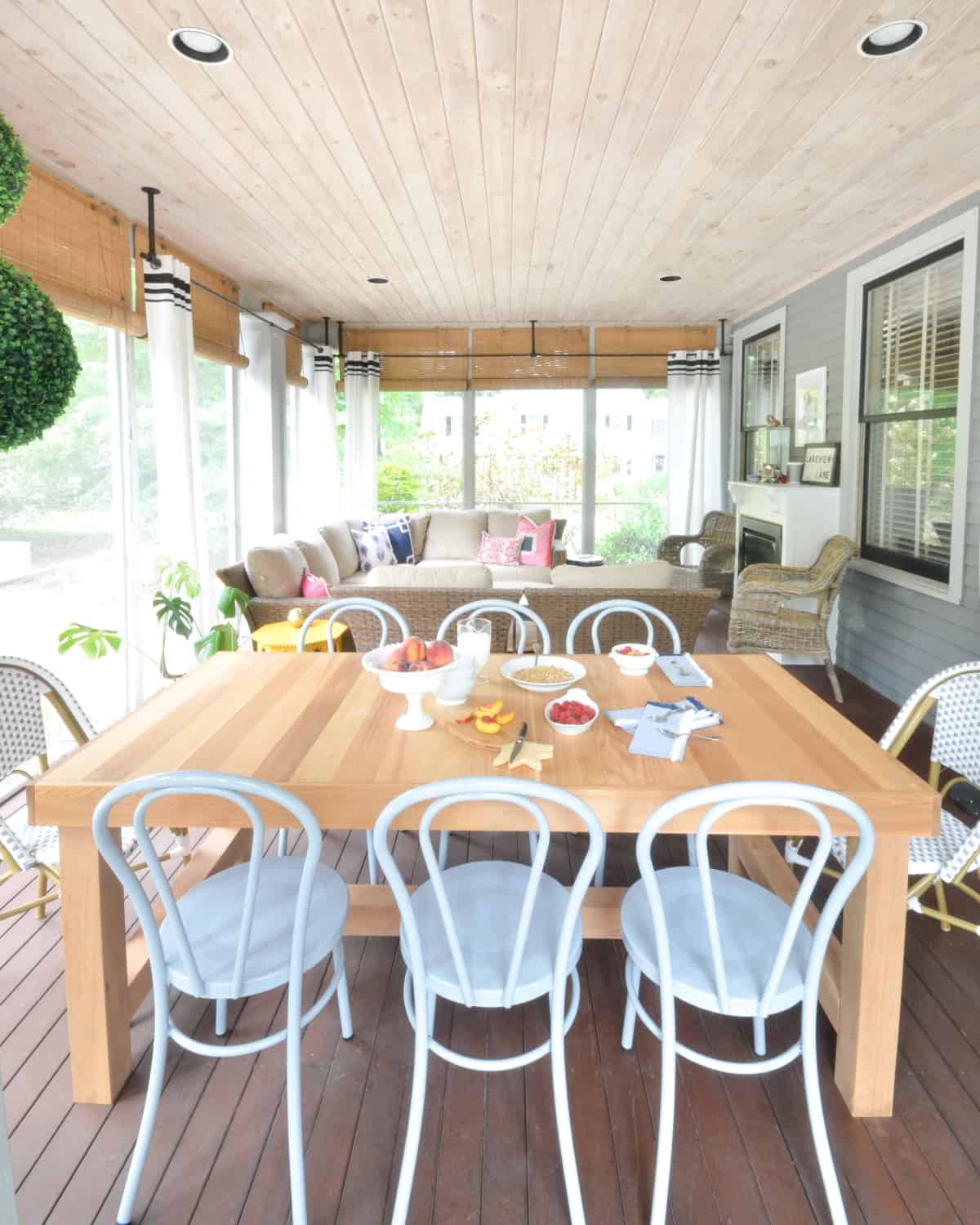 When in doubt, of what type of wood to use in your porch space- use pale wood. Pale wood or blonde wood is perfect for the porch due to how airy it feels. There is something about lighter shaded wood that feels very vacation-like, almost as if it will transport you to another space- a calming one. The trick is adding fresh plants to your pale wood décor, doing so will add a layer of texture without taking away from how airy the material itself is.
Modern Bench
Once you have officially, decided its time to create a new porch display, you want to get to the nitty-gritty and focus on what you would want to change. One of the easiest ways to quickly change your décor is to modify the seating you have. Instead of changing all of your décor overall, consider bringing an aluminum table and bench and making them the main focus of the room. It's all about creating a contrast in the room, that feels almost to easy to not want to highlight.
Dining, Please
Sometimes, you want to eat outdoors especially when it is nice outside. When that is the case, you want to have your outdoor porch ready to go. What better way to do so, then to add a rustic dining table to your porch? In our opinion, there is no better way to do such a thing than to get a round table made out of dark wood and decorate it with ethereal rustic bits. You want to bring simple chairs that add to your rustic approach without taking away from what you already have going on. If you can, bring in a plant or two for a dose of freshness that will work effortlessly with your rustic hint.
Cozy Cocktail
If you are one of the lucky ones who have a large porch, you want to take full advantage of it and create a lavish space. But, not just any lavish area, you want to get cozy with it and truly embrace the space. Bring in a large sofa, with soft cushions, and work in a sizable table. The pairing with feels luxurious without having the hefty price tag. Furthermore, you want to add chic minimal chairs that enable the table and the large sofa to be the main focus of the room. Don't forget you are creating a cocktail space, so you want to make sure you have a pitcher with a cocktail in it ready for you and your family to indulge.
Teak Furniture
One furniture idea we simply can't get enough of is teak. Teak is one of those fabulous, earthy furniture finishes that truly do not get as much attention as it should. Furthermore, it's airiness is perfect for those that want to bring vacation directly to their home. Think of it as a vacation right in your backyard, it's the perfect excuse for those that want something light and airy where you want it most. Furthermore, this material allows you to work with as many hues as you would like.
Add Color
When in doubt, of how to brighten up your porch, add color. There is something about having a colorful display that makes everything feel and cheery. It's the perfect touch to any décor you might already have. Consider it a kiss of modern, with just a dash of contemporary. Whether you add layers of color through, throw pillows, patterned cushions, or even both you will be able to create a contemporary approach that is chic yet fun and charming.
Deep in Nature
One of the most beautiful things we have in nature. Nature not only gives us oxygen but it's a beautiful sight to look and be around. Take your porch to the next level by embracing the outside space and bringing as many plants and natural elements as possible. You want to have as much greenery as you can, whether they're large, small, or even tiny you want to have as many natural objects as possible. Furthermore, you want to bring wood touches here and there for the perfect balance between greenery and earthy elements.
When it comes to your porch, which of these ideas do you enjoy best? Please share with us your ideas below.