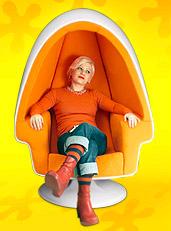 modPod is a fiberglass chair that is also a sound chamber with built-in surround speakers. They call the Egg Chair design 'retro-modern' – still modern but with retro appeal. Originally debuted in 1964, this sleek chair is popular again thanks to the timeless design and unique entertainment experience it provides – listening music inside the Egg Chair should be very relaxing. Available in many interior & exterior color combinations and comes in three models:
– standard Egg Pod Speaker Chair,
– modPod Egg Chair (audio upgrade with the optional tactile transducer),
– Deluxe modPod Egg Chair (includes audio upgrade and an ottoman).
Made in the USA, the modPod chair is designed to last. You can mix and match colors at Inmod or just call 1-877-22-INMOD. Starts at $1650.