This modern masterpiece boasts the best views in Bel-Air. Sitting high above the city, this striking contemporary home has explosive views of Los Angeles – and the Pacific ocean. Designed by renowned architect Paul McClean, no detail is spared across this dramatic, open floor plan. How does 8 bedrooms and 12 bathrooms sound? And did we mention the wine cellar, gym, home theater, finished auto gallery (that's right, auto gallery), and infinity pool? And it's for sale, if you'd like to make an offer. If you have a spare $50 million lying around.


The infinity pool is just one of the luxury features in this 14,219 square foot modern marvel in Bel-Air.

The home certainly has curb appeal – and you can see that $50 million view as you come through the gates. What a welcome.


There's a killer view from every room in the house – helped along by glass walls. The living room lighting fixtures are reminiscent of starlight. Every room has such an open feeling. And the fireplace is nothing less than spectacular.


The design is sheer contemporary and makes use of water features around the exterior.


The outdoor covered seating area offers comfortable overstuffed furniture – and that incredible view.


The infinity pool falls off the edge of the earth. What a place for a night cap.


Ceiling overhangs with pinpoint pot lights mimic the city lights below. And of course, there's a Jacuzzi. What self-respecting Hollywood mansion doesn't have a Jacuzzi?


A long shot of the infinity pool with it's expansive view. Just put yourself in that pool for a minute, and swim up to the edge. Look down over LA. Like what you see?


The media room is done in rich, warm browns. Tiered levels and side sconces are classic movie theater design.


The living room offers a modern bar at one end. And have we mentioned the view?


The fireplace is a masterpiece unto itself – set in a marble stone wall. Wouldn't this house be marvelous for a party? Just look at all the conversation areas.


Even the bedrooms take advantage of that incredible view. Can you imagine waking up to this?


A patio and a view – the accommodations just keep getting better and better. And there are those lights – looking like starlight again.


What a magnificent modern billiards table. Of course the property has a games room.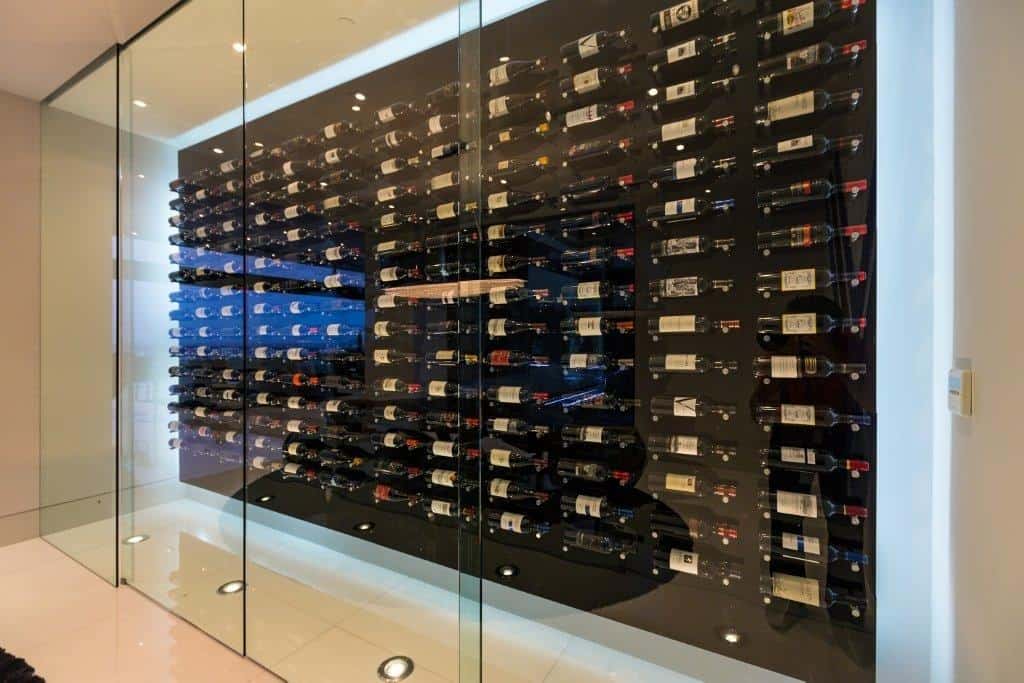 And a wine cellar worthy of your best vintage. Climate controlled, naturally.


It's a kitchen meant for a foodie and leaving it open to the entertaining area means not only can you converse with your guests, but you get that glorious view while you create.


And here we have the "auto" gallery. Enough said.


And there's certainly nothing wrong with this view in the day, either.


There is no denying that the view is everything in this house. People who live in glass houses should always have views like this. This one of a kind home is offered for sale by Hilton & Hyland of Los Angeles ($49,995,000). They're waiting for your call.