Kitchen window is one those architectural elements that can really transform the place. It traditionally comes above the sink, but it's not the case for most contemporary designs that look to enhance daylight exposure, and create beautiful panoramas in the kitchen. These modern kitchen window ideas are definitely worth seeing.
Twist on Tradition
The modern twist on tradition is a frameless window over the sink that overlooks a green backyard or swimming pool. Some designers take this opportunity to create an open home bar as well. As the window opens up, the bar is ready to serve.
Modern windows that come in a more traditional style still have a size advantage over the usual panes we're used to seeing.
Contemporary frames also differ from the traditional ones. They are slimmer, and have a more industrial vibe to them.
Backsplash Window
A backsplash or letterbox window is a great way to let some light in, if your kitchen lacks windows. It may be a pain to keep clean, but that's just the trade-off for having a bright, light area for cooking and eating.
If you want to spare yourself a ton of housework, you can keep a letterbox window apart from the cooking top. It's far easier to get off water stains off glass than grease.
Framed or frameless, a letterbox window looks great. Aside from providing your kitchen with natural light, it opens up to the surrounding environment, inviting the views in.
Modern Kitchen Window Ideas: Panoramic Windows
Speaking of views, panoramic windows have got to be the most amazing. Opening up to breathtaking vistas, they make for a sound investment. There is an additional indirect cost to them, though, as you have to have a house in a picturesque spot to make them work.
Even if you have a green privacy fence outside, though, such a window may still work. It will definitely make an impression.
This is another way of creating an outdoor home bar. All you'll need is a few stools and bar stacked with your favorite spirits.
Transom Windows
Transoms are great, as they bring an unexpected element to the design along with daylight. There are also variations that look more like windows but also act as transoms. And these are a perfect match for contemporary kitchens.
These don't have to open up. Their primary function is to provide light, and offer a view of a particular side. This can be helpful, when your house doesn't have many fortunate angles on the outside beauty.
Transom windows may often extend into skylights, which is a brilliant idea, since sky views are almost always inspiring, and work regardless of whether your house has views or not.
Window Puzzles
Windows arranged in puzzles are the latest trend in architecture, and they look great. They expand the area of light exposure, and open up to more views. What's a better way to decorate a kitchen?
While these aren't all that widespread among the modern kitchen window ideas, they definitely deserve some attention and consideration.
There is some charm about cooking in an outdoor/indoor atmosphere. Bring about a dining area, and you're all set for your best family dinners.
Oversized Windows
Oversized windows are a trend everywhere, including modern kitchens. Again, it's done to increase light exposure, and make the place appear bigger and brighter. There are more design ideas than simply oversized squares and rectangles, however. Take, for instance, at GrupoMM's corner window.
Big windows that border or actually function as doors are just practical. If you have a great outdoor area, you want a kitchen access to it and vice versa.
They also look much more impressive architecture-wise, and you can really fool your eye to see it as a bigger room.
Window Seat
A kitchen window seat, what can be a more pleasant way to keep a close eye on your favorite meals, while they're cooking? Somehow a built-in bench with a couple of cushions makes any window (small or big) look sweet and special.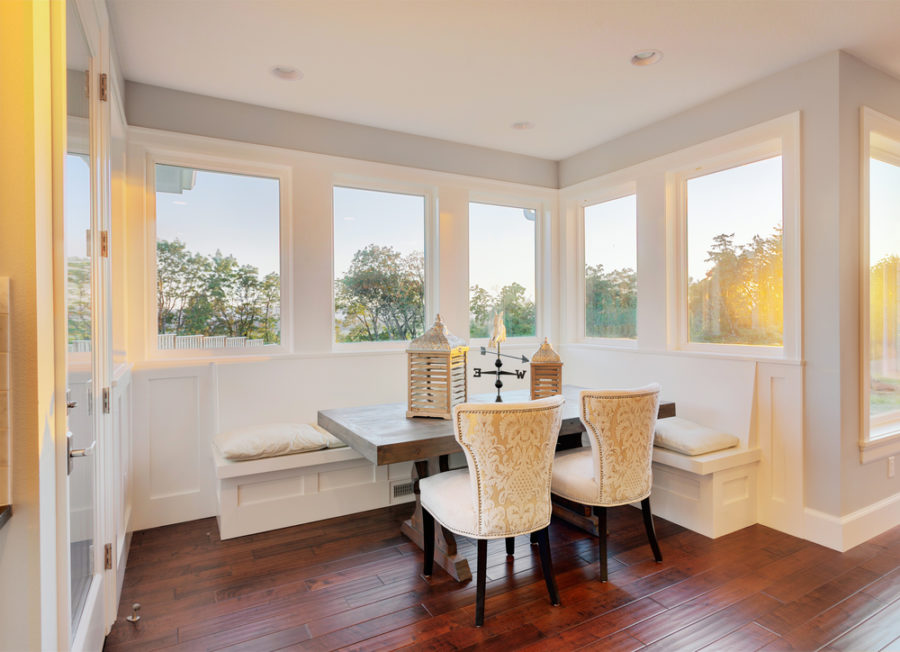 There isn't even a need for a big impressive window to make the window seat work. It could be as traditional as they get, and still look quite modern and romantic.
An additional perk of having a window seat is that you can get more storage space out of it. Way to keep that kitchen looking flawless.
Modern Kitchen Window Ideas of All Kinds
Glass inclusions have really become a staple of a modern house, and that includes the kitchen. There are many ways to design them, and you should really look into adding some during your next kitchen remodeling.
An interior window is something that can help open plan homes to get more light into the kitchen. Here, a Swedish studio kitchen was walled off from the main area with all the windows and light, so the architects added a window that opens up to the rest of the interior to get the portion of daylight. A great solution for when your kitchen is tucked away, and has no windows.
Modern kitchen window ideas are too cool to pass up. You don't need a lot of space or glass to make an impression with one of these.