With all the clouds on the internet having a physical home library at home may seem nostalgic but it doesn't mean that it can't look modern still. It is all a matter of presentation and how well it fits into your designed space. These modern home library ideas look decorative and cool, so scroll away and take note about how to best organize your reading collection to benefit your home decor.
Contemporary Home Library
Sleek contemporary style is all about making storage look minimal. Modern bookcases offer lots of space and little design details. If you have a really sizeable collection, you'd want a cubby-style floor-to-ceiling bookcase for your library.
It doesn't have to be boring, though. Arrangement by color seems to give a library a more organized yet dynamic look.
You may pick a few frequent book cover hues from your collection and coordinate your color accents according to those.
Living Room Libraries
The living room appears to be the best place for a library. It's the most spacious room in the house but it also doesn't require much storage for anything else, so the books have occupied that place for a long time.
If you are keeping up with the traditions, there are things you could do to make a living room library less predictable or background-y. It could be a contrasting color of your built-in bookcases or neatly arranged books.
The examples above show artworks, pottery, and all kinds of display objects decorating the bookshelves. That's the easiest way to attract attention to your library collection.
Modern Home Library Ideas
Have a spare room? Why not turn it into a reading heaven? Here are a few ways of how you can do that even if you have an open plan layout. One of the best solutions is to place a bookcase between your chosen corner and the rest of the space.
In a completely separate room, you can, however, have whatever other furniture you may need to comfortably leaf over your favorite authors.
Lizette Marie Interior Design, for instance, added a cart mini bar to what appears to be a classic home library designed in modern style. Yours can have a writing desk, a computer, or some other feature that you deem necessary.
Staircase Libraries
Staircases often leave a lot of empty vertical space, especially in lofts, so it's a great way to both incorporate a library into your house and fill up all that air. Contemporary vertical bookcase systems aren't only capacious but are also very impressive-looking.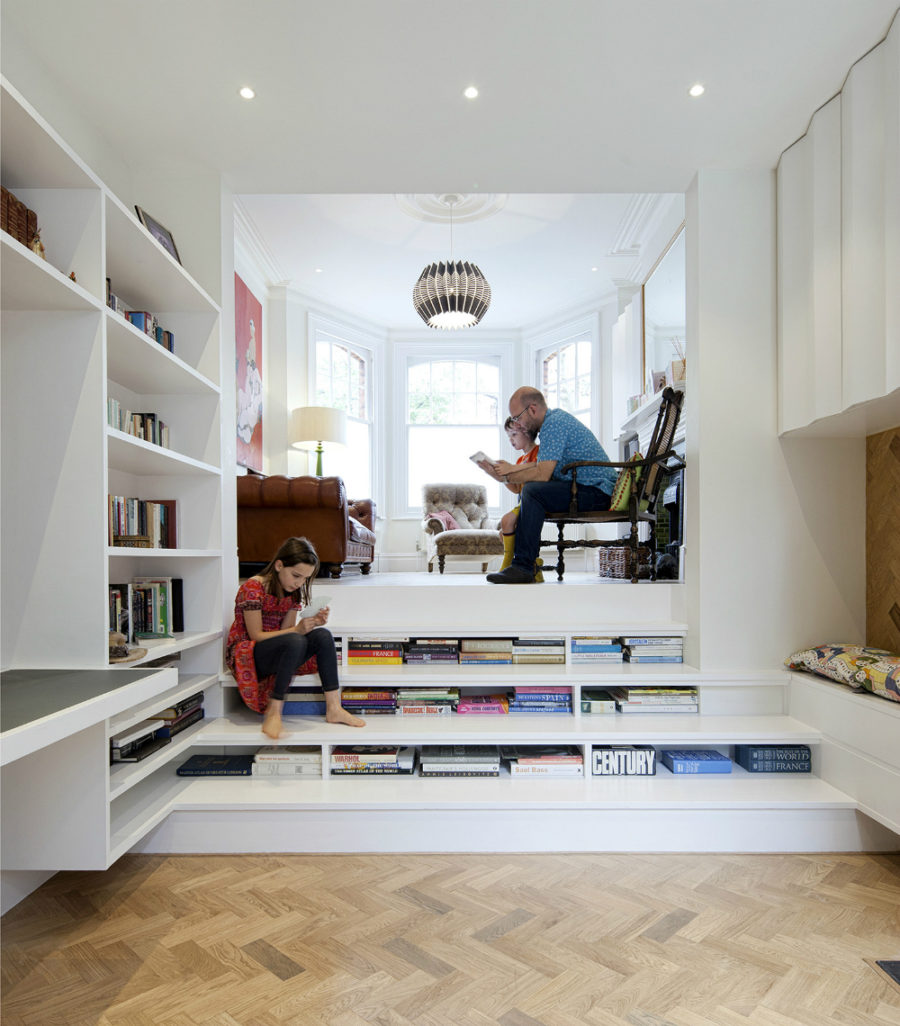 All that room underneath the staircases is subject to use as well. It can definitely host a few dozen books as long as you go for an efficient type of storage like cubbies.
Zminkowska De Boise Architects show how to use a very small staircase as a supplemental storage for your library.
More Modern Home Library Ideas
Other rooms can accommodate a library as well, but their choice depends on what suits you. A sunroom seems like a great fit for a library, definitely good for your eyes. If you prefer to read before bed, a bedroom can be a good place for it.
Some may prefer to read while they are cooking, and that's when a kitchen library makes sense. It definitely needs to stay at a distance from sinks and stoves, though.
Hallways, corridors, and all kinds of transition spaces are great for keeping books if you lack space elsewhere.
Home Office Library
A home office still seems like the best place in the house for a library. It creates a certain atmosphere in the room and promotes peace and quiet that help you concentrate on your work. It's also just handy. Whether you are going to read or work, it's a perfect place to do both.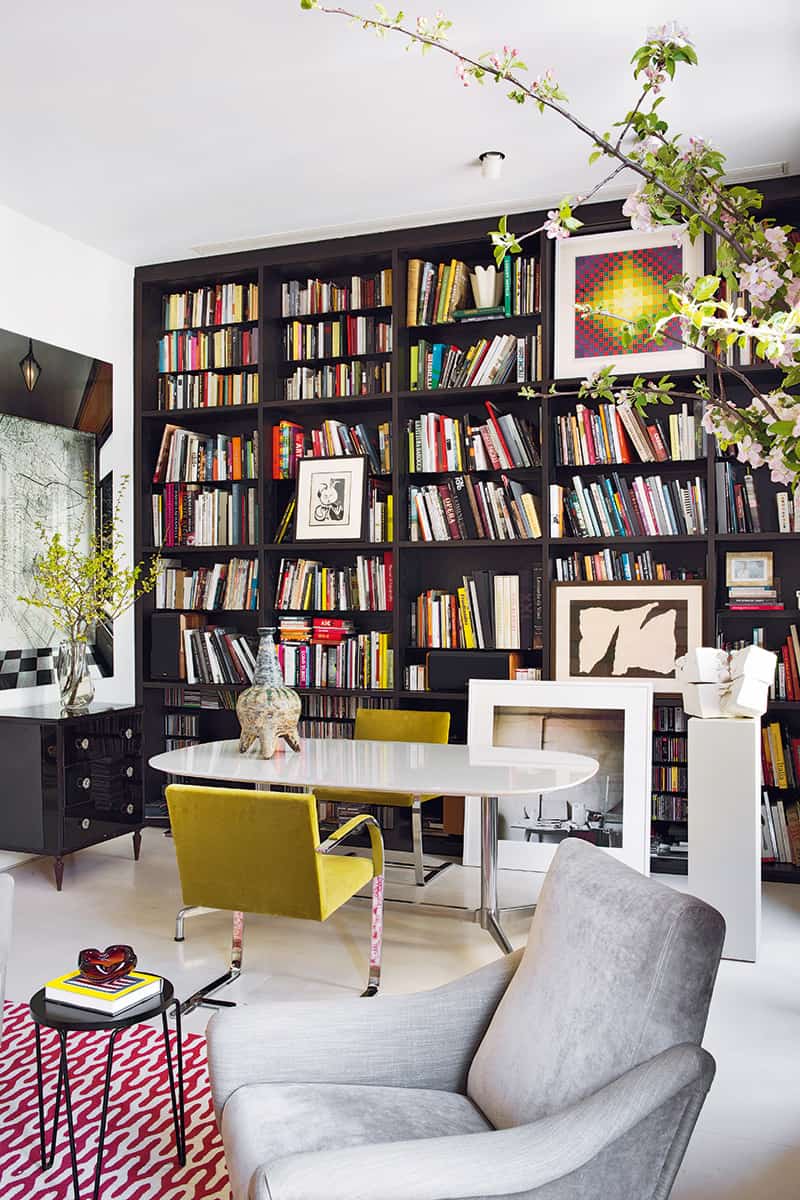 A home office library is a cool feature design-wise as well. It gives your home office a more serious and presentable look.
Big Library
A big library is a big commitment. You need to have a lot of space, maintain certain conditions to preserve the books, and finally fit it into the picture. Thanks to the modern design, none of this is hard to do if you have a budget and desire for it.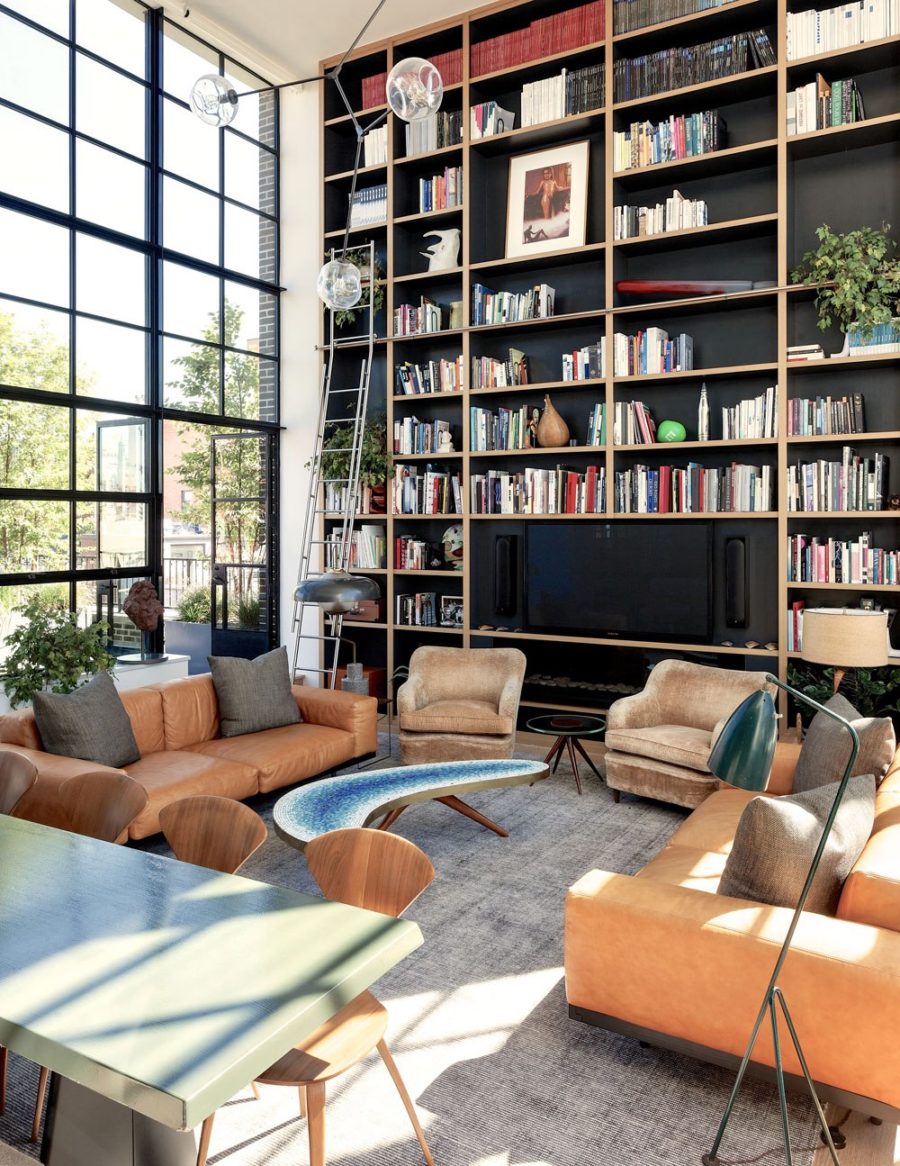 Dynamic bookcase designs can make even the largest home library look attractive both intellectually and visually.
If you don't want the entire wall covered in books, though you can opt for bookcase designs that have shelves for display objects in the midst of numerous bookshelves.
Library Bookshelves
Speaking of bookshelves, these don't necessarily have to be monolithic. Separate shelving units look cool and make for a convenient choice for transition spaces between rooms.
A well-shaped bookcase or bookshelf can create a pocket of space in the open plan house, where you'll be able to read in peace and quiet without shutting the world out completely.
These modern home library ideas aren't your only options. There are many more out there to be found. Or you could design and customize your own library. You're limited only by your imagination.